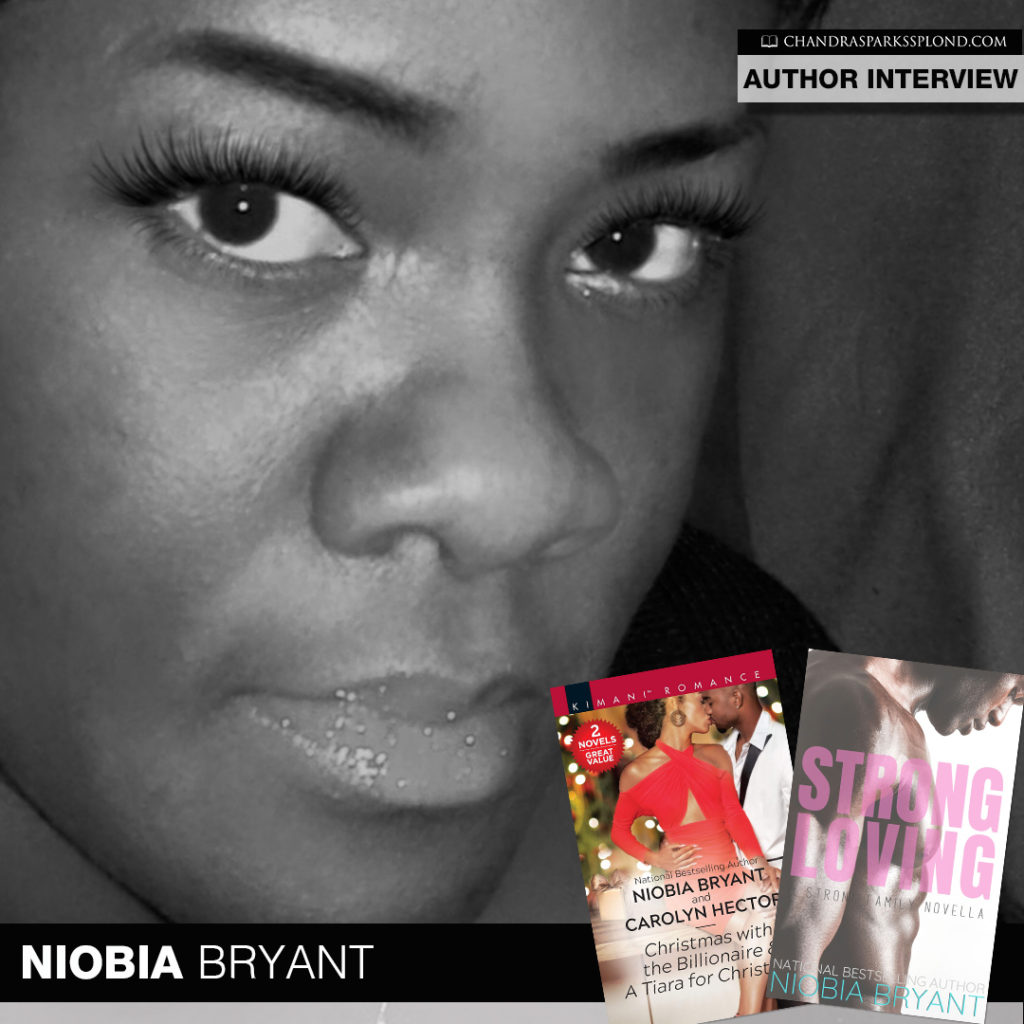 Niobia Bryant is ending the year strong with two new releases—and there's more to come in 2020. I recently spoke with Bryant about the upcoming releases by her and her alter ego, Meesha Mink.
Tell me about your latest book. 
I actually have two. Currently available is an independent eBook novella, Strong Loving, that is book nine in my popular Strong Family romance series. It's about pulling a broken marriage from the flames and fighting for real love. Coming this month is Christmas with the Billionaire (Harlequin/Kimani Press), the final book in my Passion Grove romance series that is my take on the "beauty and the beast" theme with a reclusive and grumpy author with a facial scar after a car accident that leaves him a widow afraid to ever love again.
Why did you decide to write it?
I wrote Strong Loving because it goes beyond the happily ever after of romance as I revisit Zaria and Kaleb from The Hot Spot (book 4 of the series). In the real world the work of love doesn't end with the happily ever after and I wanted to tackle a breakdown in a marriage in a real way.
My take on the classic "beauty and the beast" theme In Christmas with the Billionaire was fun to write and a little challenging as I fought to make sure this atypical hero (who is scarred and disgruntled) still be likable, attractive, and someone with whom readers would want to fall in love (and in bed).
What do you want readers to learn from the story?
The same as with any romance novel: to never give up on love.
If you could pick another profession, what would it be and why?
I have my bachelor of science in nursing and a bachelor of arts in social and behavioral science with a psychology minor, but I would definitely utilize the latter degrees more and become a licensed counselor. I already do it for free! I am the ear to listen and the shoulder to lean on for so many people. I am honored by their trust in me and the respect they show for my opinion and guidance. Also, readers may notice that in many of my novels I incorporate therapy of some form because I am a stronger believer in mental health. Being of service to those in need of guidance would be my happy place…after writing.
What's the best part of being an author?
I believe everyone has been blessed with a gift and I feel honored to have connected with my gift of storytelling and be able to make a living writing books. Also, self-employment and setting my own hours is a very good thing!
What's the worst part of being an author?
Crazily, the same thing I love about being an author is also the thing I find the most difficult—being self-employed and setting my own schedule. I work best with a deadline but even then, if my heart isn't into writing I don't and sometimes that gets me into trouble with my editors.
What's next for Niobia Bryant?
More books. Thank God.
I write in more than one genre. There's the dramatic fiction, Her Pleasure (Kensington/Dafina), that is a follow-up to The Pleasure Trap as I decide once and for all if there is a future for Graham (once known as Pleasure) and Jaime.
I've also signed on to write romance for Harlequin Desire, and I'm very excited about the series centered on the brothers of the Cress family and their culinary empire. Sexy chefs seeking love? Doesn't that sound delicious? Ha! Lastly, I'll be returning to crime fiction/street lit with my pseudonym Meesha Mink after nearly five years, independently releasing Street Queens, book three in the Queen series centered around a modern-day Foxy Brown willing to do whatever it takes to get the street justice she wants.
I'm equally excited about each upcoming release, and each is my voice but they are very different so read them at your own risk!
Do you have anything you would like to add?
Just my unending thanks to readers for supporting my books these past nineteen years. Sometimes I forget I'm a vet because I stay hungry. Stay researching the market. Stay figuring new ways to remain true to my voice while shifting to meet new trends. So I thank every single person who has purchased my books, gotten them from a library or borrowed them from a friend. Thank you all for the word of mouth. The support. The reviews. Even the valid critiques. All of it. You all motivate me to keep writing.
Use my affiliate links to purchase your copies of Strong Loving and Christmas with the Billionaire.
To learn more about Niobia Bryant, visit her websites.
Niobia Bryant (also writing as Meesha Mink)
http://www.niobiabryant.com and/or http://www.meeshamink.com
Facebook: @NiobiaBryantMeeshaMink
Twitter and Instagram: @infiniteink