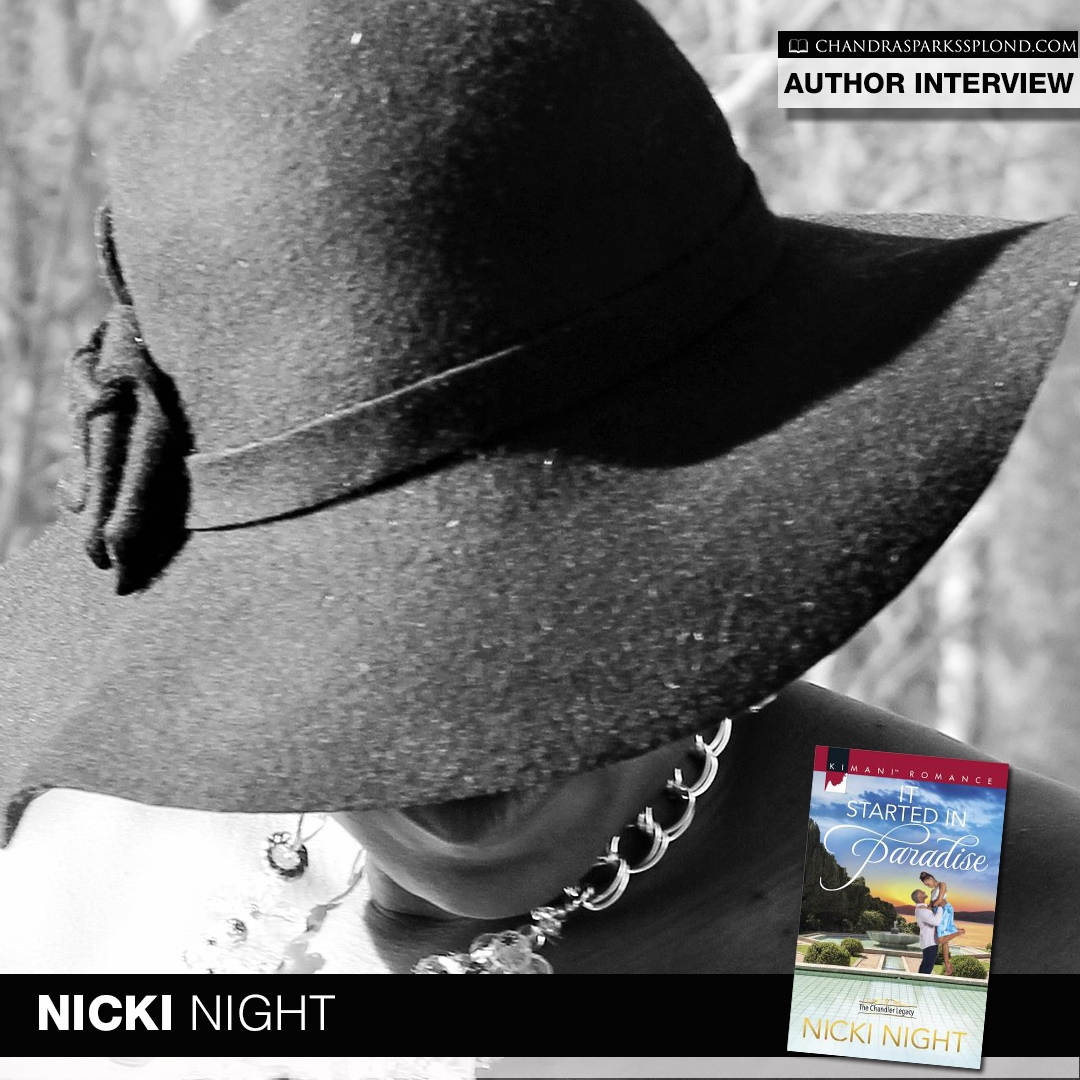 Love wins and family rules in a new romance series by romance author Nicki Night. I recently spoke with Night about the first book in her Chandler Legacy series, It Started in Paradise.
Tell me about your book, It Started in Paradise.
It Started in Paradise is the first book in my new Chandler series. The heroine is a woman by the name of Chloe Chandler. She's an amazing singer but never indulges that passion because she was destined to work the family business, Chandler Food Corp., a consumer goods company. She runs into Donovan Rivers, heir to a rival company, on a business trip to Puerto Rico. This is Donovan's chance to let her know how he's felt about her for some time now, but Chloe can't see past the fact their parents are arch enemies. Their rendezvous begins in the tropics and travels back to the states. Donovan shows her what passion is all about in more ways than one. Chloe is convinced they won't survive back in the states, but realizes she's secretly falling for Donovan. Just when she musters the courage to openly pursue her desire for Donovan, they find themselves in competition for a contract with the same client. This is when mixing business with pleasure could prove to be detrimental to love.
Why did you decide to write it?
I love writing romance because I love telling stories about love winning. I'm convinced that love doesn't get enough spotlight in this world. Also, the family is based on my own family and many of the older characters are named after my grandparents, aunts and uncles. I have a large, boisterous family, and I wanted to pay homage to them in this series of work. I create this large family using mine as inspiration. Many more stories will come from the Chandlers.
What do you want readers to learn from the story?
I call myself a passionista, and I love to inspire people to pursue their passions. Chloe, an amazing singer, has buried her passion for singing because of lack of support. When Donovan comes around and encourages her to indulge that passion and life opens up for her. I want people to indulge their passions and live beyond what they could even imagine. I want people to believe in love and enjoy the process of exploring love.
Who is your favorite established romance author and why?
I have several, and I like them for many reasons. I like Zuri Day because of her style of writing, and her characters are juicy. I love Beverly Jenkins for the richness of her language. She's also an amazing mentor. I like Brenda Jackson because she gets to the point and tells a good story. I recently discovered Cathy Maxwell and love her use of language as well.
Who is your favorite new romance author and why?
I like the energy the Martha Kennerson writes with.
Why did you decide to write romance?
Because love rocks. I'm a champion for love and enjoy creating these stories. Also men in our society often get a bad rap and romance offers an opportunity to show them in a greater light. Great loving relationships exist. I know they do because I'm in one, but if we allowed society to dictate the possibilities of love, we'd believe good relationships don't exist.
What's next for Nicki Night?
More, more and more! More books. More from the Chandlers. More stories of love and possibilities. As long as readers read, I'll write.
Do you have anything you would like to add?
I have two books coming this year. It Started In Paradise, which is out on July 1, and Desire in a Kiss, which will be released on December 1. Desire in a Kiss is the second book in the Chandler series. It's Christian Chandler's story. He meets his heroine, Serenity Williams, online. Both create their dating profiles as a challenge, not expecting to meet anyone of quality, but then they meet each other and sparks fly. When Christian falls for Serenity, he has to find a way to tell her that the name he's used on his profile isn't his real name and the things that irks her most is lies.
Use my affiliate link to purchase your copy of It Started in Paradise.
Learn more about Nicki Night by visiting her website and connect with her via social media.
Facebook – https://www.facebook.com/AuthorNickiNight/
Twitter – https://twitter.com/Nicki_Night
Instagram iamNickiNight
Please follow and like us: