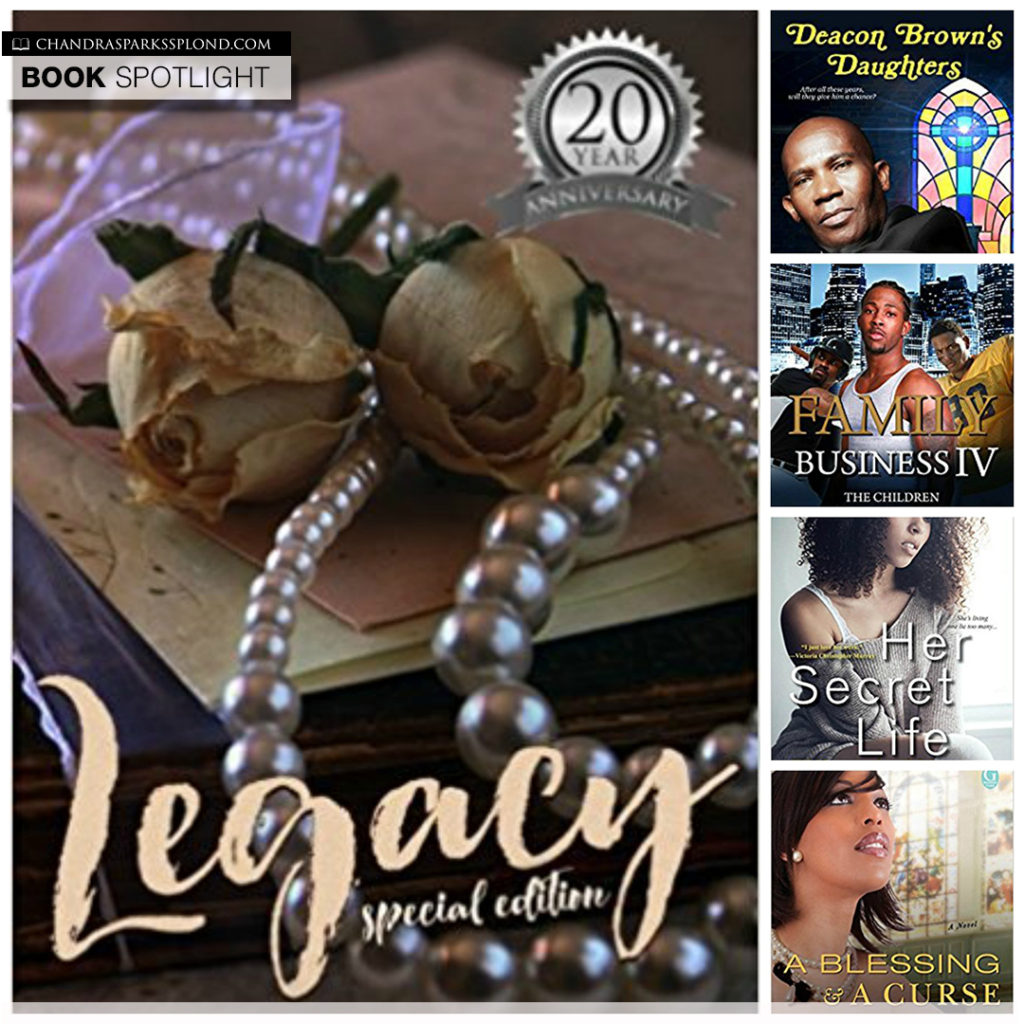 If your momma is a book lover, then consider using my affiliate links to buy one (or all) of these books—and giving her a few uninterrupted hours of reading time—to enjoy them this Mother's Day.
A Blessing & A Curse
ReShonda Tate Billingsley and Victoria Christopher Murray
First ladies of the Baptist church and sworn frenemies Rachel Jackson Adams and Jasmine Cox Larson Bush are stunned to learn they may have more in common than they thought—like who's their daddy—in the scandalous new collaboration between national bestselling and award-winning authors ReShonda Tate Billingsley and Victoria Christopher Murray.
A heated American Baptist Coalition election. A murky murder cover-up. An outrageous reality TV show. What in heaven's name kind of drama will holy rivals Rachel Jackson Adams and Jasmine Cox Larson Bush—prominent first ladies of the Baptist church—get themselves into next?
Since he first met Jasmine, Rachel's father Simon Jackson has had a funny feeling about her. She eerily resembles his first teenage love. After doing some digging, Simon makes a shocking revelation—Jasmine may be his daughter. Rachel thinks the idea is absurd, but to pacify her ailing father, she sets out to debunk his theory.
When Jasmine discovers what's going on, she heads to the Jackson Family Reunion in Smackover, Arkansas, in search of the truth. With her sidekick Mae Frances by her side, this big city girl isn't ready for the country…or for the over-the-top family that she may have to claim as her own.
Family Business IV: The Children
Vanessa Miller
Angel and Demetrius Shepherd loved each other with an everlasting love, but their love is soon tested when one attack after the next threatens the safety of their children. Angel must determine if love is enough to keep her and Demetrius together.
Demetrius is growing weary of being the son of a gangster. He sees the light in Angel's eyes and the love in her heart and desires that for himself. But no matter how many times Demetrius tries to get out of the life his father inducted him into, some sucka pulls him back in. This time they messed with his children, and Demetrius is going to make them pay.
Angel wants Demetrius to trust the Lord, but Demetrius can't figure out how a man with so much vengeance in his heart can ever receive grace from a holy God?
Deacon Brown's Daughters
Michelle Stimpson and CaSandra McLaughlin
Back in the day, green-eyed Stanley David Brown was a ladies' man. Now he's God's man, and he's got a lot of cleaning up to do. But where does an absentee father start in the quest to get to know the children he abandoned? Will they give him a chance to make up for lost time?
Stanley has missed out on his chance with his son. But his three daughters, Yolanda, Kim, and Sabrina, are in for a surprise when their long lost father comes strolling back into their lives. Stanley's presence is met with three different responses, not to mention the reactions from his children's mothers. Stanley is doing his best to win the girls' hearts, but how many times can one man apologize before giving up again?
Bestselling author duo CaSandra McLaughlin and Michelle Stimpson had their editor crying with this one! Join this journey of life, love, and forgiveness as Stanley and his daughters walk through touch territory in a storyline that rings true for so many people. Grow with Stanley and his daughters as they all grow to know the Best Father ever!
Legacy
Jacquelin Thomas
Eleanor Toussaint Blakemore makes a decision that she believes will ensure the kind of life she wants for herself and offers no apologies for the choices she's made. However, a car accident places Eleanor in a comatose state where she comes face-to-face with the past.
Despite her blond hair and blue eyes, Myra Toussaint Madison embraces her blackness. She accuses her sister of being a traitor to her race when she decides to disconnect from the African American community.
When Eleanor comes out of her coma, will she and Myra finally be able to come together in unity and love?
Her Secret Life
Tiffany L. Warren
Scarred by poverty and life with a crackhead mother, Onika Lewis had a rough start. Still, thanks to her sharp mind, and hard work, she graduated with honors from a prestigious college. But her achievements weren't enough to earn her the elite status she craved. So she leveraged her gorgeous looks to become a rich man's trophy…and was eventually dumped her for a younger model. Now Onika is unemployed, broke—and homeless. She's making a fresh start through a unique women's shelter, but when she meets Graham, a kind-hearted commuter with whom she has an instant connection, she can't bring herself to tell him her secret…
Suddenly Onika has someone who cares about who she is beyond her looks. Graham's unselfish love gives her the kind of hope she's never had. But when Onika's wealthy ex wants her back, she plays one deception too many trying to have it all. Now present lies and past secrets are tearing her world apart. And Onika will need to educate herself once more—to learn what really matters, find faith, forgiveness—and build a life she truly deserves.