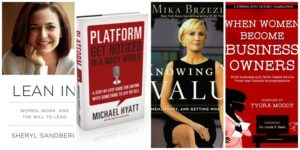 Thinking of starting a business or looking for ways to grow the business you've already started? Check out these business books.
Lean In: Women, Work, and the Will to Lead
Sheryl Sandberg
In Lean In, Sheryl Sandberg examines why women's progress in achieving leadership roles has stalled, explains the root causes, and offers compelling, commonsense solutions that can empower women to achieve their full potential.
Sandberg is the chief operating officer of Facebook and is ranked on Fortune's list of the 50 Most Powerful Women in Business and as one of Time's 100 Most Influential People in the World. In Lean In, Sandberg combines personal anecdotes, hard data, and compelling research to cut through the layers of ambiguity and bias surrounding the lives and choices of working women. She recounts her own decisions, mistakes, and daily struggles to make the right choices for herself, her career, and her family. She provides practical advice on negotiation techniques, mentorship, and building a satisfying career, urging women to set boundaries and to abandon the myth of "having it all."  She describes specific steps women can take to combine professional achievement with personal fulfillment and demonstrates how men can benefit by supporting women in the workplace and at home.
Platform: Get Noticed in a Noisy World
Michael Hyatt
To be successful in the market today, you must possess two strategic assets: a compelling product and a meaningful platform. In this step-by-step guide, Michael Hyatt, former CEO and current chairman of Thomas Nelson Publishers, takes readers behind the scenes, into the new world of social media success. He shows you what best-selling authors, public speakers, entrepreneurs, musicians, and other creatives are doing differently to win customers in today's crowded marketplace. Hyatt speaks from experience. He writes one of the top 800 blogs in the world and has more than 100,000 followers on Twitter. His large and growing platform serves as the foundation for his successful writing, speaking, and consulting practice.
In Platform, Hyatt will teach readers not only how to extend their influence, but also how to monetize it and build a sustainable career. The key? By building a platform. It has never been easier, less expensive, or more possible than right now. . .  The book includes:
proven strategies
easy-to-replicate formulas
practical tips
Social media technologies have changed everything. Now, for the first time in history, non-celebrities can get noticed―and win big!―in an increasingly noisy world.
Knowing Your Value: Women, Money, and Getting What You're Worth
Mika Brzezinski
Prompted by her own experience as co-host of Morning Joe, Mika Brzezinski interviewed a number of prominent women across a wide range of industries on their experience moving up in their fields. Brzezinski shares the surprising stories of such power players as presidential adviser Valerie Jarrett, comedian Susie Essman, writer and director Nora Ephron, television personality Joy Behar, and many others. Brzezinski also gets honest answers from the likes of Donny Deutsch, Jack Welch, and others about why women are paid less, and what pitfalls women face—and play into.
Knowing Your Value blends personal stories with the latest research on why many women don't negotiate their compensation, why negotiating aggressively usually backfires, the real reasons why the gender wage gap persists, and what can be done about it.
 When Women Become Business Owners: Solid Business and Faith-based Advice from Real Female Entrepreneurs
Tyora Moody
Are you a business owner? A freelancer? A stay-at-home mom? Are you still working a nine-to-five job, but dream of working for yourself? There is great joy and risk to becoming an entrepreneur.
When Women Become Business Owners provides solid business and faith-based advice from 22 real female entrepreneurs, including Hope's own Angelia White. Find wisdom, inspiration, and encouragement for those times when you may find road blocks or fear trying to snatch your dream away.
What business books have helped you?
(via Hope for Women)