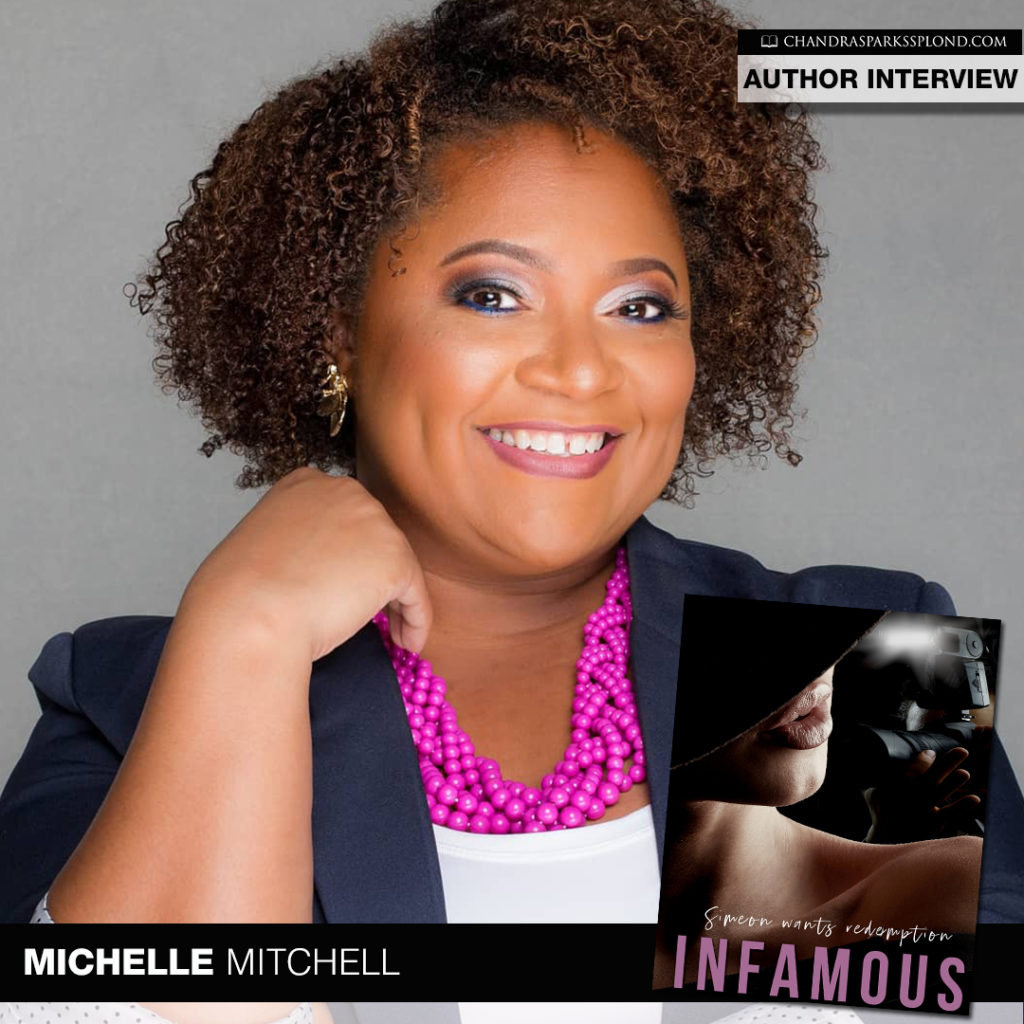 I'm so honored to have author Michelle Mitchell stop by to discuss her latest release.
Tell me about your latest book, Infamous.
My new release, which just dropped on July 16 is called Infamous. In Infamous, Simeon Harris doesn't want her life's story to end with her being known as a murderer. She wants to start a new chapter—but the road to redemption won't be easy. Death threats, physical attempts on her life, and the sudden emergence of a stranger who looks like the man she killed all serve as a haunting reminder that no one has forgotten and someone won't be satisfied until she's gone.
Who wants Simeon dead? Her personal assistant, who seems to always be around when there's trouble or someone from her victim's family? The attacks could be coming from anyone. Fearing for her sanity and her life, she has no choice but to dig up her victim's past to discover who wants her dead.
Why did you decide to write it?
Simeon was a character in my debut novel, Truth Is… and she was a fun and complex character, so much so that she was trying to take over the story. Author Jacquelin Thomas did the developmental and line editing on that project. During that process, she told me that Simeon was coming across very strong in the story so I had to tone her down a bit. She had such a strong voice that I knew she would need to have her own story. And after what she endured in Truth Is… I felt she deserved to have her say.
What has been the most surprising thing about your writing career?
The endless ideas that come to me on a daily or weekly basis. I have so many storylines that come to me, and while I know some may not ever see the light of day, it's great to know I have more stories in me. And it also surprises me how difficult it is to tell someone else what your story is about. When you're attending book events, you have short window to sell your book to a new reader and you want to pitch it good enough to where they will know what the story is about but without giving the story away. I think I've gotten better at that, but it's so funny to me how you can draw a blank when trying to tell someone else about your book.
What do you want readers to learn from your book?
With Infamous, I would say I want people to learn that it's okay to let your light shine after you've made it through darkness. Oftentimes when we make mistakes we want to dwell there and can't release the hold those bad decisions placed in our life. Once you have confessed your sin and made amends, forgive yourself and get comfortable with moving forward and being great.
Who is your favorite established author and why?
I have a few authors that I really like for different reasons and can't say I have a favorite, but I'm getting into writing more drama and suspenseful stories, and I've enjoyed reading BM Hardin, Karin Slaughter, and Sherron Elise. Each has had stories where they put their characters through extreme situations or I loved watching the mystery unfold. Karin Slaughter's suspense is definitely more dark and twisted from what I've read so far from each author.
Who is your favorite new author and why?
This person is new to me but not a new author. I read Brunch at Ruby's by DL White at the beginning of the year, and I really love the way she writes. All of the characters had strong voices and the descriptions and emotions used really brought the story to life.
If you could have any profession other than being an author, what would it be?
I would love to be a songwriter. I have been writing song lyrics since I was around ten years old. I use to want to be in a singing group, but I enjoyed writing song lyrics even more. It's comparable to writing stories because songs are telling a story. I still hope I can submit a song and have an artist record it one day. I also would love to be a background singer. I know most people have a goal to be out front, but I don't really have to be the main attraction, and the background singers are always grooving right along with the lead singer.
What's next for Michelle Mitchell?
Now that Infamous is out, I'll start back on my audiobook for Truth Is… . I started the process last November but then shifted gears to finish working on my manuscript for Infamous. I've done the first review and have to review the edits submitted by the narrator. So that's up next for me, and I also want to submit to that show Songland to see if I can write a song for one of the artists. I love the concept of the show. It's like American Idol for songwriters.
Do you have anything you would like to add?
Thank you for the opportunity, and thank you to the readers.
Use my affiliate link to purchase your copy of Infamous.
Stay Connected:
www.authormichellemitchell.com
Facebook: www.facebook.com/AuthorMichelleMitchell
Twitter: https://twitter.com/expbutterflies
Goodreads: https://www.goodreads.com/author/show/15009663.Michelle_Mitchell
Instagram: www.instagram.com/authormichellemitchell
Amazon Author Central: https://www.amazon.com/Michelle-Mitchell/e/B01ADNFXZ0/