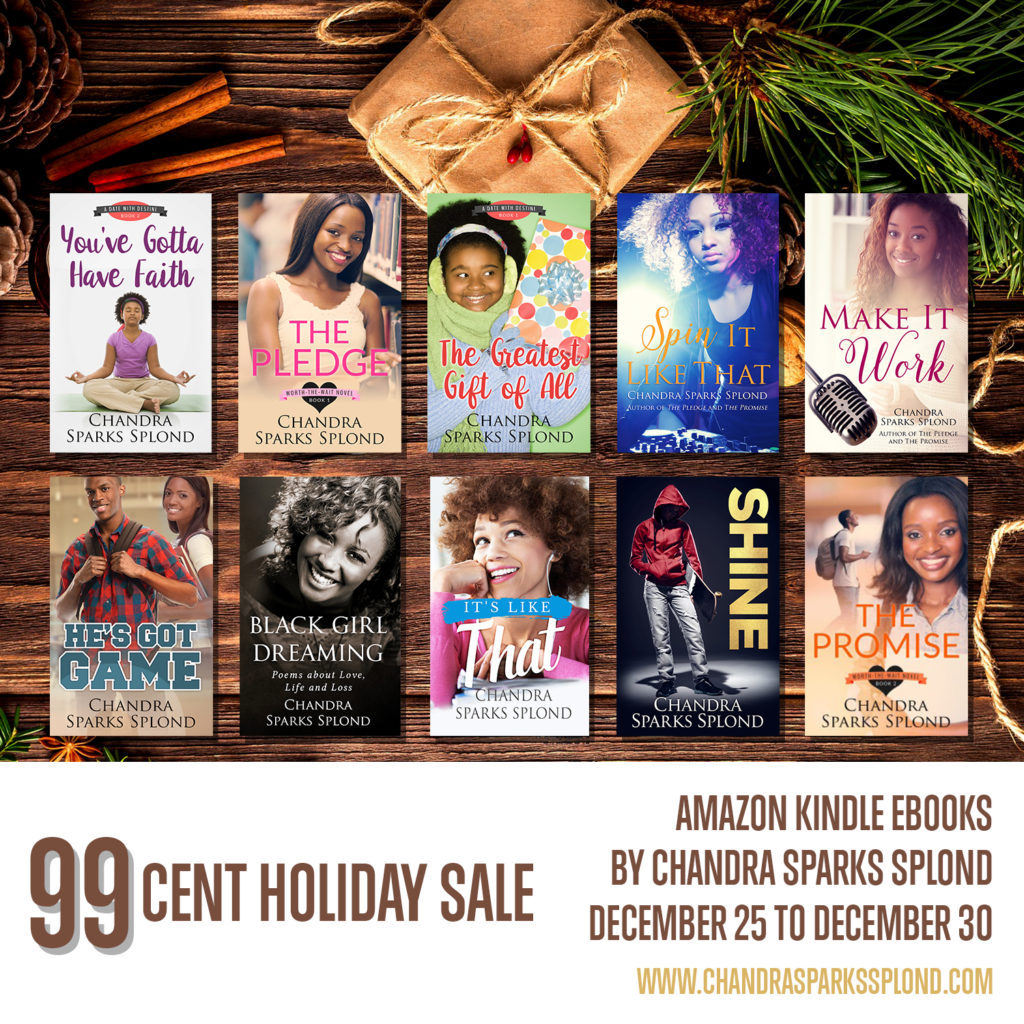 In the words of Boyz II Men, it's the time of year again for you to share.
From my house to yours, Merry Christmas. I pray God's choicest blessings on you in the new year.
Christmas wouldn't be Christmas for me if I didn't give gifts to the people who mean something to me, so this year, in addition to the free download to my Christmas short story, Home for the Holidays, as I promised in my December newsletter, most of my ebooks will be on sale for only 99 cents on Amazon December 25 to December 29. If you haven't read them or you've missed a few of my titles, now is the perfect time for you to buy them for yourself or to gift them to someone you love. All you need is the free Kindle app to read them. For your convenience, I've included the summaries below. You can purchase them through my affiliate links.
Wishing you the merriest of Christmases and a Splonderful New Year.
Spin It Like That
Sixteen-year-old Jasmine Richardson has a love for music. When she gets on the turntables, her gift for spinning and rhyming earn her admiration and respect. She's also talented academically, but her parents disapprove of their daughter's hobby, hoping it's a phase she's going through. Still, Jasmine finds it hard to deny the joy and freedom she feels when she's playing music that makes people smile and dance. After a local contest, Jasmine attracts the interest of some music-industry honchos. Then the attitudes of the people around her seem to change and she's forced to face some tough situations. Suddenly it becomes harder for her to tell who's really happy for her and who's totally a fake. But when the music is in your heart, and your talent shines bright, sometimes all you can do is…spin it like that.
The Pledge
Raised in a strict household, sixteen-year-old Courtland Murphy never had a date. But that was before the guy of her every dream—basketball star Allen Benson—asked her out. She's gone from never-been-kissed to dating the hottest guy in school. And now her new boyfriend is pressuring her to prove she loves him—by having sex. But as a member of her community's Worth-the-Wait club, Courtland made a vow to stay a virgin. Now everyone—from friends to family to fellow club members—gives her different advice, from "do it!" to "you made a pledge, girl!" It would be so easy for Courtland to go all the way with Allen, but sometimes his charming personality leaves her wondering. Who knew being in love could be so confusing?
The Promise
Since she broke up with the hottest basketball player in school, seventeen-year-old Courtland Murphy has been the subject of a million rumors. The fallout from her relationship with Allen Benson has made Courtland more sure than ever that waiting to have sex is the right decision. But the drama's not over, especially with her own father acting strangely and Allen out to make her life a nightmare—with his teammates' help. All except Aidan Calhoun, the new star player who's just moved from Atlanta. Aidan supports her involvement in the Worth-the-Wait club and the upcoming purity ball, and despite vowing to never date another baller, Courtland's falling fast. But can she trust her feelings for someone new when the people she's closest to may not be what they seem?
He's Got Game
Sixteen-year-old Noah Benjamin has dreams of being the first in his family to graduate college. All that changes when he becomes the breakout star of his high school's basketball team. Despite his girlfriend Megan Agee trying to keep him on track, girls are showing interest, and people are in his ear telling him he should take his talents straight to the NBA. It doesn't sound like such a bad idea since it will give him the money to support his little sister, Natalie, and his grandparents. It would be so easy to forget about his game plan, but is that the way to go when the people around him have their own agendas?
The Greatest Gift of All
Ten-year-old Destini Daniels is so over foster care. After years of staying with an aunt she barely knows, she's ready for a change. With a little help, Destini devises the perfect scheme to get her forever family, but when things don't go according to plan, does she have to give up her dream, or is it a chance at a gift bigger than she ever imagined?
You've Gotta Have Faith
Destini Daniels is excited she is going to be adopted—or is she? When she gets a bad grade and learns her foster mother has a secret that could put her adoption in jeopardy, Destini starts to lose faith she'll get a forever family—or pass science. When someone volunteers to tutor her, Destini begins to believe she may not only get an "A," but maybe she'll get a forever mom—and dad.
Make It Work
Sixteen-year-old Reagan Davis has landed her dream job, an internship at FIRE 107.1, the hottest radio station in town. It doesn't take Reagan long to realize that between competitive coworkers and trying to ignore her growing feelings for her oh-so-cute coworker Jayden, there's more drama at FIRE than she's ever experienced at school. That might be okay if she could go home and relax, but her mother is acting weird and her father is keeping secrets. Even with all the madness at home, Reagan can't deny that radio is in her blood, and whatever it takes, this summer she's determined to…make it work.
Black Girl Dreaming: Poems about Love, Life and Loss
As a child growing up in Birmingham, Alabama, author and blogger Chandra Sparks Splond spent many days in her room dreaming of forever and writing about someday. In Black Girl Dreaming: Poems about Love, Life and Loss, Splond shares some of her most cherished and personal work on her journey to learning to love herself and others.
It's Like That
After suffering a tragic loss ten years ago, twenty-six-year-old Jasmine Richardson has traded her love of lyrics for writing legal briefs. It only takes one encounter with the microphone for Jasmine to realize the music is still in her heart—if only it could pay the bills. After making some bad decisions, Jasmine is thrown into a tailspin. She is forced to consider taking a case that could make her legal career from someone from her past. Suddenly, Jasmine finds herself questioning her future. When the music is still in your heart, sometimes life forces you to make some tough decisions. Sometimes…it's like that.
Home for the Holidays: A Short Story
There's no place like home for the holidays—unless you're fifteen-year-old London Bridges and your parents are going through a divorce. Annoyed that her plans to visit her dad in Atlanta have gotten canceled, London begs to tag along with her brother, Landon, to the mall. At least it will get her out of her apartment, and she'll get to spend time with fine Zachary, her brother's best friend. Before the day is over, London finds herself valuing those she holds dear and rethinking how she defines home, which just might be the greatest gift of all.
Shine
Summer can't come fast enough for seventeen-year-old tomboy Nia Mitchell who is dealing with the fallout of making her most embarrassing mistake ever, all for love. Desperate to put junior year behind her, Nia reluctantly accepts what seems like the opportunity of a lifetime, but is it? As she gets drawn into her new life, Nia fears she's about to make another huge mistake, this time with the world watching. When her past comes back to haunt her, Nia wonders if it's possible to turn her biggest mistake into her biggest blessing. Can life teach her that even when you mess up, sometimes the best thing to do is take a deep breath, paste on your biggest smile and find the strength to shine?