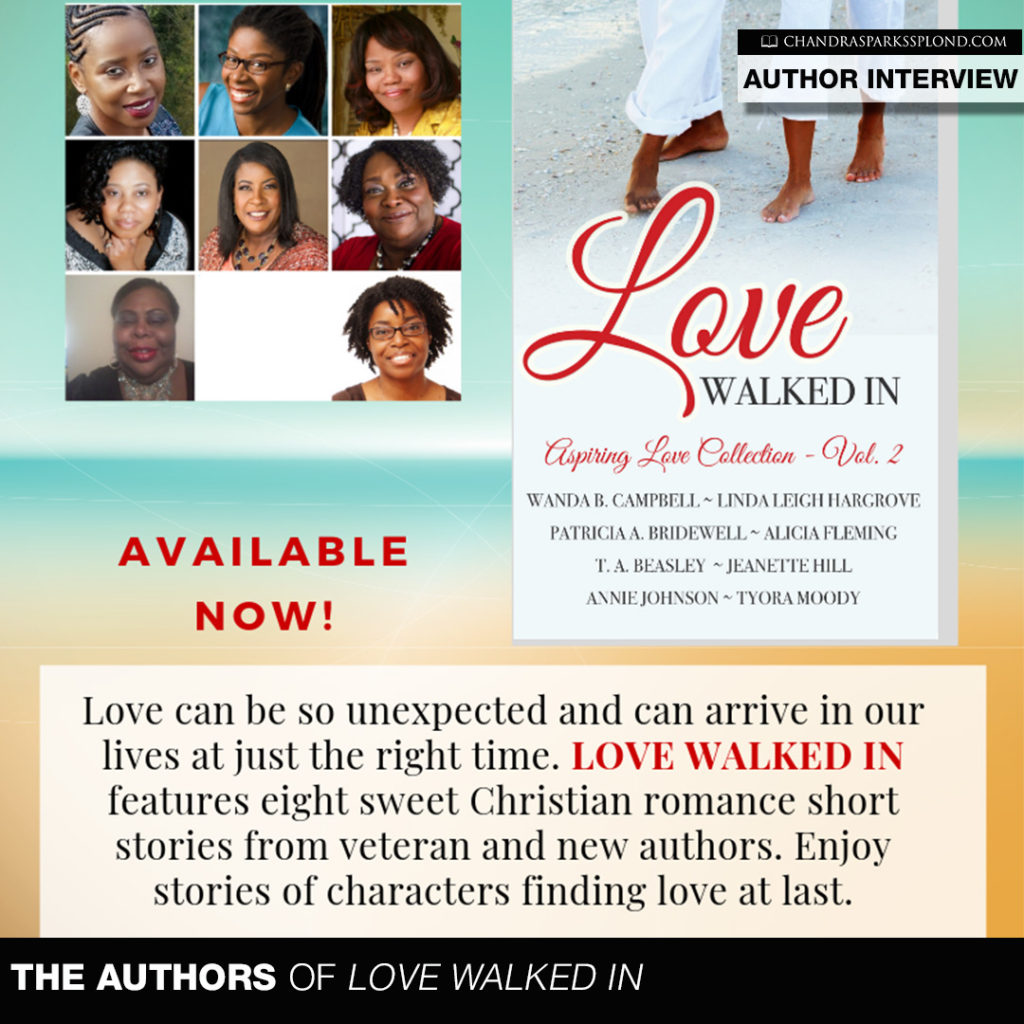 If you've ever dreamed of writing a book and are overwhelmed by the thought of completing an entire manuscript, consider contributing to an anthology. Today, the contributors of Love Walked In are stopping by to share how to make it happen.
What attracted you to write for this anthology, Love Walked In?
Wanda B. Campbell: The romantic theme, of course. Also, having worked with Tyora Moody previously, I knew the project would be successful.
Linda Leigh Hargrove: The bones of the story I submitted had been sitting around on my Google Drive for years. When I saw the theme, I instantly knew this was just the home for my romantic suspense story, Trouble in Chow Town. I enjoyed finally finishing the love story between Georgie and Shawn. Who knows…maybe one day it might evolve into a full-blown series of books.
Patricia Bridewell: I love writing short stories. The theme for Love Walked In was very intriguing, and I enjoyed writing my short story. My story came to mind within one day, and I started developing the characters and storyline.
Alicia Fleming:  I believe in love and romance, and I think every woman enjoys a good romance novel every now and then.
T.A. Beasley:  I was attracted to this anthology because of the premise of an intended love walking in and finding the person they are supposed to be with. Since I wrote a story for the first volume, I decided it made sense to write one for this second volume.
Jeanette W. Hill: I was attracted to the anthology, Love Walked In, for two reasons. One, though I am a playwright, I have always wanted to try my hand at completing a narrative fictional work—a story that someone besides me would see. An anthology seemed to be the perfect place to test my fictional storytelling wings. I only committed to a short story, and I would be among several talented authors, which gave me a sense of security. Secondly, the story would be about people on the shady side of fifty…okay sixty. Most stories, movies and television series focus on the twenty to thirty-five demographic, so the roles relegated for the sensually seasoned people are usually babysitters, social workers, caregivers or lonely next-door neighbors…with cats. I have a heart for writing about people of a certain age who live exciting, vibrant lives—including romance. I also like writing about people who have some type of history together.
Annie Johnson: The name alone grabbed my attention. I could just imagine a couple seeing one another for the very first time and experiencing a real attraction.
Tyora Moody:  Since I write romantic suspense, I thought the best alternative genre to pursue would be romance. A short story seemed like a good place to start. I felt led to pull together veteran and new authors in one collection. It has been an awesome experience to serve as editor for the Aspiring Love Collections.
Do you have other romance books? If so, why did you choose to write romance?
Wanda B. Campbell: I love romance. Currently, I have 11 Christian fiction novels. I enjoy weaving love into life's crazy circumstances.
Linda Leigh Hargrove: I have several other romances, mostly novellas. I like writing romance stories because they speak to the human soul. Who among us does not want to love and be loved?
Patricia Bridewell: I write both inspirational romance and women's fiction.  I've written a total of four books; I'm working on the fifth. Three have been published, and my last published book, Two Steps Past the Altar, was  a romance story. In addition to Love Walked In, I wrote another short story that was also romance. I love to write books and short stories that result in happy endings, so I was drawn to romance for that reason.
Alicia Fleming: This series was my first, but in my Christian fiction books, I also include love stories.
T.A. Beasley: Yes, I have a short story in the Love Knows My Name anthology, which was my first attempt at writing romance. I chose to write romance to see if I was capable of writing in the genre. I'm more of a thriller writer but prefer to be a multi-genre writer.
Jeanette W. Hill:  I don't have any romance books—yet. Being a part of this anthology has given me the courage to write more romance stories. Hopefully, in the not-too- distant future.
Annie Johnson: Yes, I do have other romance books, and I also write nonfiction. I chose romance because I read so many romance books when I was younger growing up.
Tyora Moody: I write romantic suspense and mysteries. Writing strictly romance is new for me. I was curious if I could write in short story form and thought it would be great to pull together other short stories in these anthologies.
Who are some of your favorite romance authors?
Wanda B. Campbell: The late Gwynne Forster is still my favorite romance author. Nobody beats Beverly Jenkins for historical romance.
Linda Leigh Hargrove: My reading tastes are eclectic. I read sci-fi and mystery, in addition to romance. In the world of romantic fiction, I dabble here and there with authors like Tamera Alexander, Kim Cash Tate, and Rhonda McKnight.
Patricia Bridewell: I have many favorite authors. For the romance genre, Sheryl Lister, Vanessa Miller-Pierce, Bernice Layton are a few of my favorites.
T.A. Beasley: Donna Hill, Jamie Pope, Tyora Moody, Aleatha Romig and Jillian Jacobs
Jeanette W. Hill:  It's a long list, and I won't name them all, but Beverly Jenkins, Kimberla Lawson Roby, Trice Hickman, Unoma Nwankwor and Brenda Jackson are definitely on that list. I like stories that make me want to be a part of the family or move to the neighborhood.
Annie Johnson: Terry McMillan, Beverly Jenkins and my favorite author of all times is the late great J. California Cooper.
Tyora Moody: I'm a bit new to reading romance, and some authors I have grown to enjoy are Rhonda McKnight, Nia Forrester, Stephanie Nicole Norris and Mia Sheridan. Many of my co-members of BlackChristianReads.com write Christian romance.
Would you recommend anthologies to new or aspiring authors?
Wanda B. Campbell: Absolutely! Anthologies are a great way to get your feet wet, providing the story is well written and engaging. My first published work was a short story entitled, Mommy's Present in the anthology, The Midnight Clear. The short story evolved into my best-selling novel, Right Package, Wrong Baggage.
Linda Leigh Hargrove: Yes, I think writing short fiction and submitting to anthologies is a great way for aspiring authors to get their feet wet and make their name known.
Patricia Bridewell: Yes, I would recommend they read and write anthologies and novels. New authors can learn a lot from writing short stories because there must be a beginning, middle, and ending. I've written six short stories, and I felt that writing those stories and novels helped me grow as a writer.
Alicia Fleming: Yes, I would encourage being part of an anthology.
T.A. Beasley: Yes. It is an easy way to introduce yourself and your writing style to readers and fellow authors in the industry.
Jeanette W. Hill:  Absolutely! It is a wonderful way to get your feet wet. The length is not intimidating. The subject and perspective are given to you, and you will have a built-in support system rooting for you!
Tyora Moody: I think anthologies are a great start for new and aspiring authors. Anthologies provide guidelines and a great introduction to publishing on a smaller scale.
About the Anthology:
Love Walked In
Aspiring Love Short Story Collection, Volume 2
Love can be so unexpected and can arrive in our lives at just the right time. Love Walked In features eight sweet Christian romance short stories from veteran and new authors. Enjoy stories of characters finding love at last.
Stories include:
EYES WIDE SHUT by Wanda B. Campbell
Focused and determined, Lexi's world is thrown off its axis by a red wig, a rubber nose, and blue clown shoes.
TROUBLE IN CHOW TOWN by Linda Leigh Hargrove
Detective Georgie Turner can handle the racial trouble in Chow Town, but will it cost her budding romance with fine Dr. Shawn Fields?
LOVE WON'T LET ME WAIT by Patricia A. Bridewell
Gospel singer Jamila Parker's life shatters when her ex begins stalking to win her back. Minister of music Nolan Spencer's goal: Protect Jada and steal her heart.
UNLIKELY COMPANIONS by Alicia Fleming
What happens when a former lover saves a successful female entrepreneur's life? Does she fall for him again, or is it just because of his act of heroism?
THE GALA REPLACEMENT by T.A. Beasley
What was Mia Stone thinking lying to her mother about having a date for the gala? She doesn't have much time to come up with one or her mother will match her off to an ego-driven one.
WHEN THE PAST COMES CALLING by Jeanette W. Hill
Widowed and over sixty, Ruth Willis isn't happy with her life. Is it possible to be too old for a new love?
REUNITED by Annie Johnson
Jazz vocalist Miranda Jones is adjusting to her new life in Paris—until her ex-husband shows up at one of her performances. Will she be able to forgive him? Will they be able to reignite and reunite?
SOUTHERN DELIGHTS by Tyora Moody
Nia Michaels is an author who's currently experiencing writer's block. She's delighted when she sees the perfect male character for her novel. She sure wouldn't mind getting to know him for herself too.
Use my affiliate link to purchase your copy of Love Walked In.