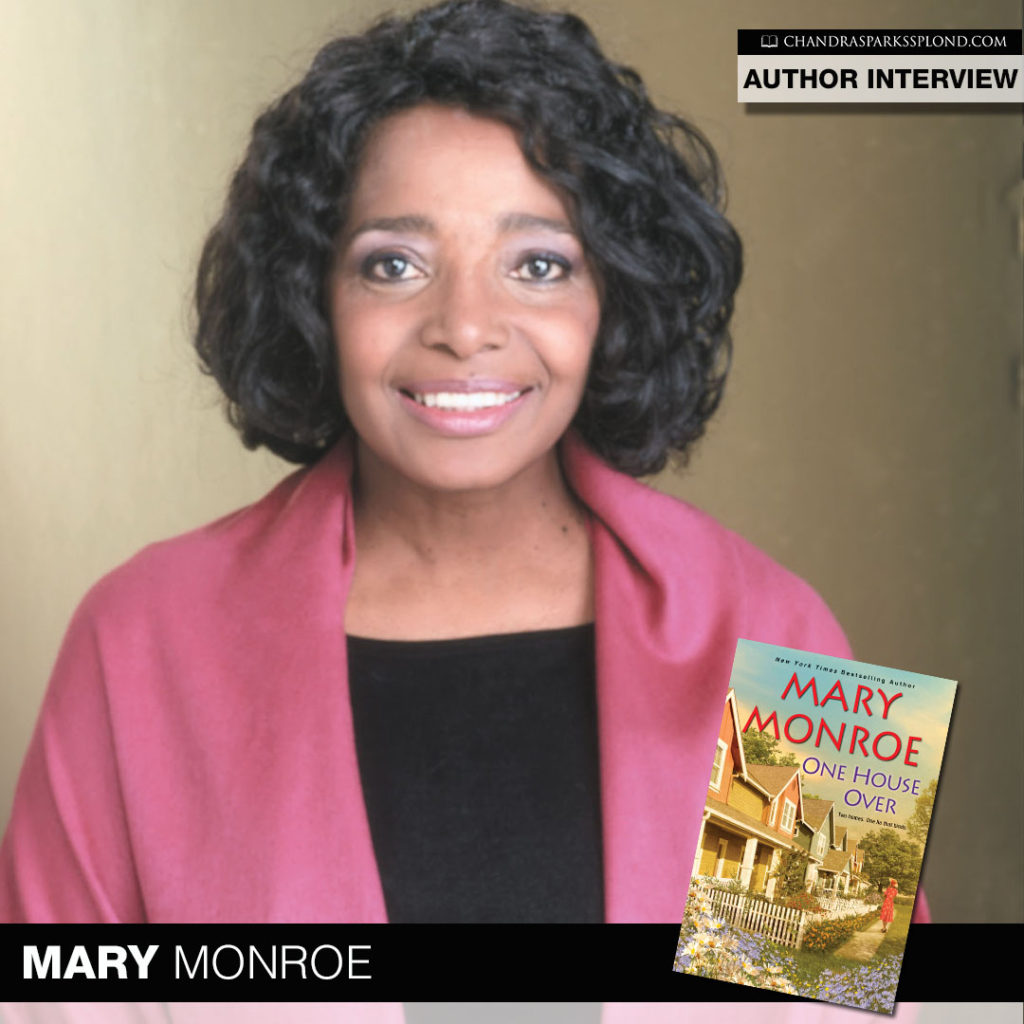 I am so excited to have New York Times bestselling author Mary Monroe visit today to discuss her latest book, One House Over.
Tell me about your latest book, One House Over.
One House Over is the first of three books in my new series entitled The Neighbors.  It is set in the 1930s in a small town in Alabama.  I chose this time period and location because my Mama Ruby series, with a similar  setting, is still very popular with my fans.  In One House Over (release date March 27, 2018), two young married couples who live next door to each other, start out as best friends.  When jealousy, greed, betrayal, and blackmail enter the picture, all hell breaks loose.  I love to read and write stories with characters that you want to scream at.
What do you want readers to learn from the story?
One of the most important things people need to learn is that jealousy is a very powerful emotion and can lead to dangerous situations.  Therefore, it's not a good idea to reveal more information than necessary about your personal life—especially your finances—to anybody.
What do you want readers to learn from your life?
I want my readers to believe that nothing is impossible if you work hard enough.  I had a very rough life. With no formal education and very little support from family and friends, I was determined to write for a living.  But some of my family and friends still insist that writing is not a "real" job.  After pursuing my dream for years and years, and collecting more rejection letters than I care to reveal, I persevered and achieved success I never dreamed of.  Now I'm a New York Times bestselling author with 23 published novels—and several more in the works.
Who is your favorite author and why?
I love so many authors, I don't have one favorite.  But some of the ones I love to death are Kimberla Lawson Roby, Toni Morrison, Walter Mosely, James Patterson, and Stephen King.  Their stories are so intriguing and entertaining!
What's next for Mary Monroe?
I have two more books to write in the current The Neighbors series and I will release my first Christmas book later this year.
Do you have anything you would like to add?
I'd like to thank all the readers who support my work!
To learn more about Mary Monroe, visit her website, or connect with her on social media.
Facebook address:  Facebook.com/MaryMonroe
Twitter address:      @MarymonroeBooks
Website:                  www.Marymonroe.org