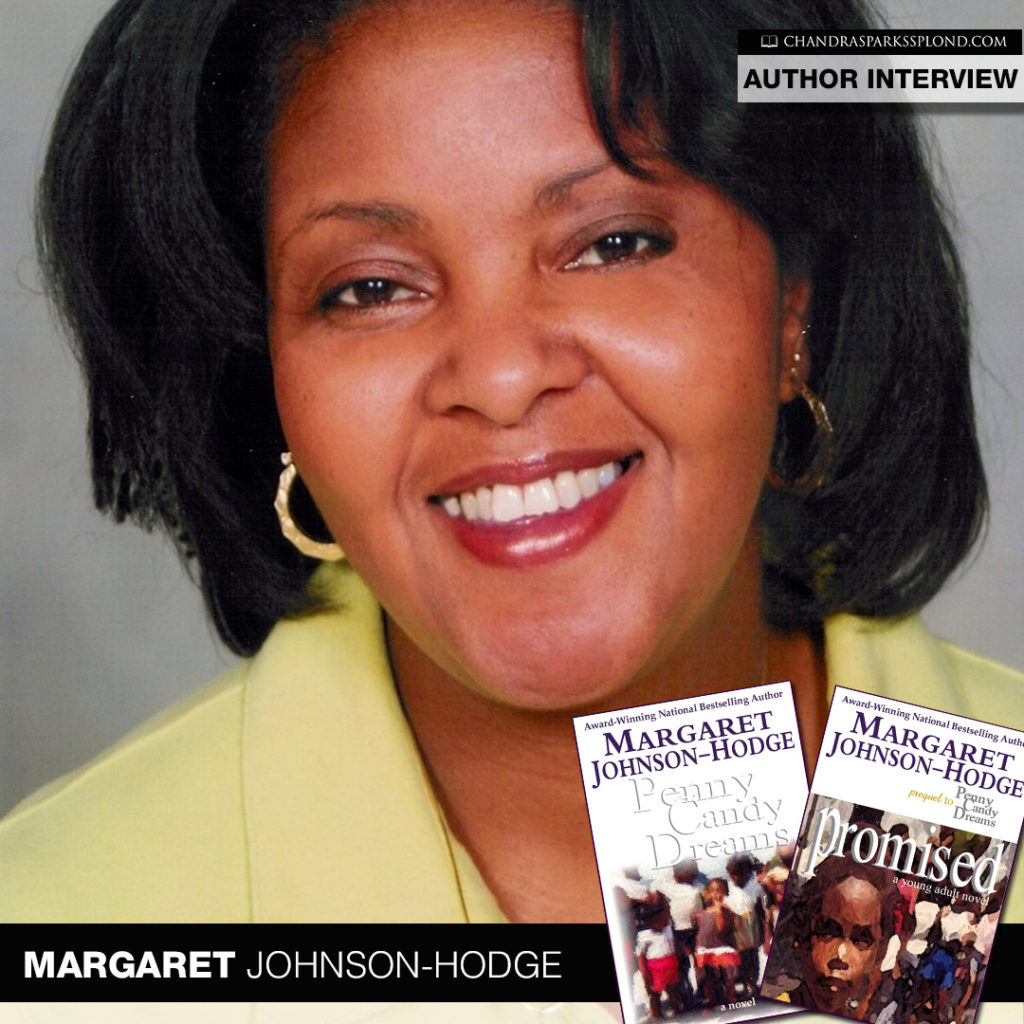 Award-winning national bestselling author Margaret Johnson-Hodge is back with two books that promise to be great reads.
Tell me about your books, Promised and Penny Candy Dreams.
Promised (my first young adult novel) is the story of ten-year-old Paige Andrea Montgomery.    It's her tenth summer, and she's out of school enjoying all the freedom summer vacation can offer. One day, something dire happens in her life, changing how she sees herself. It shatters her world and shakes up her belief systems, bringing on unexpected realities and deep-rooted pain. Clinging to an innate hope that she's always known, Paige makes a promise to herself that she will be okay, no matter what comes her way.
Penny Candy Dreams is the sequel to Promised. A teenager as the story opens, Paige's world has been a merry-go-round of peaks and valleys, highs and lows, full of old wounds in need of healing and new joys in need of finding. She's learned early to put one foot in front of the other, pressing on no matter what. Sometimes she aces it, sometimes she doesn't. A long-ago promise she's carried like a found pebble nestled deep inside a summer jean pocket has carried her through, but will it be enough as she enters the next stages of her life—adulthood?
Why did you decide to write them?
As much as I'd like to say that I chose the story, the story in fact chose me. Like everything I write, the idea behind it just showed up one day. I've always explored different aspects of life in all of my works, and these two books deal with how our early years carve out our path in life.
Childhood defines who we were and adulthood defines or redefines who we become. By writing in both genres (YA and contemporary fiction), I'm exploring how all those pieces come together in a single character's life. I didn't start out writing two separate books, but I trusted the creative process enough to let it have its way.
What do you want readers to learn from the stories?
That no matter what life throws at you, hold on. No matter what life looks like, feels like, is like, hold on. Nothing stays the same forever. The worse becomes the better. The better becomes the worse, but never give up and never give in.
What do you want readers to learn from your life?
I want my readers to look at me and say: Wow, she went through all that and she's still smiling? She's still optimistic? Still filled with joy? (And the answer, of course is, yes!) More importantly, I want them to see God's grace all over my life and how I'm still living, still dreaming, still hoping. Still being and doing what I love to do—sharing stories.
What advice do you have for people interested in writing a book?
Sit down and start writing. Not on a pad, on paper or a journal, but on a computer. Leave the "pen on paper" method alone. You will end up with a steamer trunk full of handwritten notes and at some point, those notes must be transcribed into a word document. Unless you plan to hire someone to type it all up for you, stop! It's a trap! It's a subconscious way of saying to yourself that you're not "good enough" to ever be published, while consciously saying, hey, I'm writing (in a journal), so therefore, I'm still trying to be a writer. Want to get that book done? Start putting your words into a word document on a computer and do it on a consistent basis.
The other advice I have is get together with other writers. Take some writing workshops. There is nothing more empowering for an aspiring writer than to be in the company of other aspiring writers. The energy in the room is just phenomenal, plus you get a chance to be mentored by someone who knows about writing—a double win.
I give writing workshops twice a year, and I also mentor aspiring writers. If anyone is interested in finding out more, they can visit my website: www.mjhwritingworkshops.net.
What's next for Margaret Johnson-Hodge?
My Book Release Party Celebration Extravaganza on Saturday, October 21, 2017.
Not only am I celebrating my journey as writer with my one-woman show A New York State of Mind: An Evening With Margaret Johnson-Hodge, I'm also celebrating the release of Promised and Penny Candy Dreams. I've dusted off my 30-year-old "character" dance shoes just for my performance. (Yes, it's that serious and yes, I used to be a dancer in my former life—before marriage and children.) A cocktail and hors d'oeuvre reception follows my show, and it all takes place at a gorgeous century-old live performance theatre on Marietta Square, in Marietta Georgia.
After that, I will begin working on an autobiography on the life of Mary Frances Grogan Mahan, a woman who lived to be 106 and I was blessed to call my aunt, even though we shared no blood. Born and raised in Marietta, Georgia, it was such a pleasure in just knowing her. Her life was rich and full and vast, and I simply adored her. It will be my first autobiography, but I'm thrilled about the project. She passed away this past August, and I feel honored that her family has agreed to let me write her story.
Do you have anything you would like to add?
I'm inviting everyone to come out and help me celebrate my book release event in October. Of course, there's only so many seats, so if you're planning to come, get your tickets early! (Ticket information is available on my website.)
Promised and Penny Candy Dreams are exclusively available on my website: www.mjhodge.net.  And lastly, be encouraged. No matter what is or isn't going on in your life, keep the faith. It will turn around for you. Just look back and see how many times you made it through. It happened before and it will again, promise!
To learn more about award-winning national bestselling author Margaret Johnson-Hodge, visit her websites or connect with her on social media.
Author Website: www.mjhodge.net
Writing Workshops: www.mjhwritingworkshops.net (writing workshop website)
Facebook Page: https://www.facebook.com/booksofmargaret.johonshodge
Twitter: @1stmjhwriter
Instagram: mjhwriting