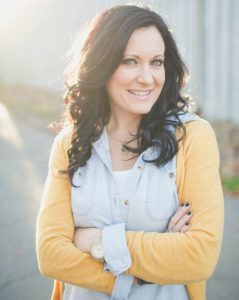 Lysa TerKeurst invites you to experience Uninvited. The New York Times bestselling author and president of Proverbs 31 Ministries recently spoke to us about her latest book.
Tell me about your book, Uninvited.
For most of us, the rejections of our past are affecting us more than we realize. We are all either trying to get healing from past rejection, dealing with a present rejection, or fearing that an unexpected rejection is just around the corner.
Feeling uninvited and rejections are some of the worst feelings I've ever felt. Sometimes those feelings have seeped out into other parts of my life, muddying the waters of how I see the world and the people I love. And I know I'm not the only one who has experienced this.
That's why I felt Uninvited was such an important message to bring into the world.
Uninvited will equip readers to:
Stop feeling left out by believing that even when you are overlooked by others you are handpicked by God.
Change your tendency to either fall apart or control the actions of others by embracing God-honoring ways to process your hurt.
Know exactly what to pray for the next ten days to steady your soul and restore your confidence in the midst of rejection.
Overcome the two core fears that feed your insecurities by understanding the secret of belonging.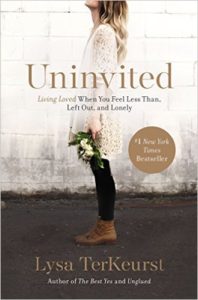 Why did you decide to write it?
I wrote this message because I need this message.
When I wrote Uninvited, I thought I was writing from the vantage point of looking back at past rejections to admit they were still affecting me. So that I could learn to really heal.
I had no idea that the words I wrote in this book last year would be a pure gift from God I desperately needed this year.
I have spent many nights recently curled up with the rough draft pages of Uninvited thanking God through my tears for the healing balm this message has poured over my soul. And the prayer of my heart is that this book would help other women experience that same kind of healing.
What can people expect when they read one of your books or attend one of your events? 
They'll feel like they have a friend who understands their struggles. We'll dig down into the deep places of our hearts that we don't let others see, but we'll also laugh together too. And they should also bring their Bible—we'll be in God's Word the whole time!
You lead women on an adventure of faith through Proverbs 31 Ministries. Why do you think women connect with you and your ministry? We really strive to be that trusted friend who can walk alongside a woman and point her toward the heart of God in practical and spiritual ways. We put a lot of intentionality and thought behind everything we do—our First 5 app, daily devotions, online Bible studies, and more—to make sure we're reaching women right where they are.
 How do you juggle being a wife, a mom of five and president of Proverbs 31?
Honestly, I have to say "no" to a lot of things in order to give my "best yes" to what God has called me to!
What advice do you have for women who are juggling being happily married, raising kids and building a career?
Pray for God's direction in what you should hold on to and what you might need to let go of. And then get up from your prayers and look, really look, for evidence of God's presence throughout that day.
On a practical level, don't be afraid to ask for help from others when you need it. Early on in my motherhood journey, I felt like I was drowning in piles of laundry, crying toddlers, and ministry assignments. So I asked a few teenagers from a homeschool family I knew for help with some tasks around the house. It counted as home economics for them and they were a huge help for me!
 What is the biggest lesson you want people to learn from your life?
That God absolutely loves to take rag-tag people from broken backgrounds and surprise the daylights out of them with possibilities.
 What's next for Lysa TerKeurst?
Over the course of the last two years, I've been traveling to the Holy Land to dig deeper into the Bible, and I expect to continue to do that. I recently led a tour of people over there and filmed a Lifeway Bible Study that will release early next year. I don't have huge goals that span over the next couple of years, I honestly just seek to pay attention and be obedient to God today.
To learn more about Lysa TerKeurst, visit her website or connect with her on Facebook, Instagram or Twitter.