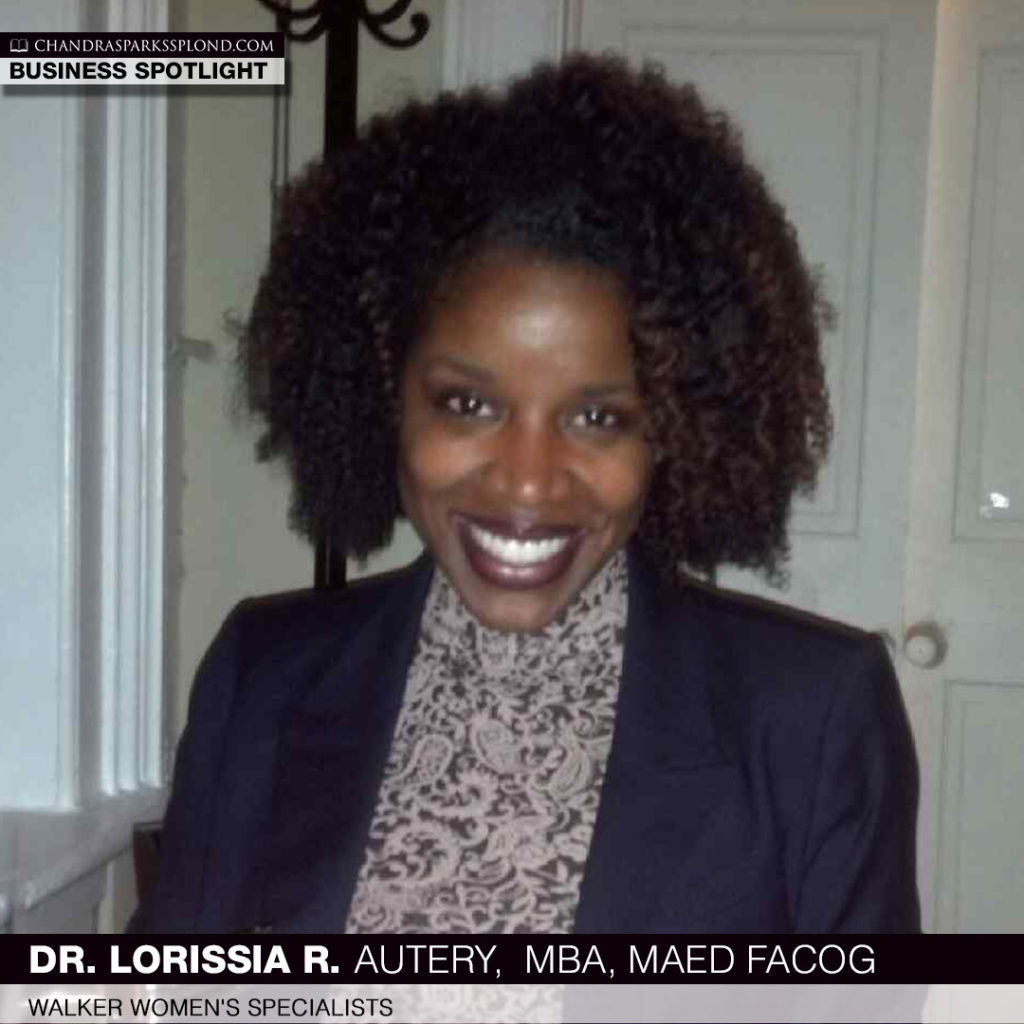 Dr. LoRissia R. Autery was born to be an obstetrics gynecologist. I recently spoke with the doctor about her calling and her practice.

Tell me about your practice.
My practice is a private OB/GYN practice located in Jasper, Alabama.  I have been in private practice for seven years.  One year was in New Orleans.  We offer comprehensive OB/GYN services including but not limited to:
Infertility
Prenatal Care
Ultrasounds
Vaginal Delivery
Cesarean Sections
Vaginal Birth After Cesarean Section
Mona Lisa Therapy for Vaginal Atrophy And Dyspareunia (Painful Intercourse)
Hormone Replacement Therapy
Annual Gynecologic Exams
Contraception
Abnormal Pap Smear Management
Laparoscopic Tubal Ligation
Robotic or Laparoscopic Hysterectomy
Endometrial Ablation
Urinary Incontinence Treatment Including Surgery
Pelvic Prolapse Treatment
HPV Testing
Decreased Libido Treatment
Why did you decide to become an OB-GYN?
For as long as I can remember, I always wanted to "deliver babies."  But ultimately, the decision was made for me.  I know this is my calling from God.  While in medical school, I tried to be interested in other specialties, but the magnetism to OB/GYN was undeniable.  To be able to participate in watching a fetus develop into an infant and the transformation of that mother back to her prepregnancy self is amazing.  The privilege of counseling woman on not only healthcare, but listening to their social issues that are affecting their health while offering insight is rewarding.  Now, this is not to allude to there are no bad days, because there are.  The days where I diagnose cancer or the fetus has no heartbeat are heartbreaking.  But through the grace of God, I am able to offer a compassionate hug, understanding heart and prayer for those patients if and when they need it.
What can patients expect when they select you as their doctor?
They can expect an energetic, knowledgeable, board certified and honest physician who is highly qualified, well trained and can relate personally and professionally to issues.  They will receive comprehensive, individualized medical care in a comfortable environment.
What should women look for when selecting an OB-GYN?
They should look for someone who has been trained as OB/GYN and is board certified.  They should feel comfortable being completely honest with their physician with the confidence of knowing that no information will be shared with anyone else.  They should look for someone with experience in whatever issues they are having including surgical expertise.  They should also verify insurance coverage for certain procedures to ensure there are no surprises after the visit.
What advice do you have for other women who want to pursue a medical career?
Go for it!  Know that if all of us present female physicians have made it, you can too.  It will be difficult, but worth it.  Never accept discouragement or doubt.  Be confident in yourself and what God has for you.  Sacrifice now so you won't have to later.  Surround yourself with like-minded, motivated individuals that will push you toward your goals.  Stay humble and thankful.  Pray before and after every examination.  Dedicate time to studying, but also to relaxing and taking care of yourself.  Have joy!
How do you juggle being a doctor and a momma?
As you can tell, Chandra, from the time it took me to actually respond, it can be extremely difficult.  The first thing is to prioritize and know what the most important thing/people in your life is/are.  Above anything else, my family is first.  With that being said, I must also make sure I complete tasks that allow for them to be first.  Days that I am on call and don't see my baby girl awake are hard.  But I make up for it on my half day of work.  I may sacrifice and stay late one day so I can have two days off.  My husband is a tremendous help.  He is able to be at home at night when I am not there.  Our nanny is a God send.  She is more like another grandmother than a nanny.  Although my immediate family is not near me, they provide help when they can.  Having a good work community is also helpful.  We all have children, and we understand the importance of watching them grow and being there for them.  Therefore, we cover call if there is a birthday or special event coming up.  My partners and I really try to help each other out to make it easier for us all to not miss too much time as a mother.  Our office staff is excellent in helping us to be efficient and if need be, to babysit if we have to bring one of our kids (including theirs) to work.  Lastly, our office manager manages to keep us all in order and will come to our houses to do anything extra we may need to make our day go smoothly.  I am truly blessed.
What's next for you and your practice?
We are presently in the process of building our own clinic.  It should be finished in April.  We are excited about owning our building and expanding our practice as our patient volume increases.  We want to make a significant impact in our community.  We not only work here, we live here.
Is there anything you would like to add?
As a physician, I take it as an honor to treat my patients.  Everything is done out of care and thought.  To my present and future patients, I thank you for allowing me to take care of you.  Thank you in advance for recognizing that although I am a physician, I am also a person.  Chandra, thank you for this opportunity to share a small portion of my life with you and your readers. I sincerely appreciate you reaching out.  If there is anything else I can do, please don't hesitate to ask.
To schedule an appointment with Dr. LoRissia R. Autery, MBA, MaED FACOG, visit or call her:
Walker Women's Specialists
3400 Highway 78 East
Suite 510
Jasper, Alabama 35501
Phone: 205-384-4801