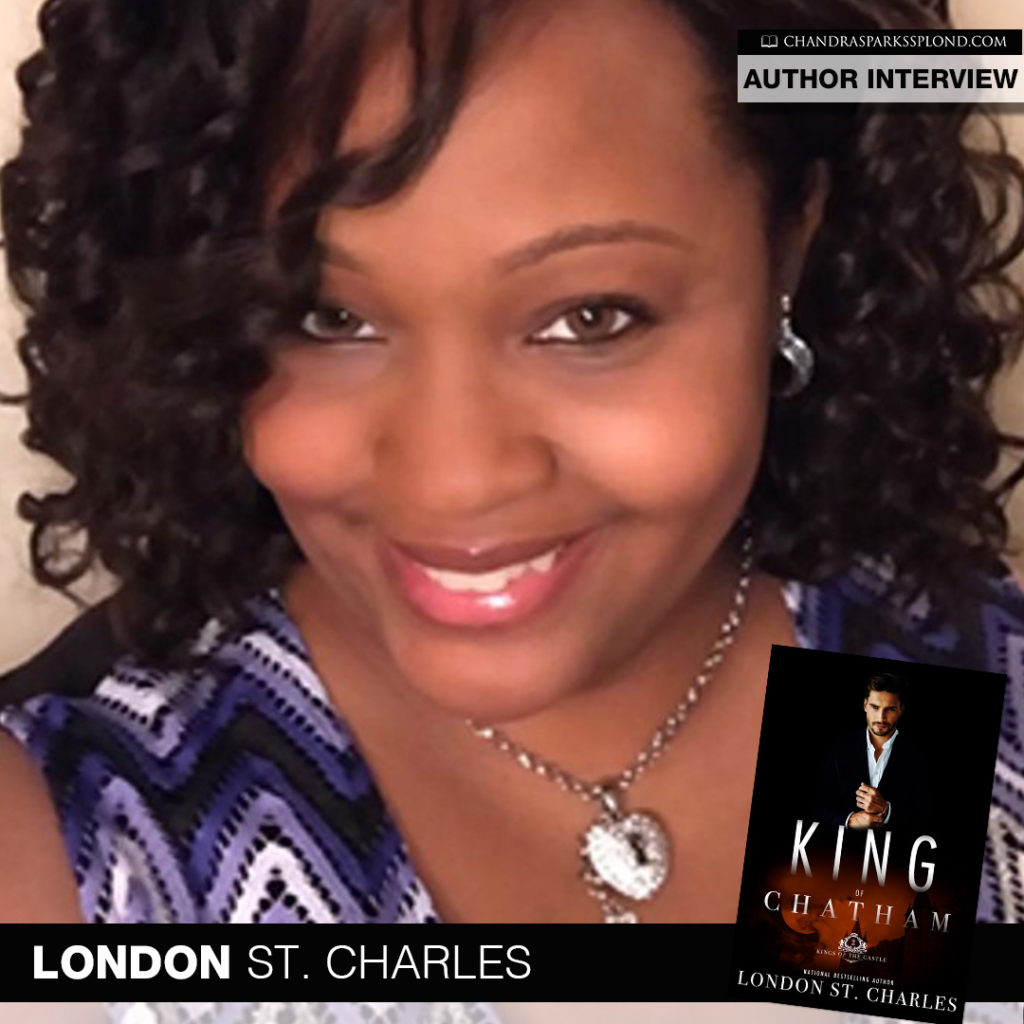 National bestselling author London St. Charles wants you to visit Reno. I recently spoke with St. Charles about her latest release, King of Chatham.
Tell me about your latest book?
King of Chatham is about Mariano "Reno" DeLuca. He's an architect that left his firm to pursue a line of work that was near to his heart. A childhood friend died at the hands of someone she trusted, and had there been a facility that she could've gone to for help, she might still be alive. So, Reno used his resources to open a women's shelter in the heart of his old neighborhood of Chatham where he felt it was most needed. Fast forward several years, Zuri lands on the doorstep of the shelter in need of immediate refuge from a father who's on the hunt for her all the way from Tanzania. Reno swears to protect her, but can he shield his heart from falling in love with the beautiful woman who's off limits? He couldn't focus solely on that because he'd been summoned to The Castle after learning his mentor had been shot. Life as Reno knew it would never be the same.
Why did you decide to write it?
Truthfully, because I was asked by Naleighna Kai to be part of The Kings of the Castle project. I've participated in an anthology before, but this is my first time writing a series, and though I couldn't visualize the full concept at the time, the premise was interesting. So, I put a previous story on hold and committed to bringing the King's world to life; the undertaking was no small feat. Although it has been challenging at times, making sure all the intricate plots and subplots intertwined seamlessly, I'm honored that I was considered.
What do you want readers to learn from the story?
I want readers to know that it's okay to go against the grain and to fight hard for what you believe. Fight for what's right and humane, even when it doesn't fit into someone else's box. Mariano was faced with dilemma after dilemma, mainly because he cared about the well-being of women more than anything else. He swore to protect them at all cost. Every woman needs a Mariano DeLuca in their life–a respectful, hardworking, honest man with morals who would step in front of a moving train before he'd let harm come their way.
If you could pick another profession, what would it be and why?
This is the dream profession. I'm doing what I love. Writing requires long hours, a certain amount of solitude, and dedication to push through even when I don't feel like it. But the payoff is wonderful. The readers make the sacrifices worthwhile. Seeing my words in print or holding a physical book with my name and title on the front gives me a high that I haven't come down from yet.
What's the best part of being an author?
Where do I start? Having the opportunity to fulfill a lifelong dream since I was a kid is the greatest. I have always been a writer, but becoming an author has given me tremendous joy. I get to write the stories I want to tell. But the absolute best part, is the feedback from readers. They feed my soul, especially when someone says they can relate to my story or they liked/despised a particular character. I love the interaction with readers.
What's the worst part of being an author?
Deadlines. I'm chucking as I typed that word. But for some reason, I do some of my best writing under pressure. What the heck is that about? Also the editing process, it can be tedious, but it's not as bad as it was the first time around.
What's next for you?
I'm working on another project that's scheduled to be released by year's end. It's actually the story I was writing prior to starting The Kings of the Castle series. That's all I'm saying on that. You'll have to wait and see (wink).
Do you have anything you would like to add?
Thank you for the opportunity to share my process.
Use my affiliate link to purchase your copy of King of Chatham.
To learn more about national bestselling author London St. Charles, visit her website or connect with her on social media.
Facebook: Author London St. Charles
Instagram: london_writes
Twitter: @LSCharles2017