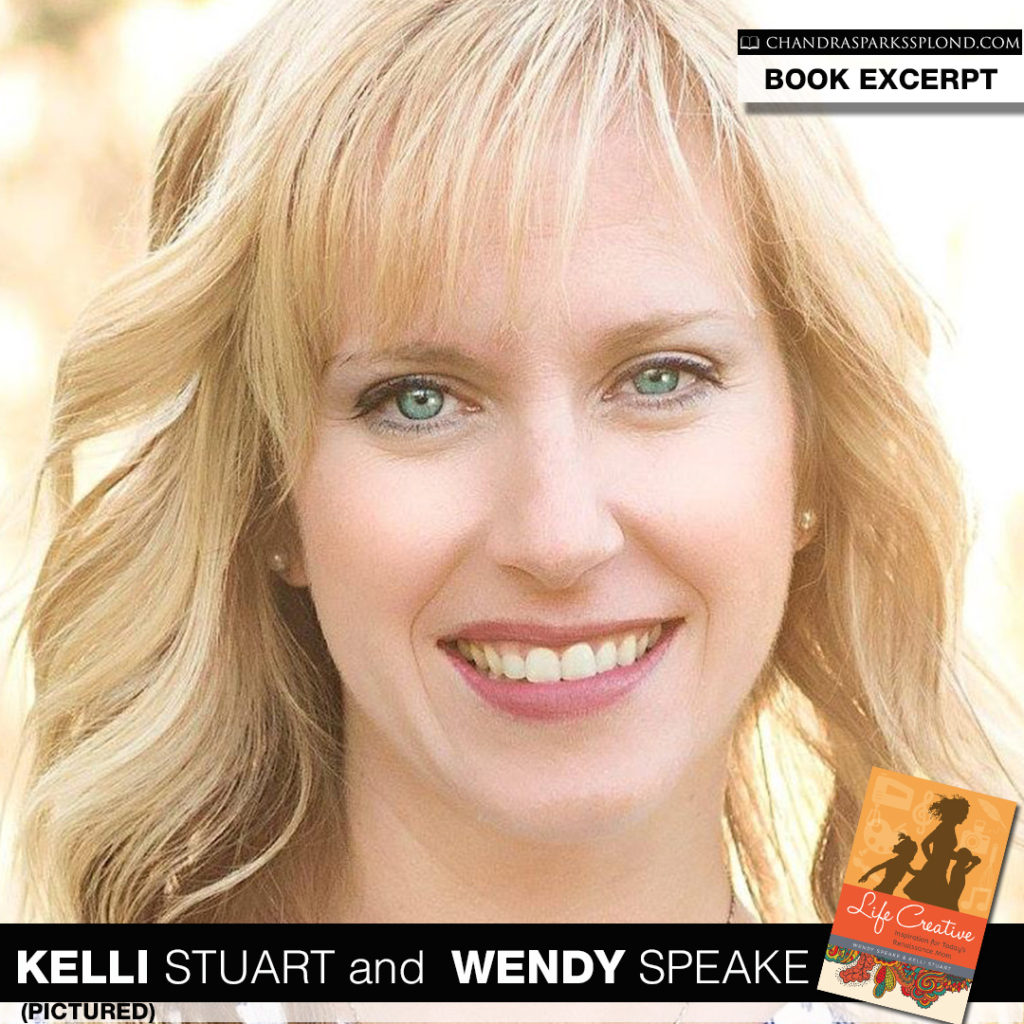 I'm excited to welcome Wendy Speake and Kelli Stuart to the blog today. The duo is sharing an excerpt from their book, Life Creative.
With social media bringing the world to our fingertips, creative women have an opportunity to share the Gospel around the world like never before – without ever leaving home. However, countless bakers, painters, writers, jewelry makers, woodworkers, calligraphy artists and more feel pressured to lay aside their creative passions in order to be good mothers. Life Creative encourages and empowers mothers to use their creative bent right where they are, with their families, for God's glory. Speake and Stuart offer compassionate wisdom and insight on bringing creativity into the mundane, as well as valuable tips and ideas on how to run a business from home when the time is right.
The Great Commission
You've read the words and heard the phrase, listened to countless pastors and wondered what part you play in the Great Commission. Could it be that the fact that we are an artistic bunch of confined ragamuffins has not escaped His eye or plan? That's the question this book hopes to answer. In fact, it is my most ardent belief that our generation of creative moms is find­ing and forging new roads out into the world from our very homes. Confined with our talents and our passion for Christ, a tidal wave is surging, ready to flood the world with creative expres­sions of faith.
And you'll be delighted to discover that God always intended His Great Commission to start this way. Indeed there is a biblical pattern to our going out into the world, and this pattern most assuredly begins in our homes.
Consider the Great Commission and the verse that sends us out:
Go therefore and make disciples of all the nations, baptizing them in the name of the Father and the Son and the Holy Spirit. (Matt. 28:19)
But you will receive power when the Holy Spirit has come upon you; and you shall be My witnesses both in Jerusalem, and in all Judea and Samaria, and even to the remotest part of the earth. (Acts 1:8)
Christ's last words to His disciples on earth were to "make disci­ples of all the nations." But the account in Acts gives us a pattern, or an order, to our going out. Starting in Jerusalem, which was home for the early church, and in the same way for us is our literal home; then to Judea and Samaria, our neighborhoods and community, churches, schools, and mercy ministries; and then finally out into the world.
It Starts at Home
Home is where everything starts. These walls are home to the little hearts entrusted to our care. These children are the disciples we are to make and teach, first and foremost. Confined for a time here at home, God is showing us our starting line in this Great Commission race. Beginning in Jerusalem.
So we put our noses down and get to the great work for which we've been commissioned. We live grace, and we sing our gospel song, tuck­ing them in and tickling their backs, not rushing the final pages of Goodnight Moon for the sake of a project half started in the other room. Because one of these days the sun will set and the moon will rise, and they won't ask to hear the story again. So we live it to the fullest extent we can today. Because there's unhindered gospel power in our undi­vided attention.
Can't you hear your children's testimony years from now? "Mama loved me with all she had, so I trusted the One she said loved me most. Yeah, the Bible told me so too, but I sing it out, 'Yes, Jesus loves me, my Mama told me so.'"
And another wonderful step to this miracle waltz, Renaissance Moms, is that we pour our love out in all the fullness of who we are as creatives! Over a palette of watercolors, we pour out; at the table mak­ing tissue-paper stained-glass projects, we pour out; framing and hang­ing the acrostic poems our children help to create out of their names, we pour out; over the baking sheet of hot oatmeal cookies, we pour out; dreaming up words that become stories in their beds at night, we pour out; stringing beads and making necklaces out of Cheerios at the breakfast table, we pour out. All this poured out, sacrificial love, splashing over their little bodies and hearts in the years of our blessed confinement.
Make no mistake, it's not easy, and it's not always pretty. Because while a creative mom can decorate it and make it beautiful, the reality of training these little lives isn't always Pinterest perfect. As a matter of fact, it reminds me of potty training: messy and you can't go anywhere. This task takes all our attention, until suddenly we're done. They're potty trained! And we celebrate by leaving the house and going to the zoo without a diaper bag or stroller, because that baby is a big kid now!
No doubt many of you are still doing the intense work of training at home. Not necessarily potty training, but the seemingly endless work of heart training. Whether you're home all day, or your most dedicated hours of training are in the mornings and evenings, each day you wake up and recommit to your personal Jerusalem, pouring your entire min­istry into the little ones in your arms, at your side. You're not looking yet to Samaria and Judea, though you dream of the literal and creative freedom to come, there on the other side of Goodnight Moon.
Use my affiliate link to purchase your copy of Life Creative. Learn more about more about Life Creative at www.lifecreative.me, and join the community on Instagram (@lifecreative). 
© 2016 Wendy Speake and Kelli Stuart. Life Creative is published by Kregel Publications. All rights reserved.