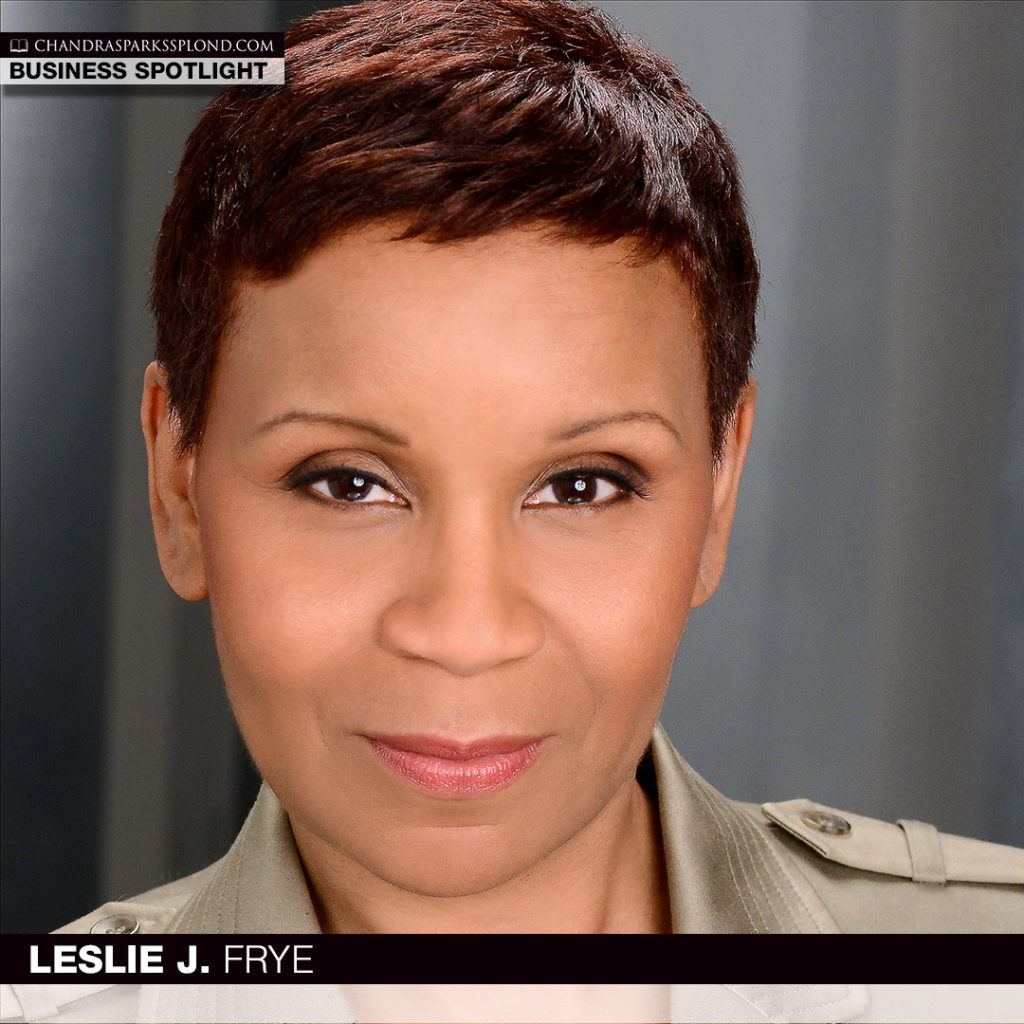 Leslie J. Frye was born to perform, and God answered her prayers to do that in an unexpected way. I'm excited for you to get to know her and for you to check out her work, if you haven't done so already. Introducing my friend Leslie…
Tell me about yourself and your new acting projects (name, past projects, titles of upcoming projects, what they are about and when they will air).
I was born in Alton, Illinois (hometown of Miles Davis) and raised in the Ferguson/Florissant suburbs of St. Louis, Missouri.  I grew up in a family of accomplished singers and musicians.  My father, David Frye, was a member of the 1970's soul group The Montclairs, featuring jazz artist, Phil Perry. I was an NFL cheerleader (St. Louis Football Cardinals) for four years, an international flight attendant (16 years), and I even enjoyed a brief recording career.  I also speak both Spanish and French.
I have appeared in several commercials for companies such as: The Food Network, Comcast Cable, Nickelodeon, The Lifetime Network and Sports Illustrated just to name a few.  Later I was fortunate enough to book a supporting role in the international cult film favorite, CAMP, directed by Todd Graff (Band Slam, Joyful Noise).  This led me to other roles on Law and Order:SVU, All My Children and a recurring stint as a nurse on One Life to Live.  As the facilitator for the MoriahCity Players at Mount Moriah AME Church. I wrote and directed many of their most successful outreach plays such as: Christmas at the House of Joy, I Won't Let Go 'Til You Bless Me—A Christmas Homecoming, Remember Me, Waiting for Hope, The Last Word and lastly, The Truth About Christmas, which won the Creative Arts Team the African American Heritage award.
In my downtime, I'm an avid video game console player, horror, Sci-fi and super-hero geek.  I love to study different cultures, languages and lifestyles.  In addition to learning more languages, I'm a student of mixed martial arts, belly dance and Classical Indian dance techniques (Bharatanatyam and Khattak) I am currently cast in a film called TARAB, a film about belly dance, love and Middle Eastern life in New York.  I have an Avon commercial running and just completed a commercial for Clearasil.  Lastly, I am working on a documentary (My Friend Greta) about my very dear friend, Greta Thyssen, who was a 1950s Blonde Bombshell actress and the last "Femme Fatale" to work with the Three Stooges.
Why did you start acting?
I've always wanted to be a performer.  I guess it was in my blood.  I had done some acting in high school and a little in college, but the opportunity didn't present itself until I got injured on the job as a flight attendant.  I call that my Godsend moment.  I literally had been praying for an opportunity to leave my job and pursue acting, and one day, on a flight to the Dominican Republic, my back just gave out on me.
What can viewers expect from your next role?
I play the role of Zarah in the film TARAB.  I think what audiences can expect a different viewpoint of Middle-Eastern culture in America.  There are many misconceptions out there.  I think this film will shed some light on it.  Additionally, there is a stigma attached to females and males who belly dance.  This film will allow you to see into that world and how freeing it can be.
What's the best thing about being an actor?
I think it's the people you meet and seeing the end result of your work.  If I'm able to evoke a response or emotion from someone who is watching what I've created- a reaction that creates a dialogue, then I've done everything that I've set out to do.
What advice do you have for others interested in acting?
Acting is hard work.  Don't let anyone tell you otherwise. It's long hours and a constant purging of emotions that you may or may not want to venture into.  On the other hand, it can be cathartic at times.  However, don't get involved in if you're just looking for fame, money or attention.  This business has a way of consuming you.  It's a never ending cycle of self-doubt.  You honestly cannot be "desperate" for anything when you're an actor.  You have to go into it being satisfied with who you are as a person.  I seriously recommend that you get therapy before starting this business—LOL!  The amount of rejection you get on a daily basis can cause a mentally unhealthy person to take drastic action.  You have to go into it knowing that it's a very subjective business.  If you didn't get the role, it's not about you.  It could be something as simple as the Casting Director having a bad day or that you remind someone of an ex- spouse.  I've actually had Casting Directors book me for a role because they simply liked my hair!  You can't try to figure this business out- It's really a mystery. Either you have it or you don't.  But, if you're dead set on doing it, understand this- portraying anything on film does not equate to "lying" on film.  As the actor, you must be able to portray truth in an imaginary circumstance.  Once you've mastered that, you're half way there.
What's the biggest lesson you want people to learn from your life?
You only have one life, so live it.  Don't stop yourself from pursuing your dreams and ambitions by saying I'm not good enough, I'm too old or I don't have the money. That's baloney!  When you say "yes", God opens a hole in the universe and makes a way for you.  All He's waiting for you to do is ask.
What's next for Leslie Frye?
Once I've completed my documentary, I would like to start working on an idea that I have for a horror film.  For now, I'll continue auditioning.  Who knows where that will take me.:-)
Do you have anything you would like to add?
I am very proud of my friend Chandra Sparks Splond.  One day, we're going to bask in our ultimate success while having lunch on the veranda of my home or hers and say to one another, "Remember when?"
Connect with actress Leslie J. Frye on Facebook and Twitter, and learn more about her upcoming project TARAB, visit the Twitter page.