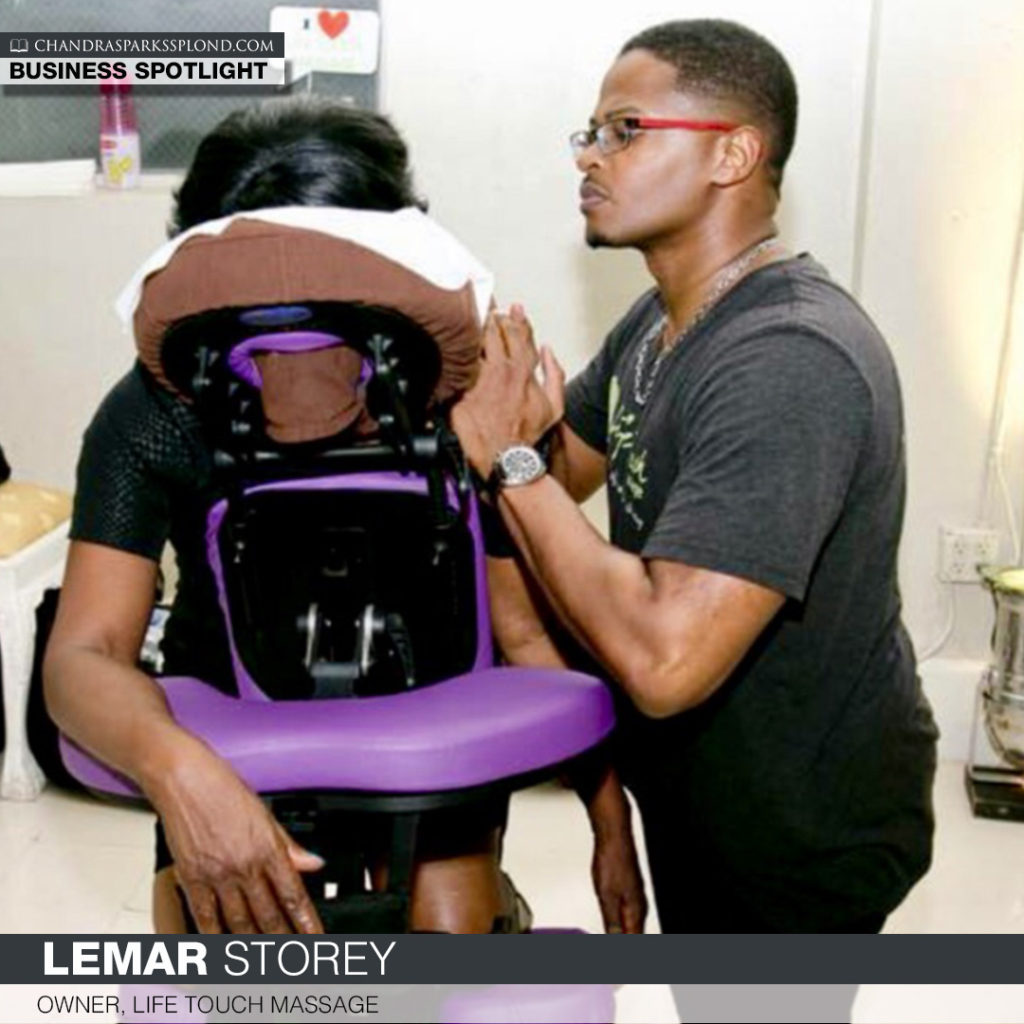 If you're looking to take a break from the stresses of the holiday season, now's the perfect time to contact Lemar Storey and treat yourself to a massage. I recently spoke with Storey about his business, Life Touch Massage.
Tell me about your business.
Life Touch Massage initially started as only a mobile massage business in 2005. I would travel to my clients' home, hotel, and/or business to provide on-site table-and-chair massage. Although, I still provide mobile services, most of my clients come to my office now.
Why did you decide to start it?
Years before creating Life Touch Massage, I began to realize the significant impact massage had on my clients' lives.  At first, I didn't understand why clients would return week after week.  After massage, some of my clients would comment about how "heavenly" their treatment was or how they "never felt love like that before."  After performing thousands of massages on thousands of people with the same response, I then realized that we have become a society lacking of the human touch.
So, I began to do my research.  I found that when compared to other countries, the U.S. has a touch deficit. Some researchers believe that our aggressive and violent behaviors are a direct result of the lack of human touch and compassion in this country.
This is why I created Life Touch Massage. I want to provide a place where anyone can receive the love, compassion, and attention they desire through touch therapy.  As a society, I think we have forgotten about the intimate touch that conceived us, the loving touch that nurtured us, and the compassionate touch that brings us closer to one another.
The goal of Life Touch Massage is to help you remember that touch is love, that touch is life.  That through touch, we all can learn to love and respect our fellow human beings.  After all, life began with touch.
What is the biggest lesson you've learned since starting your business?
The biggest and best lesson I have learned from my experience as a business owner is that to be successful you cannot be an introvert. It's like the old saying, "Closed mouths don't get fed." If you want your business to expand, be profitable, and provide the life you want to live, you have to be the one that gets the word out. One has to be willing to meet new people, stand in front of complete strangers, and network, network, network.
 What can customers expect when they book your services?
When receiving a service from Life Touch Massage, you can expect to be welcomed into a peaceful, warm, and non-judgmental environment. Your service provider will be well trained and treat you with the utmost respect and dignity. We encourage our therapist to "be human."  This entails engaging your clients in meaningful dialogue so that we can find ways to enhance the therapeutic environment.
 What advice do you have for others interested in starting a business?
I highly encourage anyone starting a business to take some type of business courses. The best decision I made was to enroll in the Business Growth Program directed by Rev Birmingham (http://www.revbirmingham.org) in 2014. This program helped me in so many ways. I wasn't a business major in undergrad and had taken no business classes before starting my business. Admittedly, my business suffered from this.  Rev Birmingham's courses are very affordable (only $200–$300), and the benefits of having a continuous network of professionals connected to the city of Birmingham is priceless.
What's the biggest lesson you want people to learn from your life?
Life lessons: A) Follow your heart. I believe God has endowed all of us with a gift, and that gift can be used to provide everything we need. B) Your network equals your net worth. Fellowship with people that encourage and inspire you to be great. C) Make money. Don't let money make you. Never let money be the reason for your motivation. D) Never give up. There will be times when things are rough, money is tight, motivation is low, and the people around you are doubtful. Don't let those factors discourage or hinder your progress. Instead, view those moments as a challenge to your creativity. Surround yourself with motivational books, podcasts, videos, and people to help you through these moments.
What's next for Lemar Storey?
What's next: Life Touch Massage plans to open a full-service spa in Birmingham, Alabama, in the near future. We want to be the go-to spa destination in the area. We want to be known for our excellent customer service and community involvement.
To learn more about Life Touch or to make an appointment, visit the company's physical location at 1933 Richard Arrington Jr. Boulevard South, Suite 250, Birmingham, Alabama 35209 or the website. You can also call 205-718-5144 or email.