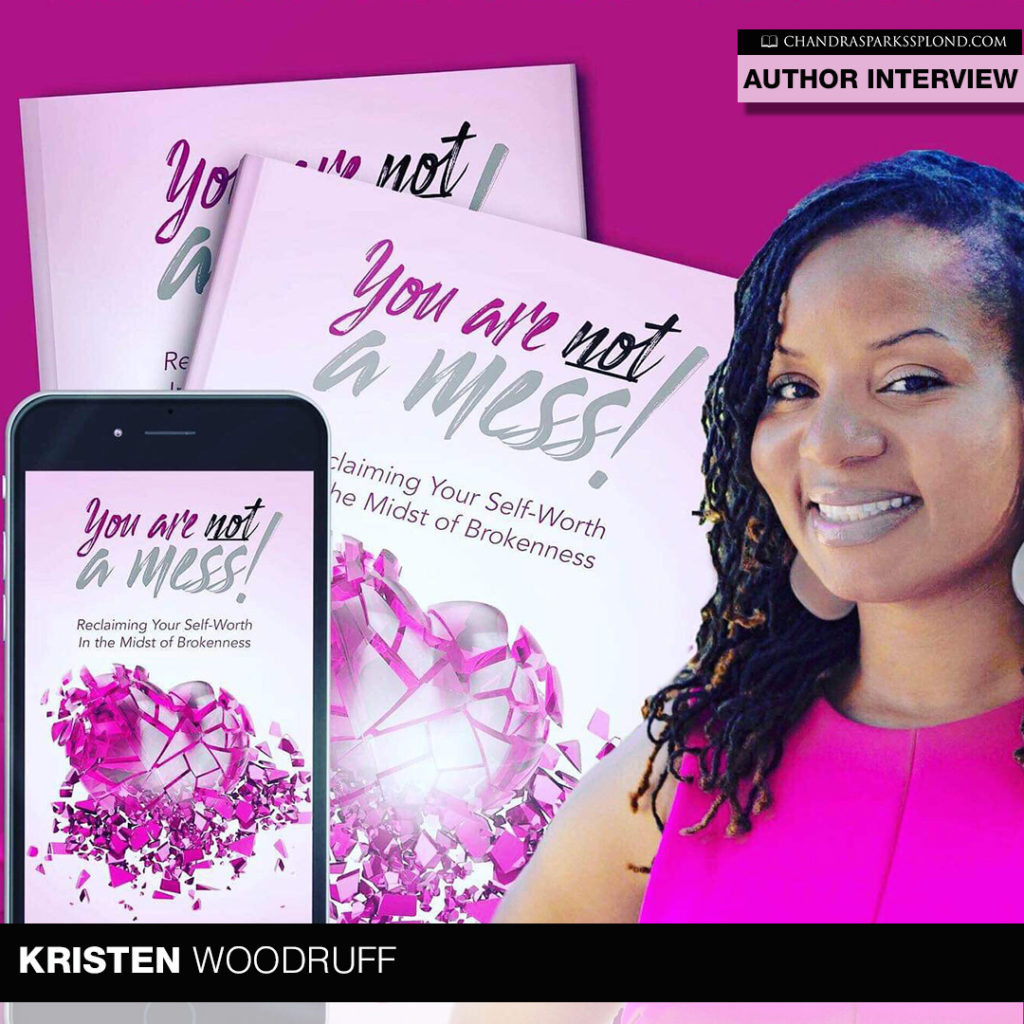 Author Kristen Woodruff wants you to help readers reclaim their self-worth. I recently spoke with her about her book You Are Not A Mess!
Tell me about your book, ​You Are Not A Mess​!
Absolutely! My book You Are Not A Mess! is about how my mentality and lack of self-worth caused me to fall into many toxic relationships and messy situations due to my internal brokenness. I became so frustrated at the many failed attempts at love and then I realized, it all starts with me. I write about how I moved overseas for a teaching position and how that shift literally changed the entire trajectory of my life. It was in that wilderness season that I found hope, healing, determination, my self-worth and purpose to live my best life.
Why did you decide to write it?
My book You Are Not A Mess! came from a very dark place in my life. I initially didn't intend on publishing this book. In fact, it started out as a journal, and after a few months of venting, I realized that I started to see a shift in my mindset, how I felt about myself and what I wanted out of my life. I realized that the way I was living my life wasn't it for me. I knew that I deserved more and I would do what I could to get to that point. I also realized that in those journal notes, healing was taking place. I began to finally see hope and a future in the midst of the many messes I created. I remember hearing many similar heartbreaking stories from friends, associates and women in general who were tired of repeating cycles in toxic relationships, too. They wanted to show up in the world, get better results in love and start living life to the fullest. I knew that in my sharing, I would hopefully inspire the next women to realize that she is worth more than her circumstances and that she deserves to love on herself more, even in the midst of brokenness. It was in that moment that I made the decision to take my writing to the next level by writing this book.
What do you want readers to learn from the story?
I especially wrote this book with the single woman /mother in mind who may be having a tough time in her singleness and who has compromised her body, mind and spirit one too many times because of lack of self-awareness. What I want readers to know is that your mindset is everything. A lot of the very personal and transparent moments I discuss in this book happened because I didn't understand my worth or value. I allowed people to misuse me and abuse me. I didn't love myself enough to do better. I was trying to find love in all the wrong places and I sought out validation because I didn't know my purpose nor did I have love for myself. I also didn't understand that healing is a process. Part of self-love is knowing when you need to heal, let go, forgive and move on from whatever it is that is keeping you stuck in pain. I held on to unforgiveness and pain for many years, and in that place, I blocked my blessings. It's in those places of pain that we can make very reckless decisions with our lives. Relationships and love can be absolutely amazing, however, if God is not in it and you don't have love for yourself first, nothing else matters. Sis, you may have been in some messy situations, but you are not a mess! You can and will reclaim your self-worth, even in the midst of your brokenness. It's never too late to begin the healing process. It's never too late to fully love on you and embrace your season of singleness in truth and purpose so that you can attract the true love you deserve. Wait on God. He will guide you. In your season of singleness, work on yourself so that you can completely heal from whatever it is that may be holding you back. Just because you've made messy decisions doesn't mean that you constantly have to identify with that. I wrote my book to inspire you to recognize your self-worth, change your mindset about yourself and pursue purpose. I thank God for second chances and the ability to share my story to help the next woman thrive!
What do you want readers to learn from your life?
Anything is possible. I went from being a single mom who wanted to give up on life due to my many challenges. I had very low self-esteem and no real expectations for better outcomes. It was about the shifting of my mindset. I stopped allowing my mindset about my past to limit my future. I took each situation as a teachable moment that would allow me to grow into the woman I am today. I'll constantly repeat this–You may have been in some mess, but you are not a mess! You can and will reclaim your self-worth.
Take those circumstances that you'd rather not repeat and use them to help you reflect, grow and shift how you feel about yourself. You are worth more than staying broken. You are worth more than a toxic relationship. You are worth more than self-doubt, fear and low expectations. You are worth more than the fornication. You are worth more than the abuse. With a changed mindset and a deeper understanding of self-worth, anything is possible. You deserve the ultimate best and it all starts with you!
It's never too late to begin the healing process. I'm currently single, but I know this to be true: Genuine love is coming to you, and you don't have to compromise your body, mind and spirit to get it either!
What was the hardest part about writing your book?
The exposure. I'm a private person, so sharing my personal story was hard. My first thought was, I don't want everybody in my business. I realized later on along the journey that this isn't about me. It's about inspiring and empowering the next woman to get up and make the very best out of your life despite the circumstances.
What's next for Kristen Woodruff?
I definitely have more books I plan to release. I also want to continue to inspire single moms in my community by hosting empowerment events that will spread more awareness regarding healing, self-worth, self-improvement, single parenting and more, because I see how much my life has changed just by sharing my story.
Do you have anything you would like to add?
Keep God first. Embrace your single season. You are worth more than you know. Don't compromise your worth, body, mind and spirit. You deserve the very best. Keep shining, thriving, pursuing purpose. Don't despise your story. It's in your pain that purpose can be birthed!
To learn more about Kristen Woodruff, connect with her on social media.
FB: Kristen Woodruff
IG: Mskrisinspires