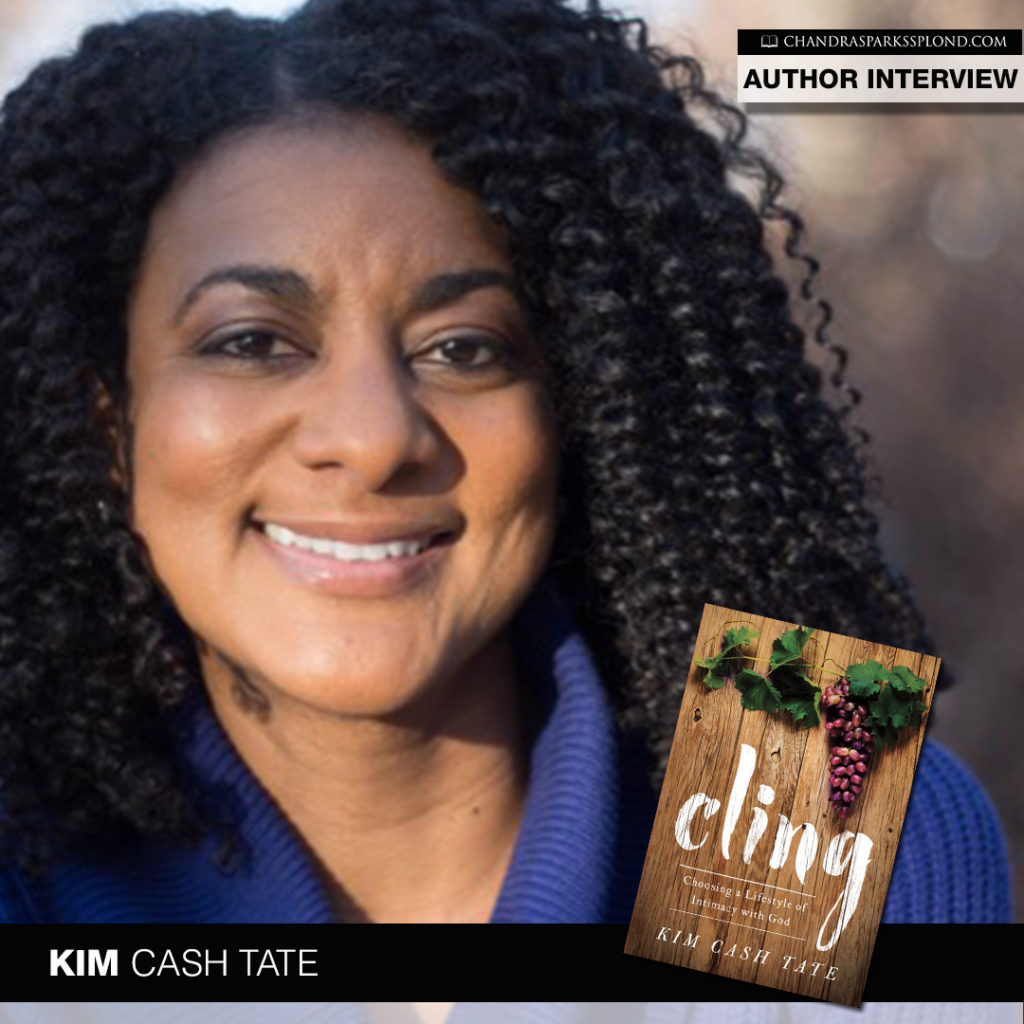 Author Kim Cash Tate wants you to know that when you cling to God, He is faithful. I recently spoke with Tate about her latest release.

Tell me about your book, Cling.
Cling is a book about intimacy with God.  The word itself is found in Deuteronomy 10:20—"You shall fear the LORD your God; you shall serve Him and cling to Him, and you shall swear by His name" and Deuteronomy 13:4—"You shall follow the LORD your God and fear Him; and you shall keep His commandments, listen to His voice, serve Him, and cling to Him."  Those other commands can be satisfied from a distance; "cling" is personal.  It's God's invitation to dwell intimately with Him.
Through biblical examples and reflections from my own life, I hope to encourage the reader to cultivate an ongoing closeness with God through prayer and time in the word of God.  I talk about the things that draw us closer to Him as well as those things that might distance us from the Lord.  Deep in our hearts is a desire to be known, to feel special, to know that someone cares.  God wants to be that ultimate someone in our lives.  In clinging to Him, He sustains us through the imperfect, the disappointing, and the trying times of life.
Why did you decide to write it?
The word cling has been on my heart for years.  Ever since studying Deuteronomy several years ago and seeing that word, it's been a prayer—"Lord, help me to cling to You."  I have seen God's faithfulness in answering that prayer through many storms of life.  When my agent approached me about writing a book, and I prayed about it, that was the subject that the Lord moved me to write about.
What do you want readers to learn from the book?
I hope readers will learn that intimacy with God is not reserved only for "some people."  God desires intimacy with all who know Him, and it's possible to walk in that intimacy as a lifestyle.  It's a transforming way of life that God, by His grace, makes available unto us.
What do you want readers to learn from your life?
I hope readers will see that I desire to cling to God, knowing I'm in desperate need of Him.  But that doesn't mean I've done that anywhere near perfectly. I've seen the difference—what my life looks like when I'm clinging to God, and what it looks like when I'm not. And I know without a doubt that the ultimate place of blessing, of protection, of peace, of joy, of strength, of sweet intimacy is when we are clinging to God.
What has been the most surprising thing about your writing career?
I always say fiction was my surprise.  I always thought I'd write nonfiction because of my love of the word and my heart to teach the word.  But the Lord put a story on my heart several years ago, which became my first novel, Heavenly Places.  Writing fiction is where I see God do amazing things.  I love the journey.
 What's next for Kim Cash Tate?
I will release my eighth novel later this year, which I'm excited about.  I also have a YouTube channel and plan to release more videos.
Use my affiliate link to purchase your copy of Cling.
To connect with Kim Cash Tate, visit her website or connect with her @kimcashtate on all social media.