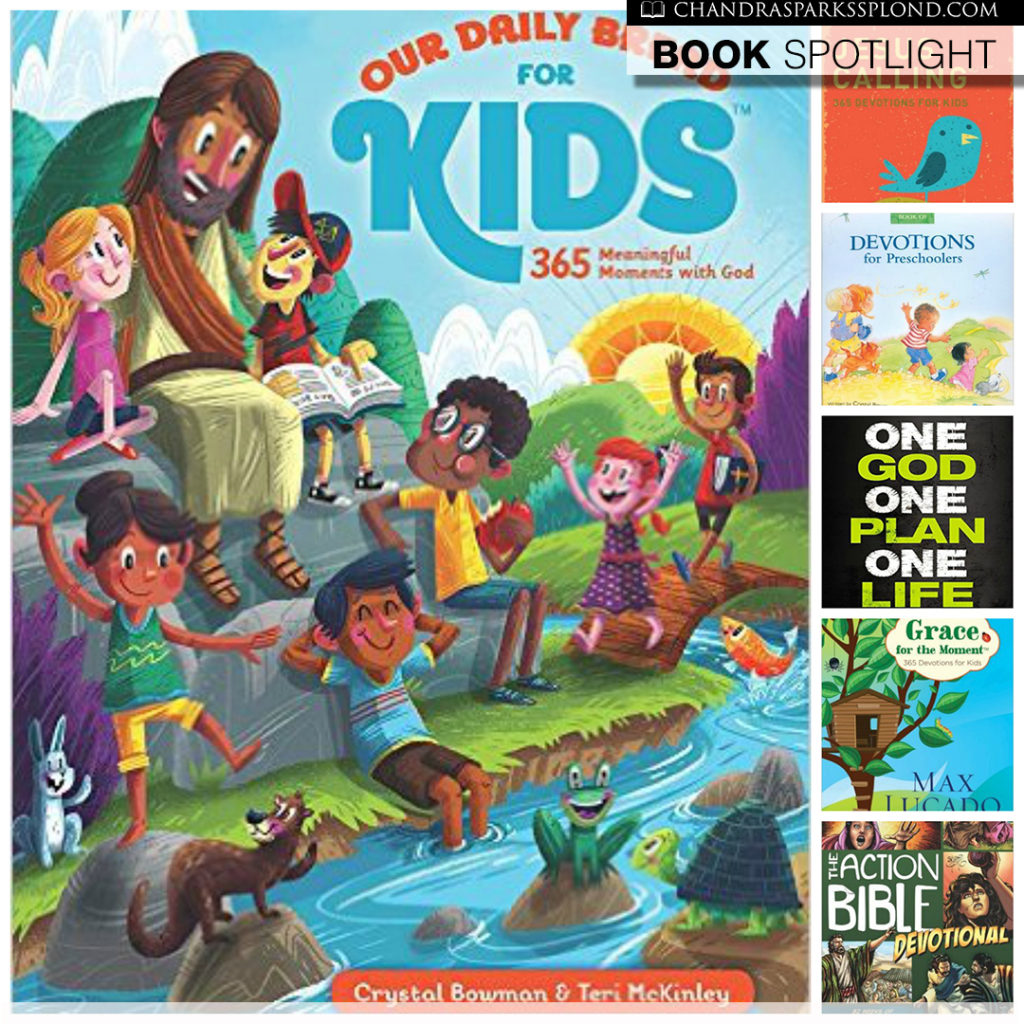 If you're anything like me, you may struggle with how to help your children develop a relationship with God. In addition to reading the Bible together, here a few devotionals to help. Please note: Affiliate links included.
The One Year Devotions for Preschoolers
Crystal Bowman
Watch your young children grow in their understanding of God as you meet with him together using this devotional. Each reading pairs a Little Blessings illustration with a short Bible verse and devotional thought that gets you and your child talking about the simple truths of scripture. A fun rhyming prayer completes each devotional.
Our Daily Bread for Kids: 365 Meaningful Moments with God
Crystal Bowman
Inside this devotional you'll find the life-changing wisdom of the Bible expressed in a kid-friendly format paired with fun illustrations. These short and engaging devotions, easy-to-remember Bible verses, and exciting facts encourage children to spend time with God and apply the truths of His Word to their everyday lives.
The Action Bible Devotional: 52 Weeks of God-Inspired Adventure
Jeremy V. Jones
The Action Bible Devotional pairs selected stories from the bestselling Action Bible with spiritual lessons and action-adventure missions that launch kids' faith into everyday life. Covering themes such as friendship, temptation, sibling rivalry, self-esteem, and materialism, The Action Bible Devotional offers a year's worth of activities, questions, and ideas.
Grace for the Moment: 365 Devotions for Kids
Max Lucado
Adapted from the bestselling devotional for adults (with more than 3 million copies sold), Grace for the Moment: 365 Devotions for Kids presents the message of God's grace in a way that children can understand. It's perfect for families to read together or for older readers to enjoy alone. Each day offers a devotion and scripture to encourage regular time with God.
One God, One Plan, One Life: A 365 Devotional
Max Lucado
Bestselling author Max Lucado offers teens an accessible way to connect with their Lord. Daily devotions address such topics as faith and obedience but also offer wisdom on topics that teens battle such as purity, bullying, alcohol and drug use, and self-image. Each day includes a short devotion and accompanying scripture as well as a take-away application that will inspire and challenge teens to trust in God and His plans for them.
Jesus Calling: 365 Devotions For Kids: Time-Tested Answers to Your Toughest Questions
Sarah Young
Based on her original Jesus Calling, this version has been adapted in a language and fashion that kids and tweens can relate to their everyday lives. After many years of writing in her prayer journal, missionary Sarah Young decided to listen to God with pen in hand, writing down what she believed He was saying to her through Scripture. Others were blessed as she shared her writings, until people all over the world were using her devotionals.  They are written from Jesus' point of view, thus the title Jesus Calling.