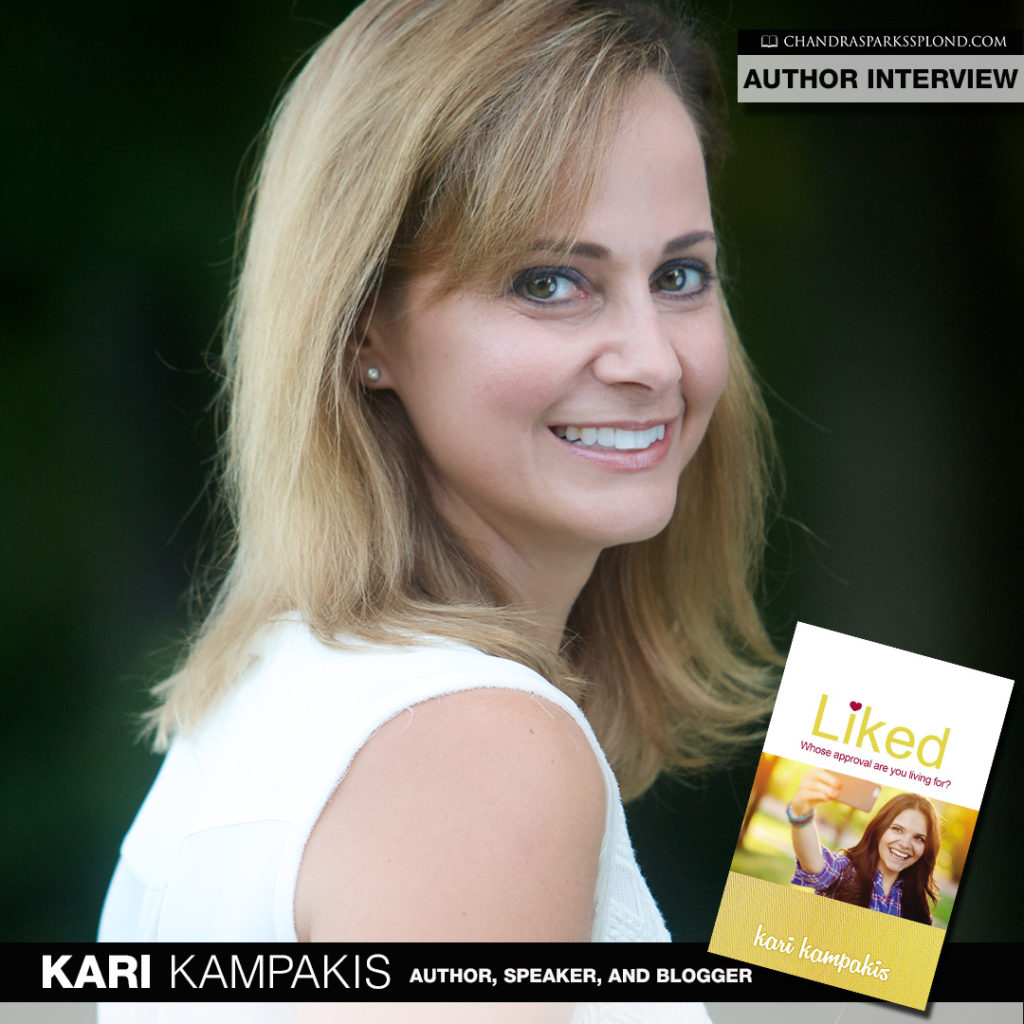 Author, speaker, and blogger Kari Kampakis knows a thing or two about raising daughters—she has four of them. I recently spoke with her about her new book, Liked, which deals with the impact social media has on girls.
Tell me about your new book, Liked: Whose Approval Are You Living For?
Liked is a book that empowers teen and tween girls through the Christian faith. It focuses on four areas particularly relevant to teenagers today: identity, friendships, social media, and building a relationship with God. The book is written in a conversational tone and features lots of stories that reflect the realities they're dealing with and can hopefully inspire them toward a path that allows them to be strong, kind, courageous, and true to themselves.
Why did you decide to write it?
While traveling to talk about my first book, 10 Ultimate Truths Girls Should Know, I started hearing the same questions and issues everywhere.  All the girls' questions had to do with relationships, and all the moms wanted me to talk to their daughters about social media and how to use it wisely.  I realized the need for a resource that could help girls understand things like identity, self-worth, purpose, and real relationships in a world where digital connections and digital validation often blur the truth and lead girls to search for love and acceptance in all the wrong places.
What is the biggest lesson you want readers to learn from the book?
My greatest hope is that every girl who reads this book will feel better about herself and her life because she understands her value is determined by God, not social media "likes" or approval from peers.
What do you want your legacy for your daughters to be?
More than anything, I want my daughters to remember me as a good person who loved people, enjoyed life, trusted God, and did the best she could. I also hope they notice the joy I get from being their mom, and that it allows them to see adulthood as a season of life to look forward to.
What advice do you have for parents who are struggling with raising their daughters?
Hang in there! Everyone struggles, especially in the teen years, and you're not alone. Girls are awesome, but they can also be complicated because there's so much going on in their heads and hearts. Whether they let on to this or not, they want your love and approval. They need you in their life. Just love them and pray for wisdom, clarity, and positive influences.  Also, if you think they might benefit from a counselor, then by all means set up an appointment. I know a number of women who specialize in counseling teen girls, and they are fantastic.  I'm a big believer in addressing little problems so they don't turn into big problems.
How do you juggle being a wife, author/writer and mom?
I'll be honest—it's hard! Some days I feel like things are under control, and other days I feel completely overwhelmed. With my kids ages 6, 9, 11, and 13, I'm in the thick of parenting, so I'm careful about what I commit to. I want my work to complement my role as a mom, not overshadow it. I'm fortunate to have a super-supportive husband, and I know that it's only by God's grace that I'm able to juggle work and family at this time. I'm a slow writer, and I've learned to set realistic expectations for myself and come to peace with the fact that I can only accomplish so much in a day.
What advice do you have for women interested in pursuing their dreams?
My advice is to be patient and kind to yourself. No matter how much passion and talent you begin with, there is always a learning curve. There are always challenges and rejections that make you want to quit. It took me seven years to get a book deal, and it felt like a lifetime. Looking back, however, l can be thankful for the wait because it taught me to believe in myself when no one else did and to be grateful when doors finally opened.  I truly believe God puts passions and dreams in our heart for a reason, and if we listen to Him, work hard at improving our skills, and seek the counsel of wise people, good things will eventually happen.
What's next for Kari Kampakis?
Right now I'm focused on my book launch in November. That will entail traveling and speaking to groups of girls to share the message of Liked and encourage them in person. My goal is to simply enjoy the people I meet, hear what they have to say, and see what these encounters inspire me to work on next.
Kari Kubiszyn Kampakis is a mom of four girls, as well as an author, speaker, and blogger from Birmingham, Alabama. Her newest book for teen and tween girls, Liked: Whose Approval Are You Living For?, releases November 2016 and is available on Amazon, Barnes and Noble, and Christianbook.com.
Kari is also the author of 10 Ultimate Truths Girls Should Know, used widely across the country for youth group studies. Her work has been featured on national platforms like The Huffington Post, TODAY Parents, and Yahoo! News and reflects her passion for family and God. Learn more by visiting www.karikampakis.com  or connecting with Kari on Facebook, Twitter, Instagram, or Pinterest.
Please follow and like us: