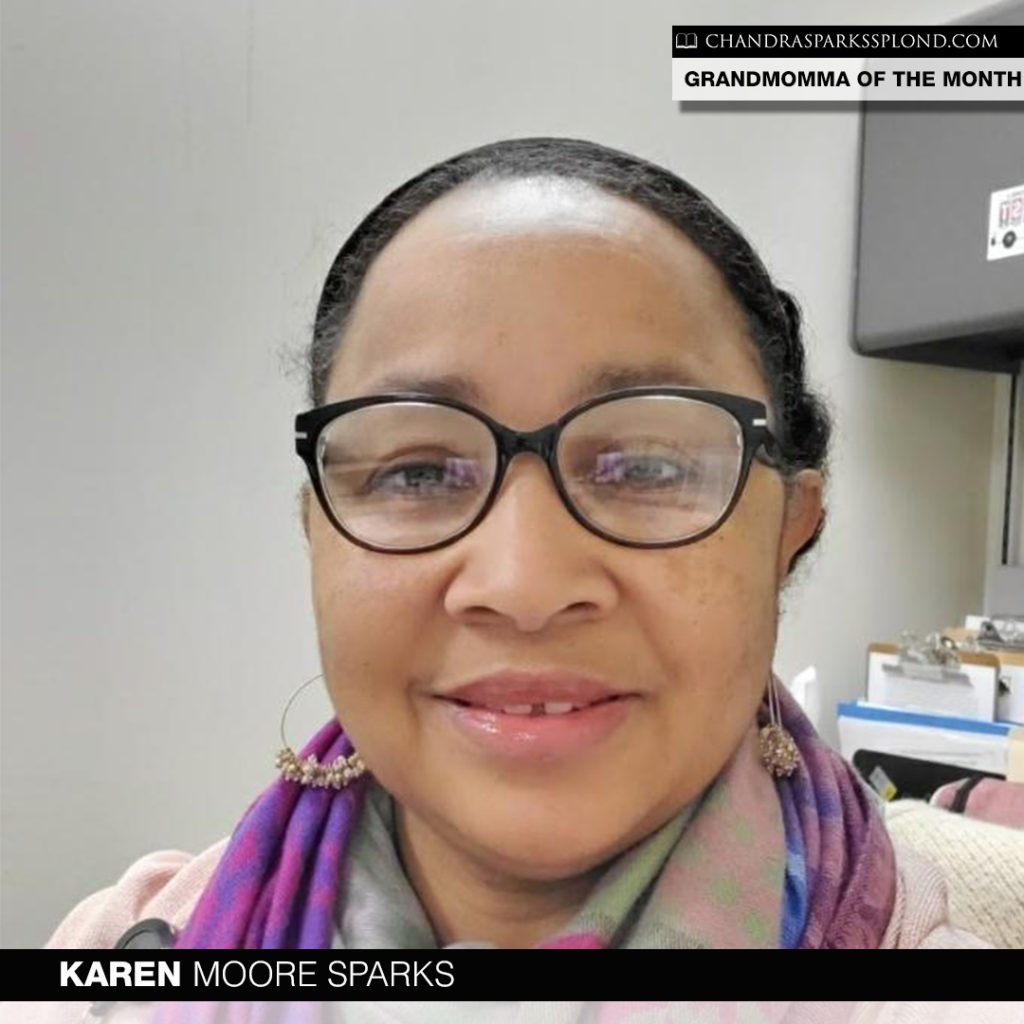 I'm excited to kick off a new annual spotlight on grandmas since September 13 is grandparents' day. We're starting off the series with Karen Moore Sparks, an employee with the City of Birmingham and my awesome sister-in-love.
Tell me about yourself.
I am Karen Moore Sparks. I was born and raised in Tuskegee Alabama.  My parents are Douglas Terry and Mavis Moore.  I am the third daughter of their union and the third of seven kids—five girls and two boys. My family was a loud, loving bunch, and we learned early that farm work, raising cattle and doing chores were a big part of daily life. AND IT WAS A GREAT UPBRINGING.
My husband, the love of my life, is Andra D Sparks. We were married in Tuskegee on June 28, 1986.  We have two children; Anthony, 36, and Brittany, 31, and three grandsons who literally are the best little guys in the world.  Aidan is 8, and he made me realize that my heart could do a figurative split with love for him. He is a wonderful kid who enjoys being a kid. All the things that make being a little boy fun are his attributes; being inquisitive, loving and never wanting the game to be over. My heart then split twice more because George Solomon who is 3 1/2 was a preemie but he never knew it, came bursting into our lives. His personality is huge, his wit, energy and never meeting a stranger are what makes him him; he knows what to say to melt your heart. The last of the bunch, for the third split is Ashton who is 3. He is definitely the most daring, the rough and tumble one. The one who surprises you with the biggest hugs.  The shadow of his big brother.  If Aidan does it, it's 100 percent fine for him.  The sweet loves of my heart.
I worked for 25 years at Liberty National Life Insurance Company, and when the company relocated I found myself having to do the same in the form of employment.  I am currently employed by the City of Birmingham in the Human Resources Department—Pension Division, it's as if I found my purpose.
What do you want your kids and grandkids to learn from your life?
I am a Christian, but I am not perfect.  God forgives us, we must forgive ourselves and others. I try not be so serious knowing though that there is a time and place for everything.  I love people and love being around people.
Everyone has a job to do, I've found that helping God's people is a great mood enhancer.  Find what works for you, and do it with gusto, if it gives you a feeling of warmth; if you like doing it you'll look forward to it and do it well.
What are the best and worst things about living in Birmingham?
I love living in Birmingham. The city is always energetic. Whether is going to a show or a game or just to the mall or grocery store, things are easily accessible. I love that Birmingham's history and its heritage is so rich and a spiritual mecca in that there is no shortage of houses of worship.  Birmingham isn't my original home, and as much as I love it, most of my family are a couple hours away and while it isn't impossible, it's not always easy for a spur-of-the-moment visit. Life gets in the way of a road trip sometimes.
What is your proudest personal moment?
A proud moment wasn't something I did, but was a praise an accolade bestowed on me by not one but several of my siblings and my mother AND IT WAS IMPROMTU! I never knew they felt that way.  I initially felt that they were joking around, but then realized they weren't! It was the nicest compliment of my character that I have ever heard.  They say those closest to you take you for granted and you, them but I literally feel a buzz of emotion every time I think of it.
What are your proudest mom and grandma moments?
Mom moments: that my children are each other's friend, that they encourage each other and like being with each other, that they have that genuine love of family and they don't think it is time wasted to spend it with Andra and me.  Also that their love of Christ is the centerpiece of each of their homes.
Grandma moments: my grandsons can and currently want to play with me, my life isn't too buttoned up to roll around on the floor with them. They know they have my full attention when they are in my care and that my love for them is reciprocated in their love for me.
What is your proudest wife moment?
Andra is my guy, my best friend and confidant.  He wears so many hats in his secular and spiritual jobs and is pulled in many directions in the course of a day, but thanks be to God, we always end the day together and look forward to being with each other. When he stated to the congregation at my church, Forty-fifth Street Baptist, at which he also pastors that, 'next to his salvation; I am his greatest gift', I was a proud wife.  Wow, what heady words!!!
What advice do you have for new grandmas?
Don't hover; give the new parent the space to do it their way.  Your way is one way not THE way.
Spoil them with limits knowing that spoiling them is different from making them brats, but that the lines can be blurred really easily.  Teach them, sing to them, play with them, love them…they are little for only a little while.
Every moment is a teaching moment even in fun.
What's next for you?
Next?  I'm not switching gears.  Being a wife, mother and Mia is a great gift.  God has given me the temperament and more importantly the grace to deal with each of these roles, and although they'll always need to be tweaked, I want to be sincere and dedicated, openminded and inclusive.
This coming spring I want to create a flower garden oasis in a corner of my back yard. A little patch of color, creativity and serenity that will be a new hobby, a stress releaser.
Is there anything you would like to add?
When our kids were small, we were too busy with school and work and trying to establish ourselves in the community that quality time often seemed rushed in retrospect, but with my grandsons, no matter the busyness or the stresses of the day when they're with us, we are involved with them. They have our attention.