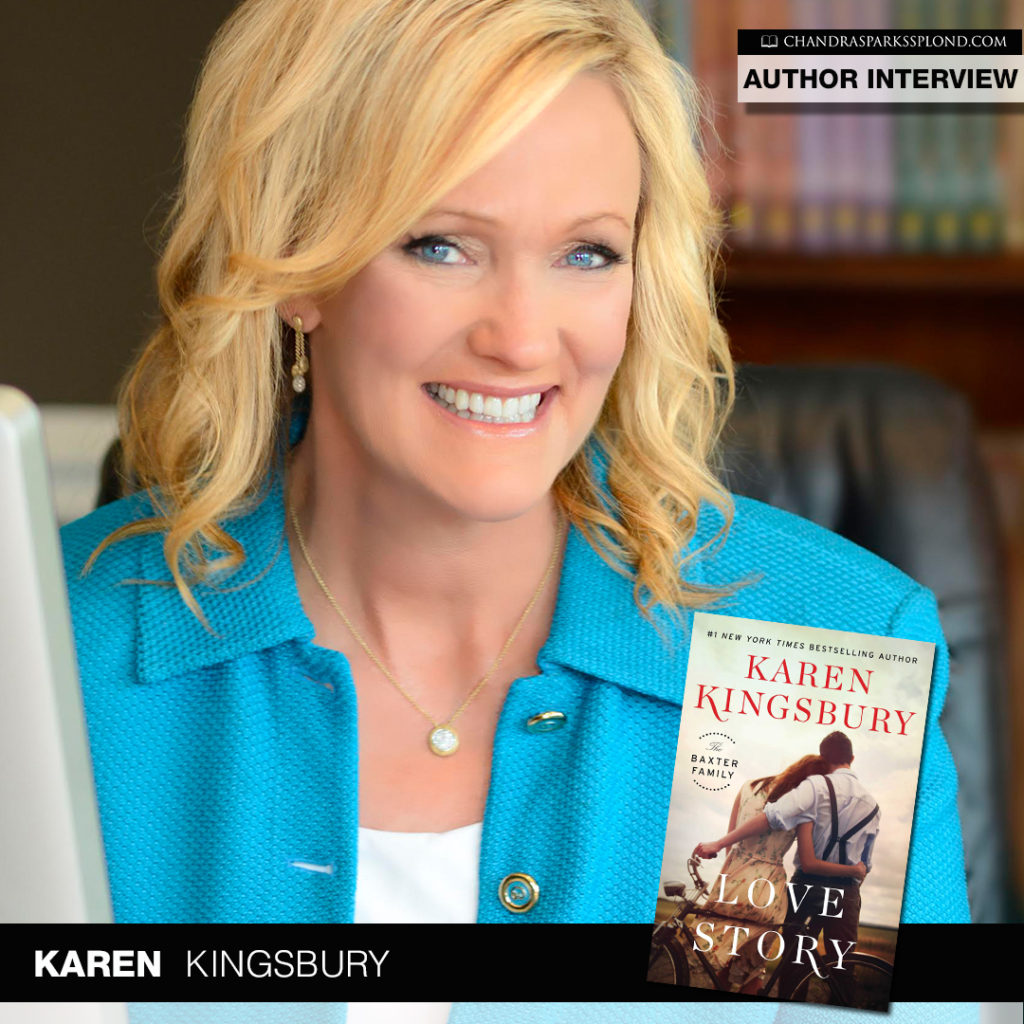 Don't you love it when God opens doors for you no man can open?
When I was making my list of books I was looking forward to reading this summer a few weeks ago, I had no idea I would have a chance to interview #1 New York Times bestselling author Karen Kingsbury again about one of my picks, Love Story.
Tell me about your latest book, Love Story.
Love Story begins with a question from a teenage boy to his grandfather. "Tell me about the love story between you and Grandma." And so begins a journey back to the college dance where John Baxter met the love of his life – Elizabeth. It is the story of many loves, including the one between Cody Coleman and Andi, who have been through two broken engagements. But even more, it is the story of how love lives and breathes and grows. How it forgives and heals and touches the next generation. It's easily one of my favorite books ever.
Why did you decide to write it?
I've always wanted to write a prequel to the Baxter family. For a decade readers have asked me to tell the love story between John and Elizabeth. This seemed like the right time. It's also a wonderful place for new readers to begin.
What do you want readers to learn from the story?
I want them to learn the power of love, how it can move hearts generation after generation.
Love Story tells the story of when John and Elizabeth Baxter first fell in love. Who is your favorite character from the Baxter series and why?
John and Elizabeth have always been favorite characters because they are the patriarch and matriarch of the family, and because they had a secret. They weren't perfect. It makes the story that much richer on down the line when Ashley, their daughter, fails so completely. Love lasts. Love forgives. Love heals.
Who is your favorite author and why?
CS Lewis. He's brilliant at weaving story and truth. I'm in awe of his writing.
What lesson do you want people to learn from your life?
I often say that at the end of the road, want people to say I wrote a bestseller with the days of my life. That I loved well, laughed often, looked for the miraculous, and lived for Christ.
What's next for Karen Kingsbury?
In November I'll release a book called In This Moment…it's part of my new Baxter collection, where the Baxter family members play part of the setting or background for a new current-day story. This one is about an inner-city high school principal Wendell Quinn fighting for the chance to keep his voluntary Bible study group going. The group has changed the school dramatically for the better, but now a lawsuit has come down threatening every good thing. Luke Baxter is, of course, the Wendell Quinn's attorney.
Then in the spring of 2018, I will release a book called To The Moon and Back. It's a love story about two people both changed forever by the Oklahoma City Bombing. They shared one beautiful day together when they were sixteen. Now they are in different places, alone—that is until Ashley Baxter steps in.
Do you have anything you would like to add?
Something to look for in Love Story is the engagement seen on page 177. It's something Cody sees as he's sitting at the beach, alone. Only every detail of the engagement is very much real. A young man reached out to me a year ago and asked if I'd help him propose to his girlfriend—a huge reader of mine. I agreed and wrote this brief scene into the book. The real engagement went down a few weeks ago on May 21. I was there to film it and give them both a hug.
Also, Roma Downey, Mark Burnett and MGM Studios are working on a TV series called The Baxter Family. It will debut on their new network, Light, spring 2018.