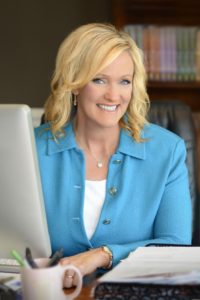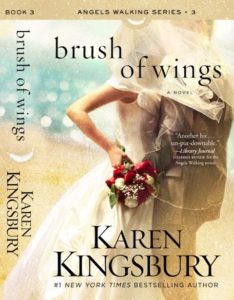 Beloved #1 New York Times bestselling Christian fiction author Karen Kingsbury recently spoke with me about Brush of Wings, which was released March 29.
Tell me about your latest novel, Brush of Wings.
My new novel, Brush of Wings, is the third and final book in the Angels Walking series. It is a story of desperate love and daring rescue and the hope only heaven can give.
Why did you decide to write this story and this series?
I became very aware of our culture's fascination toward the dark side of spiritual things. Vampires. Zombies, etc. And I decided why not write a series that emphasizes the light side of the supernatural? Hebrews 13 in the Bible tells us to be careful to entertain strangers, for in doing so, some have entertained angels without knowing it. With that in mind, I decided to create a Town Meeting in heaven at the beginning and ending of each book in the series. Angels would be chosen and sent on mission – in this case a desperate mission. The characters wouldn't know they were interacting with angels at various points throughout the story. But we – the reader – know. Because we were there at the Town Meeting. I love that this series has helped readers see that they are never truly alone, and that God is working on their behalf. In fact, He may even have sent an angel to interact with you for a rescue or to bring a message of hope.
You are very engaged with your fans on Facebook. Why is this engagement important to you, and how did you go about cultivating it?
God puts a story on my heart, but He has the hearts of the readers in mind. Because of that I see my readers not as fans so much as friends. People who have seen a glimpse of my heart. I truly care about them and pray for them, and I look forward to the times when we connect in person and through social media.
Why do you think you have such loyal and supportive fans?
As much as I love my readers, I believe they understand that, and as a result they love me, too. They pray for me and my family, and they celebrate our victories and milestones. Many of my readers tell me they feel like they know me and my family. It's a beautiful thing, really.
You have been very vocal about adoption. What advice do you have for others interested in adoption?
Adoption is a beautiful and difficult choice. God calls all of us to be involved in looking after orphans— whether through prayer, financial support, or actually taking an orphan into your home. I would advise before adopting that people talk with family, friends, a pastor and others who have adopted. Keep a high bar for your adopted children by training them up in the ways of the Lord, and not making life too easy for them. In addition, allow an open line of communication between you and your spouse.
How do you juggle being an author, wife and mom?
Elisabeth Elliot—wife of the famous missionary Jim Elliot—once said that the secret to balancing all aspects of her life came in simply doing the next thing and doing it as well as possible. In general, that's my theory, too. My relationship with Jesus comes first, and then my life as a wife and mother. Somehow God has always given me time to do it all.
What advice do you have for wives and moms who are trying to pursue their dreams while raising a family?
Pray and write down your goals. I like to have goals for the year, the quarter, the month, and the week. You likely won't accomplish all your goals outside of being a mom and a wife. But if you don't write them down, you won't accomplish any of them. I tell my kids the same thing. Write it down. Get it done.
What's next for Karen Kingsbury?
I'm working on a Christmas novel, a story we're going to announce in early May through my website and social media. In addition, it was just announced that I 'm teaming up with Roma Downey and MGM to see my Baxter family (the subject of 22 books) made into a TV series. I hope to be very involved in the screen writing process, and in helping oversee the direction of that series. In addition, there are movies being made on others of my books, including A Time to Dance, a Hallmark movie out this May.
Do you have anything you would like to add?
Some people ask me how come this beautiful ride through the world of bestselling fiction hasn't changed me. I tell them that my dad set me up to succeed as a Christian. He told me there would be no autograph lines in heaven, and that my job as an author would never be more important than the job of someone cleaning the bathroom at the airport. I believe him to this day.
Find out more about Karen Kingsbury and sign up for her free newsletter at www.KarenKingsbury.com. You can also follow Kingsbury through Facebook, Twitter (@KarenKingsbury) and Instagram (@KarenKingsbury).
(via Hope for Women)