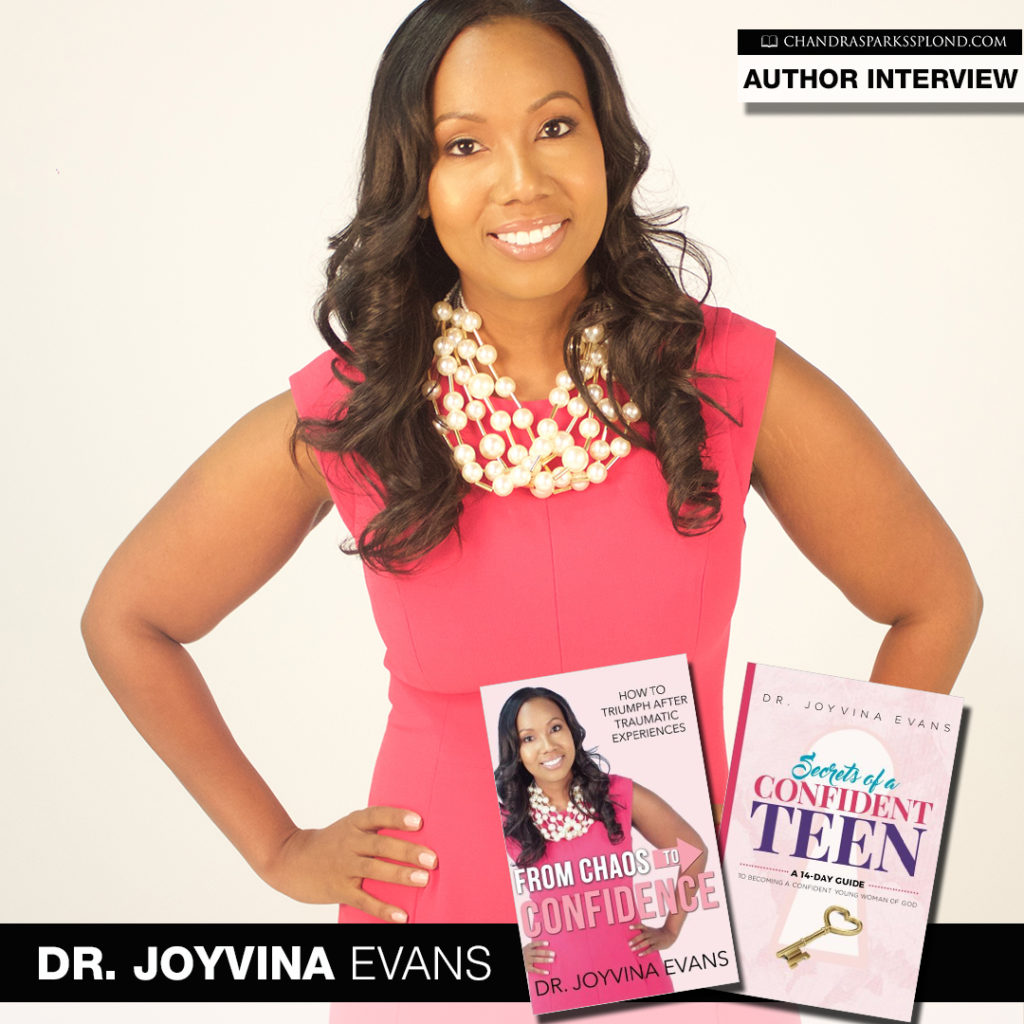 Dr. Joyvina Evans knows there is joy in being confident. I recently spoke with Dr. Joy about her Confidence Academy.
Tell me about Confidence Academy.
The purpose of Confidence Academy is to cultivate confidence, courage, and change in the lives and relationships of teen girls and women.  This is done through books, apparel, workshops, and virtual bootcamps.
Why did you decide to start it?
It was birthed out of pain. After going through a rough time, my self-esteem and self-worth diminished. When I came through that situation, I realized that I went through it to help others. Therefore, the company was created.
Who is eligible to join and what can members expect?
All teenagers (13 and up) and women are eligible to participate.  The expectations depend on what they sign up for.  The bootcamps are virtual.  We meet once a week via telephone and they have assignments and readings/videos that they must view prior to our meetings.
Tell me about your book, From Chaos to Confidence.
This book deals with a season that I went through.  My wedding was called off, my Godfather was killed in a motorcycle accident, my Aunt died unexpectedly, and I had a co-worker attempt to assassinate my character. The book discusses these incidents and how I came through these situations.  It discusses how to get through tough situations and devastation. It goes on to discuss how God used that pain and turned it into my purpose.
Tell me about your latest book, Secrets of a Confident Teen.
This book is for teenaged girls. I discuss peer pressure, jealousy, envy, relationships with parents, and it also touches on when I suffered from anorexia.  There are also reflections/assignments at the end of each day.
What do you want readers to learn from your books and your business?
I want them to learn that nothing is impossible. I want them to learn that what we think is a setback can truly be a setup for our biggest comeback.  However, we have to keep the faith and stay positive while we're going through. I want them to learn that God is in control and they have to trust Him and trust the process.  I want them to stop comparing themselves to others and focus on being their best.
What is the biggest lesson you want people to learn from your life?
I want them to understand the importance of never giving up when things don't go as expected. Many times we have our life mapped out and if there is a detour, we become discouraged. It's important that we keep pressing and keep the faith.  One of my favorite scriptures in the bible is Romans 8:28: "All things work together for the good of those who love the Lord and are called according to His purpose."  This scripture didn't say a few things or some things. It said "all" things work together. That's great news!
What advice do you have for people who are letting lack of confidence keep them from pursuing their dreams?
Joyce Meyer says it best…sometimes you have to do it afraid.  Even if you're scared or nervous, you have to go for it.  If you are lacking knowledge or skills, then take time to read about it and learn more.
What's next for Dr. Joy and Confidence Academy?
Honestly, I can see myself writing another book or two.  Other than that, I'm leaving it all in God's hands.  We shall see what's in store 🙂
Do you have anything you would like to add?
Never be embarrassed or ashamed of your past. Our past, our mistakes, our shortcomings can all be used to inspire and help someone else
Use my affiliate links to buy your copy of From Chaos to Confidence or Secrets of a Confident Teen. To learn more about Dr. Joy, visit her website or connect with her on Instagram, Periscope or Twitter.