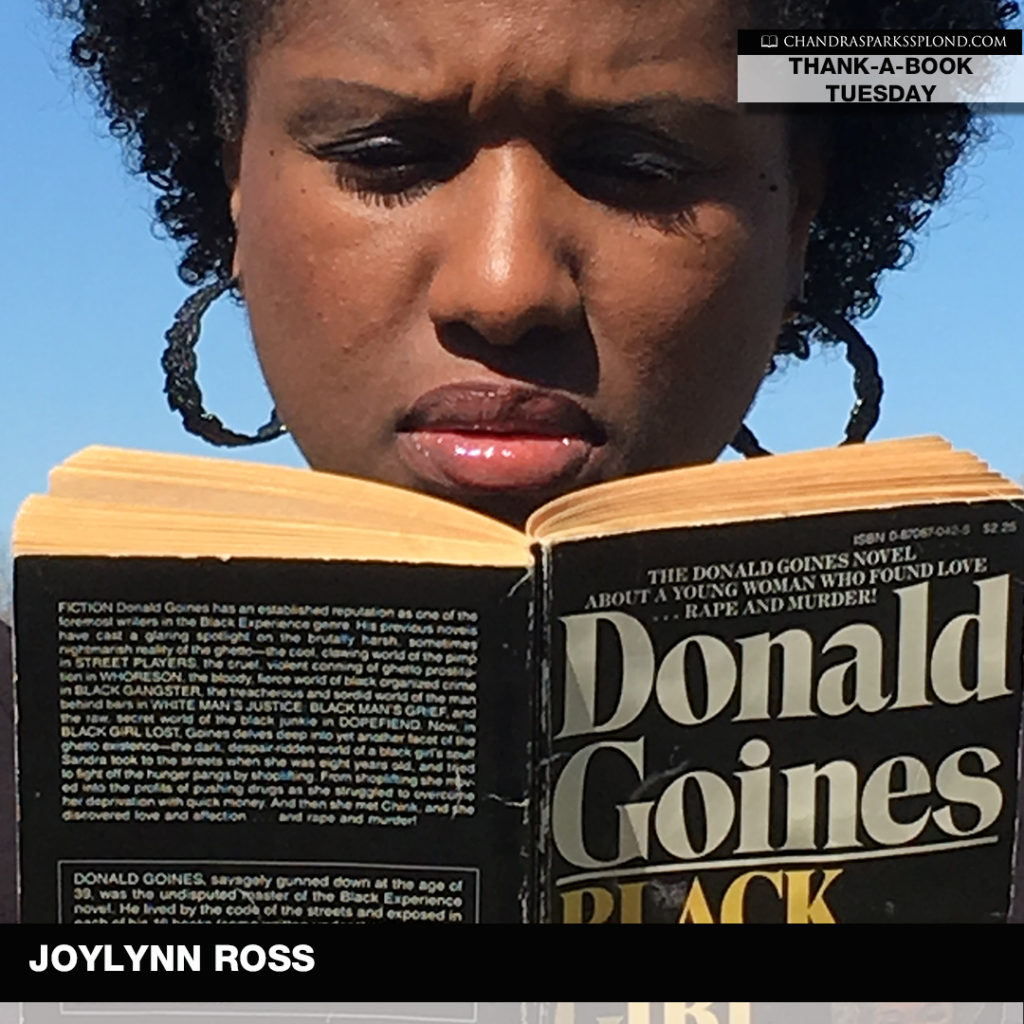 Literary consultant Joylynn M. Ross who writes under the name BLESSEDselling author E.N.Joy was exposed to a whole new world when she read the book that changed her life.
What is the book that changed your life? Black Girl Lost by Donald Goines.
Tell me about the book.
Black Girl Lost is described as a shocking novel of a young girl alone on the streets. Author Donald Goines delves into a facet of the ghetto experience—the dark, despair-ridden world of a black girl's soul.
The main character, Sandra, took to the streets when she was only eight years old and tried to fight off the hunger pangs by shoplifting and moving into the profits of drug pushing. Then she met Chink and discovered love and affection…and rape and murder.
Some have coined Donald Goines as the godfather of what we label today as urban/street lit. Iceberg Slim is another first in authors who used their pen to spill the stories of the inner city that the rest of the world outside of the concrete jungles weren't privy to; kind of like how some hip-hop artists use their lyrics to do through rap (keeping in mind that all rap is not hip-hop).
Why did it impact you?
One day, when I wasn't even in my teens yet, I got my hands on one of my auntie's grownup books, which was Black Girl Lost by Donald Goines. It was the first book I'd ever read with main characters that looked like me. With characters that walked, talked, and thought like me. I remember sneaking the book out at nighttime and reading it while lying in bed. I was so deeply enthralled that I felt like I became that black girl who was lost. I remember closing that book upon the final chapter and saying to myself, "One day I'm going to write a book that does that to people. I'm going to write a book that black girls like me can relate to, connect with, and take something from." That book made me not afraid to write or admit that I write for the particular audience that I pen my books for.
I hear authors say it all the time: "I write my books for everybody, not just one particular audience." That's all fine and well, but the book business is just that, a business. In dealing with business you have to have a target audience that you write for; that you start off promoting and marketing to. Once you have saturated your target audience, then you have the bull's-eye effect, where you begin to expand outward into other areas. There is absolutely no shame in my game; I write my books for women—namely Black women. If anyone outside of my target audience wants to pick up my books and indulge, that is an awesome blessing. But I want to make sure that my sisters—my target audience—can walk right into the bookstore and know exactly where to find books written for them by someone who looks like them.
Is there anything you would like to add?
Bill Clinton, years back, right after he had his first memoir published, said, "Anybody over fifty owes it to his family to write down everything that's happened during his life and pass it on." I truly believe with all my heart that each and every one of us has a story tell. This is the reason why I became a literary consultant, a course instructor with Path To Publishing, and the host of the YouTube series, Act Like an Author, Think Like a Business. Not only do I have a strong desire to help people tell their story and put it in a book, but I also want to teach them how to turn their book into a business. Our stories should be a family legacy…in more ways than one.
Connect with Joylynn M. Ross online:
Online course instructor at www.path-to-publishing.thinkific.com
Literary Consultant: www.squareup.com/market/writings-by-joy
Author: www.enjoywrites.com
Host of YouTube series, Act Like an Author, Think Like a Business
Interested in being interviewed about the book that changed your life? Email me at cssplond@gmail.com.
Please follow and like us: