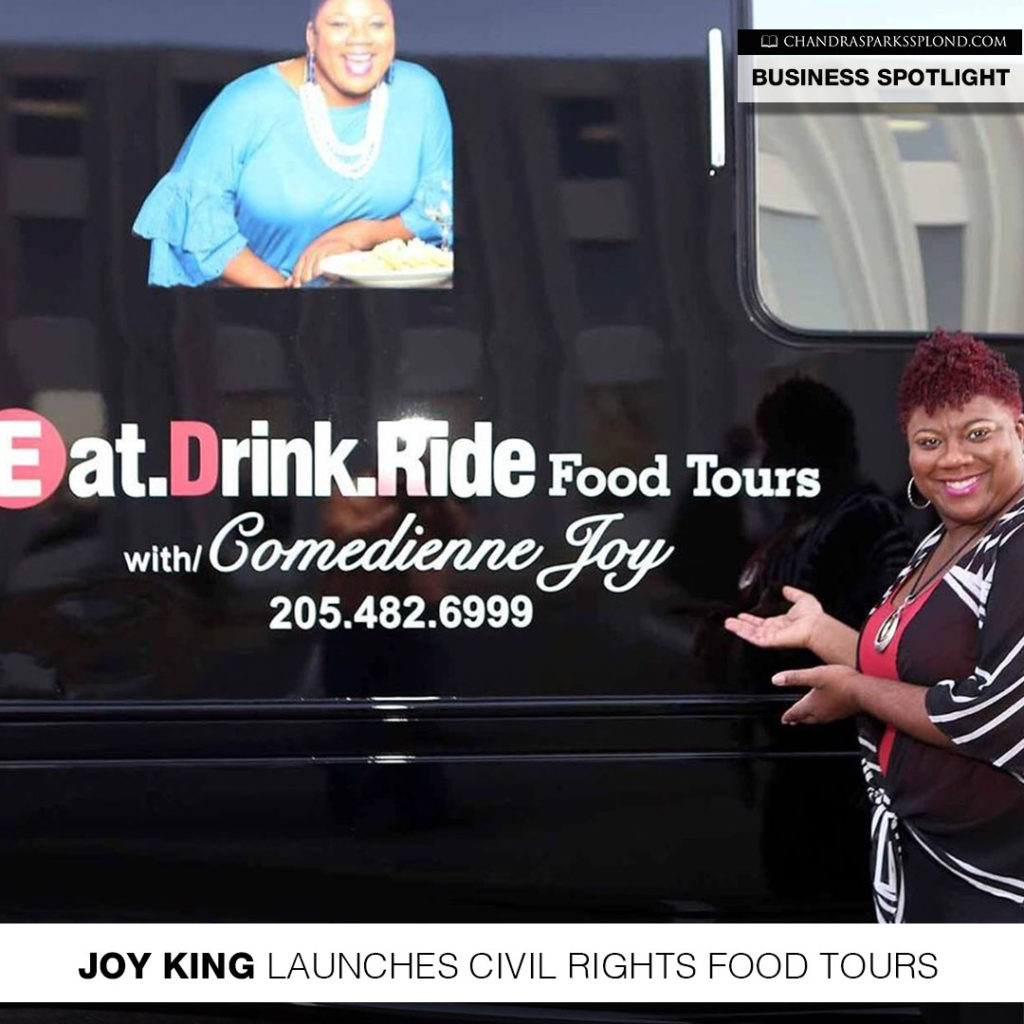 Comedienne Joy King is stepping up her food game by adding Civil Rights tours to her ever-growing offerings for people in the Magic City. I recently spoke with her about Experience Birmingham.
Tell me about Experience Birmingham tours.
Experience Birmingham is a way for citizens and visitors to get a hands on vibe on the what Birmingham is about. From the civil rights movement where guests will actually see areas and hear untold stories that didn't make the history book. To the amazing cuisine cooked by locals.  I remember giving a private tour to a couple up north, and they said their impression of Birmingham was a real [piece of work], but this place is really beautiful. If I can help change the narrative for people then I would have done my job.
Why did you decide to start them?
After seeing the success of the Eat.Drink.Ride Food Tour, I was thinking what else could I do to expand my brand, plus it would give me the opportunity to work with the amazing civil rights tour guide Barry McNealy. The first time I met him was on a tour with the CVB, and I said if he was my teacher, maybe I would have paid attention in class. He made you feel like you were re-living the moment. Also, I would love to control our narrative and tell our story. I started with the food tour after being approached about using a party bus. At the time I didn't know what else to do with it but eat as I had/have my TV show Dining Out With Comedienne Joy, which airs Saturday at 11. I originally started going to the casinos but that was slow going. I realized I had a TV show and wasn't promoting my friends. I thought if I do a Birmingham tour then hopefully they could see an uptick in business and voilà, that was the secret sauce.
You recently launched the In Their Footsteps Civil Rights tour. Tell me about it and share what people can expect during the tour.
This will be a four-hour tour where they will go to Bethel Baptist Church, Dynamite Hill, Collegeville, Vulcan and some other historic sites accompanied by lunch. The cost is still $90, and they will travel on the tour bus. Right now we're going to start some Saturdays in February just in time for Black History Month. Eventually we will make a trip to Montgomery, but for now we want to focus on Birmingham.
How is your new tour different from your Eat Drink and Ride tour?
Eat.Drink.Ride is all about about food and fun, In their Footsteps is a much toned down and educational tour.
What's the biggest lesson you've learned since launching your tours?
Ohhhh chile! Trust God!!! Set the tone for the tours in the beginning so people can help me stay in the spirit. Therefore I have rules for the tour. Rule number one: You must have fun or get off the bus. Rule number two: No alcohol abuse-don't waste it. Rule number three: What happens on the bus, stays on the bus. Rule three-A. Please don't say, "I don't like no chicken on the bone!" If you don't like what's being served, gently push it away and order what you like at your expense. (Everyone knows I'm serious about my chicken). My business lesson is always follow my process. Every time I deviate from it, I'm angry at myself.
What's been the funniest thing to happen during your tours?
Funny like a lady busting her pants open and wasn't wearing underwear. Funny like I chicken shame guests who don't clean their chicken bones?
What's next for Joy King?
Whatever God has up his sleeve. I didn't see any of this, so I'm just asking for His wisdom and to show me how to be excellent about it.
Do you have anything you would like to add?
People need to stop being cheap and take the tour! It's worth every penny!
Visit https://www.experiencebirminghamtours.com/  or www.DiningOutWithComedienneJoy.com to book a tour.
Connect on social media:
Facebook: Bham Eat Drink Ride
Instagram: BhamEatDrinkRide.