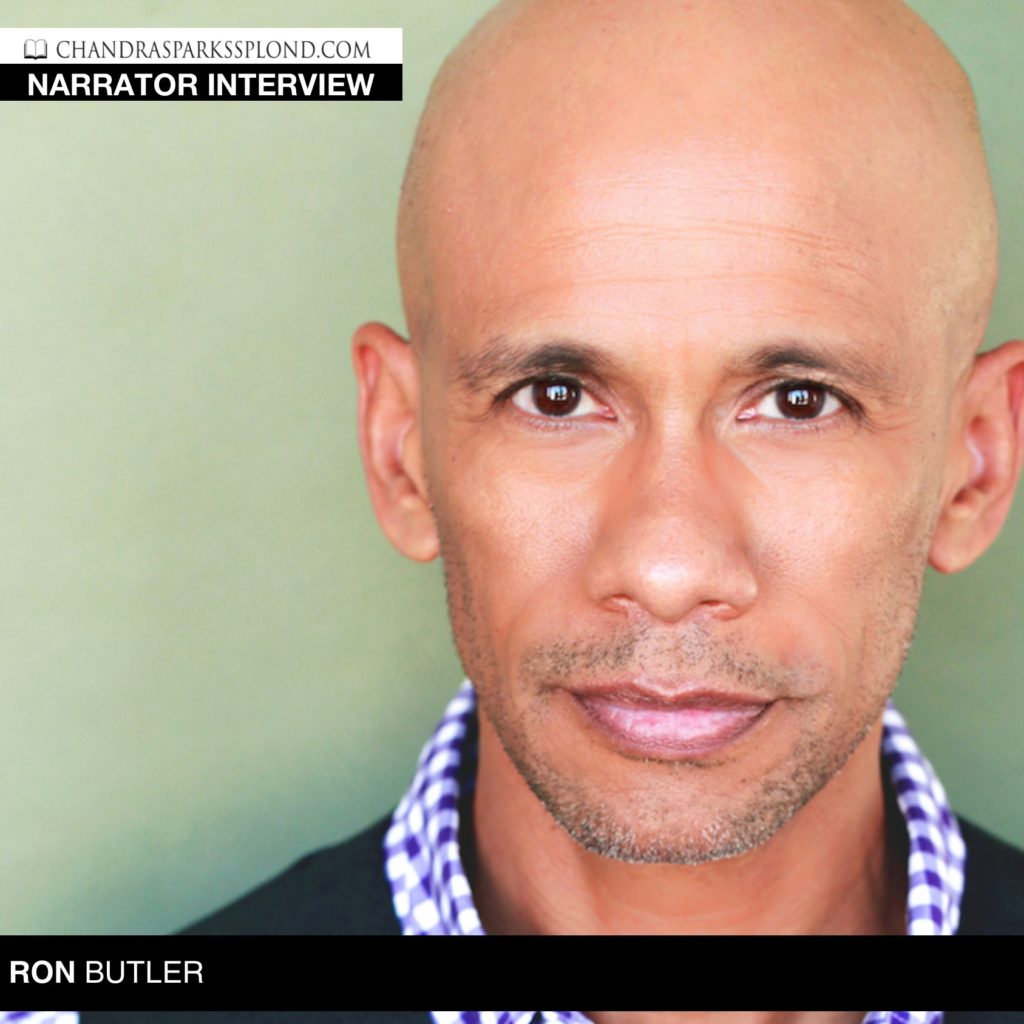 Actor, producer and narrator Ron Butler has been fortunate to land his dream job when it comes to audiobook narration.
Tell me a little about yourself and how you got into book narration.
I'm originally from the Bahamas, and my father (Calypso singer/songwriter Ronnie Butler) was the number one recording artist there for over six decades; my American mother is a ballroom dancer. Although I grew up dabbling in the arts, it wasn't until several years after college that I moved to New York to become an actor with the Atlantic Theater Company.  My career in New York City was mostly off-Broadway plays and musicals (the off-Broadway revival of Merrily We Roll Along was a favorite).  I also did some regional theater (Death of a Salesman at Missouri Rep, and Big River at Alabama Shakespeare Festival were some favorites).  After a role in the HBO movie Everyday People, I moved to Los Angeles and focused mainly on film and television. I spent a decade guest starring on dozens of shows, and had the good fortune of being a regular on True Jackson, VP for all three seasons.
A few years ago, a colleague of mine asked if I'd be interested in audiobooks—the industry was expanding and there was a need for more narrators of color. I love to read, (I mean, I really love it!), and I like to talk, so I thought, "dream job."  As it turned out, I had a unique combination of skills and background that equipped me to be a narrator.  I absolutely love it, and I've been fortunate enough to perform titles in almost every genre. It's incredibly fulfilling.
Tell me about your most recent project.
My most recent project was a collection of short stories called "Black Enough."  Geared toward young adults, the stories follow black teenagers who love sci-fi/fantasy, 80s pop culture, heavy metal music, etc.—that is, they have interests and orientations that are often thought of as "not black."  I was excited to be a part of this project because it's about inclusion and shaking things up; it's a nuanced look at the broad spectrum of blackness in America.
What has been your favorite book to narrate and why?
I don't have one all-time favorite book that I've narrated, but I do have at least one favorite book every year, and usually it's the book that has most deeply affected me or expanded my awareness.  This year, it was Beautiful Country Burn Again; a group of essays by journalist Ben Fountain who was on the road with the 2016 presidential campaigns. It is a harrowing portrait of how we got to where we are today in politics.  Last year, it was Ghost of The Innocent Man (Benjamin Rachlin); the true story of Willie J. Grimes, a black man who spent 24 years in jail for a rape he did not commit, and the birth of the Innocence Project that was instrumental in his exoneration. It is a devastating, heartbreaking call to action. The year before that, it was a children's book, Hoodoo (Ronald L. Smith); the coming-of-age story of a young black boy in the rural 1930s south, who has not been blessed with folk magic like the rest of his family.  The book is his journey to self-discovery. It made me want to celebrate.
What's the best part of narrating books?
I love narrating because I get to be both actor and director. I'm in creative control: molding the story to fit the arc written by the author and breathing life into multitudes of characters. It's an incredibly fulfilling creative process.
What's the worst part?
Depending on the project, sometimes you work alone in a dark booth for hours at time. Staying connected to your friends, family, and "tribes" becomes essential.
What's next for you?
My next project is Forget Me Not, book two of Brenda Jackson's new Catalina Cove series.  Brenda is a fantastic writer, and I love narrating her books. She gives incredible balance, grace, and generosity to her characters, and her stories are inspiring and always, always satisfying.  No matter how many I've narrated, when the characters finally get over themselves and surrender to love…it gets me, lol.  Every time.
Do you have anything you would like to add?
Here is a list of awards, special mentions and accolades to the extent you want to mention any of them.
Audie Award nominations (2)
Audiofile Magazine Earphone Awards (10—across several genres including literary fiction, romance, young adult, middle grade, non-fiction, and memoir).
Audiofile Magazine Best Audiobook of 2017—Memoir (Chasing Space by Leland Melvin)
American Library Association Listen List 2016 (Til The Well Runs Dry by Lauren Francis-Sharma).
Film and TV credits: http://www.imdb.com/name/nm0125117/
To learn more about Ron Butler, visit his website or connect with him via social media.
Twitter: @ronniebutler
Facebook: Ron Butler
Instagram: ronniebutlerjr