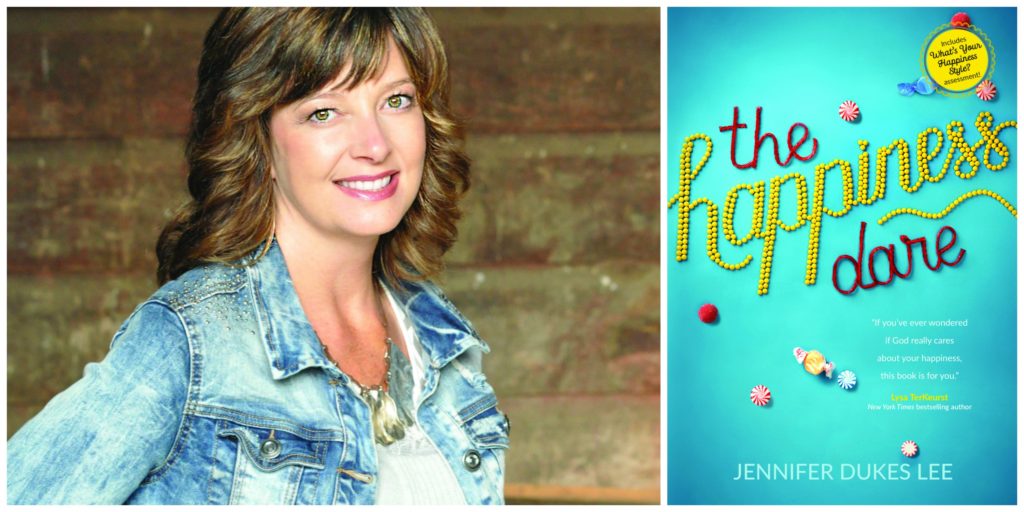 Author Jennifer Dukes Lee wants you to be happy. In fact, she dares you.
I recently spoke with Lee about her latest book, The Happiness Dare.
Tell me about your new book, The Happiness Dare.
The Happiness Dare was born out of a desire that many Christians feel, but are afraid to admit out loud: "I just want to be happy."
Truthfully, all people everywhere want to be happy. It's a basic human desire. But as Christians, we are suspect of happiness. We know that God cares about our joy. But is it also possible that God wants us to be happy? The answer, it turns out, is yes. And the good news is, we have everything we need to pursue happiness in a way that honors our Heavenly Father.
This book is the permission that people need to faithfully pursue happiness. Plus, it also offers "the how." In The Happiness Dare, readers will discover their personal happiness style by taking a quiz that offers fresh new insights about happiness. In just five minutes, they will discover what truly makes them happy. Readers can take the quiz at www.TheHappinessDare.com.
Furthermore, the book helps readers overcome the four biggest obstacles that stand in the way of happiness.

Why did you decide to write it?
I wrote this book because I needed this book. This book actually started as a prayer that went something like this:
"I want to be happy, God," I prayed. "But I don't even know if I should want that! Do you care about our happiness? Is it okay for a woman who loves Jesus to desire happiness? Should I only want joy? Is happiness the reverse of holiness? Do I dare ask for happiness when I have a thousand reasons to be happy already?"
Those were the kinds of questions that a lot of women are asking. And I felt like God was daring me to embark on an adventure to find the answers.
This book is the result of the answers I found, and I knew I couldn't keep those answers to myself!
 What do you want readers to learn from the book?
I want readers to know that God cares about their happiness. Happiness isn't the opposite of holiness; it's a part of holiness. I also want readers to discover that they are uniquely wired by God to experience happiness. That's why I created the Happiness Style Assessment – to help people uncover their own happiness style. This has been so freeing and affirming for readers! I've watched women come alive when they discovered how they were wired by God to experience happiness in this world. It's transformational. They are learning the same truth that I learned when I first took the Happiness Dare: I can stop wishing for the happiness of someone else's life – and discover happiness in the one I have.
I also help readers understand the importance of being intentional about happiness. Sometimes, happiness is a feeling. And sometimes, it's a decision.
 How can people find happiness in their own lives?
The book outlines numerous ways that people can find happiness in their own lives. The good news is, they don't have to take a vacation to find true happiness. They don't have to lose 20 pounds or get a new job or rearrange their entire life. Researchers tell us that even with just five minutes of focused work every day, we can begin to cultivate more happiness in our lives. Sometimes, it takes work. Like our family friend Ron often says, "You may have evicted the devil from your life. But he's out in the parking lot doing push-ups." We have to do push-ups, too, to elevate our happiness and keep the enemy from robbing our joy.
 What advice do you have for people going through hard times?
Allow yourself to feel your feelings. Sometimes you are simply not okay. And that is okay. Happiness—genuine happiness—allows space for a person to be sad. No person who says she is happy can really be happy if she isn't ever sad. We all need permission to be sad, to grieve, to cry.
 What's next for Jennifer Dukes Lee?
Right now, I'm being very intentional about enjoying this moment, without looking too far ahead into the future. That was one of the biggest lessons I learned after I took my own Happiness Dare. I am such a long-range planner, but I really felt God saying to me, "Pay attention to the now. I have so much for you to see in this moment." So that's what I'm trying to do. I'm trying to pay attention. And it's been exhilarating!
 Do you have anything you would like to add?
If I may, I would love to speak directly to the woman who isn't feeling happiness at all right now, the woman who wonders if her happiness is even recoverable. Friend, the way to happiness is happiness itself. The way to find happiness is to fight for it. Maybe you're not ready to fight yet. That's okay. Go easy on yourself. Some days you're not ready for a fight. Be still. Breathe. Remember: It's okay to not be okay.
But there will come a day when you know that the fight is what will save you. The fight is in your because Jesus is in you. Christ in you, the hope of glory. The hope of everything.
To learn more about Jennifer Dukes Lee, visit her online at www.JenniferDukesLee.com, or connect with her on Instagram, Twitter or Facebook.