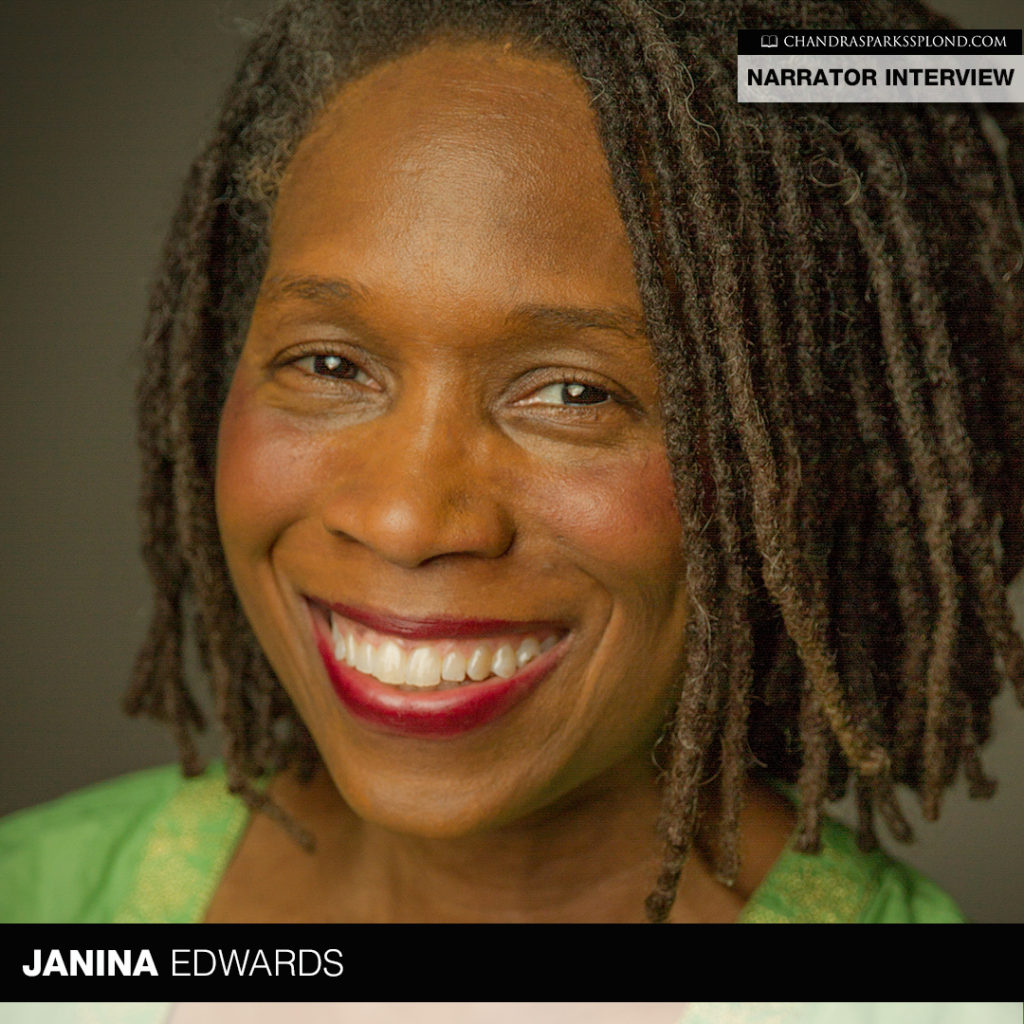 Audiobook narrator and voiceover artist Janina Edwards is hitting her stride. I recently spoke with her about her work.
Tell me a little about yourself and how you got into book narration.
My origin story is long, but I'll try to be brief. In high school, I performed theatre with my friends and acted, sang, dance and did tech. I went to college at New York University for acting. Great, right? Nope. I forgot the highly significant fact that I was very shy and a loner. I was totally intimidated by all these 'actors,' and the audition process. Other than my classes I didn't act in any plays in college, although I did do a lot of dance. In my last year of college, or shortly thereafter, I took a class on voiceovers. Back then audiobooks were not a 'thing.' There were books on tape, which were promoted to blind people. Someone suggested I call the American Foundation for the Blind to narrate as part of their Talking Books program. I called. Turned out they were looking for African American narrators. That was my start in 1986. I took a LONG break from professional narration1987–2012, to raise my daughter and do other stuff. BUT during that time I read aloud on closed circuit radio services for the blind and other things. Once my daughter was grown, I leapt back into narration. In the interim, audiobooks became a major industry.
Tell me about your upcoming/most recent audiobook project.
Happily, I'm working a lot. I just recorded a nonfiction book called Mindful of Race. In fiction, I'm doing a series of Christian romance titles by ReShonda Tate Billingsley.
Why did you decide to be a part of the project?
Mindful about Race is the intersection of several of my interests and talents. In addition to audiobook narration, I'm a yoga teacher and practicing yogi; and I'm African American. Cuz I'm a yogi—it's important to me to narrate books that are positive, create a bridge for people to better understand each other crossing cultures and experiences. ReShonda's titles are just fun romantic pieces. There's always a bunch of characters that I enjoy voicing. In fact, the next one I'll record has a character named Birdie Mae, which happens to be my mother's name. That's not why I accepted the project, but it's a cool factoid.
What has been your favorite book to narrate and why?
I'm a romance novel junkie. I like to say "I'm not just a romance novel narrator, I'm also a fan." (like the Hairclub for men commercial). Lol. I've really enjoyed doing The Wedding Date and The Proposal by Jasmine Guillory. They're well written, sexy sensual, and she writes fun characters that you like and want to see finish in a happy relationship. The representations of African Americans ring true to my experience.
What's the best part of narrating books?
Getting to read lots of books! Meeting your narrator heroes and she-roes. I listen to a lot audiobooks, and have my favorite narrators. I get excited when I meet and interact with those folks at conferences and other events, or when I'm a narrator on a project with them. It's cool, even though when we record, we're not actually together. Lol. I'm proud to be considered a peer of some really cool, awesomely talented people.
What's the worst part?
I have to read (and research) a lot of books! I've gotten much busier of late. So, I have to do more speed reading vs. leisurely, for-fun reading. I, and the narrators I admire, tend to do a lot of preparation, reading, researching words we don't know, accents, etc. I hate being so busy that I can't enjoy the process. I'm working on finding the balance of the right amount of work.
What's next for Janina Edwards?
In audiobooks, I feel like I'm just hitting my stride. I just want to enjoy doing this work, find that balance I mentioned. I've been offered a couple of series, which is really great. You really get to own the stories more, but it's a lot of responsibility to the author and audience. For me, audiobooks were always the goal. Though I had delusions of stage acting grandeur when I went to college, I got over that. My stage is my booth. I'm very happy doing audiobooks. I don't act on the live stage. I act in a booth. That's my thing.
In life, I have writing delusions. For the last 15 years I've worked as a professional grant proposal writer for arts non-profits. (It's not my day. It's my other job; and my OTHER other job is teaching yoga. I have diversified revenue streams.) Like some other narrators I know, I hope one day to write and record my own books.
Do you have anything you would like to add?
A random comment about accents. Sometimes I feel like the listening audience and the narrator community approach accents from opposite directions. Often listeners will say 'that's not an authentic____ accent. I can't believe they did that!" Or whatever. But narrators approach accents from a different perspective. We have to find a believable balance between a) a believable accent that we can do consistently; b) an accent that can be understood by the listener; c.) something that works for the story; d) in my opinion, people sometimes fixate on authenticity and while we try to get it right, authenticity is only 1 star in the constellation, so to speak. The voice that fits all the criteria I mentioned may not sound like what the listener thinks it should be (based on their experience), or it might not be as convoluted as the 'real' accent because we have to make sure the story plot and character voices are intelligible. ALSO, in my experience there is no one size fits all accent. I'm from Chicago, but I'm African American. No one in my family sounds like the stereotype of a Chicago accent. Then again, maybe I'm wrong. Maybe, some of us suck at accents. I would ask listeners to consider those points before they ding us for not doing an accent or dialect authentically.
To learn more about Janina Edwards, visit her website or connect with her on social media.
Facebook: https://www.facebook.com/janina.edwards.9