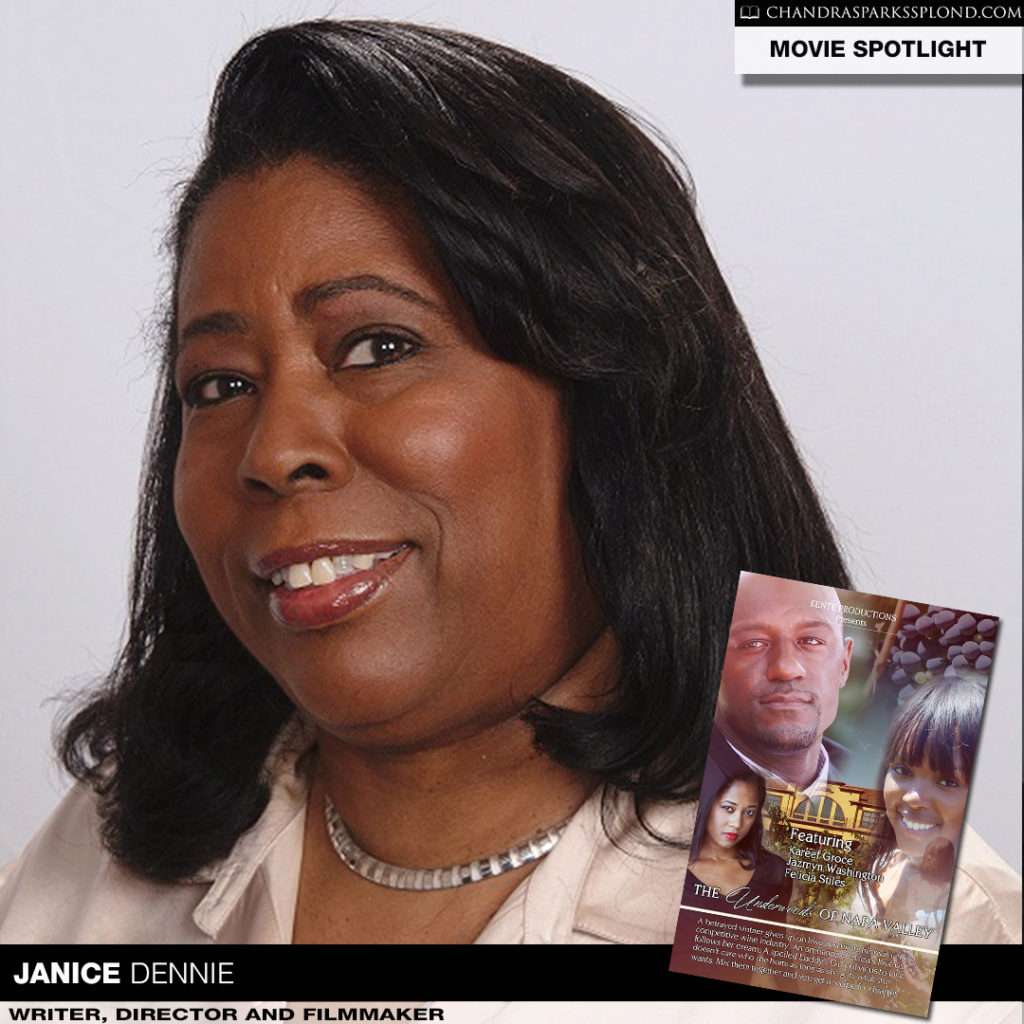 Writer, director and filmmaker Janice Dennie is taking her destiny into her own hands with her first film. I recently spoke with her about The Underwoods of Napa Valley.
Tell me about your movie, The Underwoods of Napa Valley.
The Underwoods of Napa Valley is a ninety-minute feature-length film based on my novel, Kenton's Vintage Affair part of my Underwoods of Napa Valley book series. Vintner, Kenton Underwood is protective of his family and environment in the bucolic town of Napa, California. He fights an uphill battle of balancing his personal issues, complicated love relationships, and obstacles in the competitive Napa Valley wine industry, all while striving to protect his family in the city he calls home. Unemployed chef Briana Rutledge inherits a cottage next door to the Underwood winery. She longs for a family, but because of personal issues she fears love, so she focuses on her career and her dream of opening a restaurant. Kenton's ex-girlfriend, Tiffany Young is a spoiled Daddy's Girl who doesn't care who she hurts as long as she gets what she wants. Restauranteur, Nathaniel Young, Tiffany's father, plots to run Briana out of town because her restaurant is too close to his.
Kente Productions chose to produce the film for television, cable, Internet, Digital HD markets, DVD, and "Made for Pay."
The movie will be released on February 3, 2018.  Viewers can stream the film on Vimeo.com and Amazon.com, or purchase the DVD on Amazon.com, Barnes and Noble.com, Ebay or the movie website: http://www.theunderwoodsofnapavalley.com
The film premiere will be held at the Oakstop (International Screening Room) 1721 Broadway, Oakland, CA on February 3, 2018.
Why did you decide to adapt your book to film?
I had never seen a movie about an African-American winery on film or television. I was tired of waiting for Hollywood to release such a film, so I decided to produce one myself.
What can viewers expect when they watch the movie?
To be entertained by two young entrepreneurs struggling with their romantic relationship while running their successful businesses, despite the obstacles they face in the Napa Valley Wine Country. All of the Underwood brothers and their love interests are entrepreneurs in the Underwoods of Napa Valley book series.
What has been the hardest part of the production process?
As a small independent filmmaker, you will need to perform most of the work yourself. Good friends and family come in handy as unpaid helpers, but you must feed them and get them to the film set. Sticking to the production budget can be difficult. Remember what Oprah said, "Make sure you sign all of your checks." As the executive producer, you will need to oversee the budget, hire actors, directors, producers and screenwriters—you can do the last three tasks yourself.  You will also need to hire a film crew, caterer, makeup and wardrobe person, location specialist or do most of this yourself. After the film has been shot, then you need to coordinate the post-production work, that is, everything from film editing, to commissioning music, to promoting the movie. I would say, of all of these activities, post-production film editing is the hardest.
What's the best business advice you have ever gotten?
I am inspired by a quote from Madam C. J. Walker: "Don't wait for opportunities to come your way, create them yourself."
What advice do you have for others interested in seeing their books adapted to film?
First and foremost, believe in yourself. Give yourself a lot of leeway by planning your project a year in advance. I started planning The Underwoods of Napa Valley in December 2016.  It is just now being released this February 3, 2018. If you are a writer, use your God-given talent to convert your book into a screenplay. You will save a ton of money. (Microsoft Word has a great template).  Learn all you can about making a film (YouTube makes great how-to videos). Listen to young people. You'd be surprised how many teens are making movies.  Ava Duvernay said that technology has changed within the last five years that you can make a movie with a cell phone. Create a production company. Open a business bank account and hire an accountant. Set a budget. Find investors or alternative funding sources. Build a great production team. Hire cast and film crew. I plan to do a workshop on "How to turn your book into a movie." Look for it on my website: http://www.janicedennie.com
What's the biggest lesson you've learned as an entrepreneur?
Put immediate gratification on hold. Rome wasn't built in a day. Running a business takes time, hard work, and talent, but it can be very satisfying.
What's next for Janice Dennie?
To make The Underwoods of Napa Valley book series and novellas into a cable television or web series.
Do you have anything you would like to add?
Thank the Good Lord every day for his blessings.
To learn more about Janice L. Dennie, visit her website, www.janicedennie.com.
PURCHASE DVD ON AMAZON.COM
https://www.amazon.com/The-Underwoods-of-Napa-Valley/dp/B0799H4XVD/ref=sr_1_cc_1?s=aps&ie=UTF8&qid=1517178071&sr=1-1-catcorr&keywords=underwoods+of+napa+valley
 STREAM FILM ON VIMEO.COM
https://vimeo.com/ondemand/theunderwoods