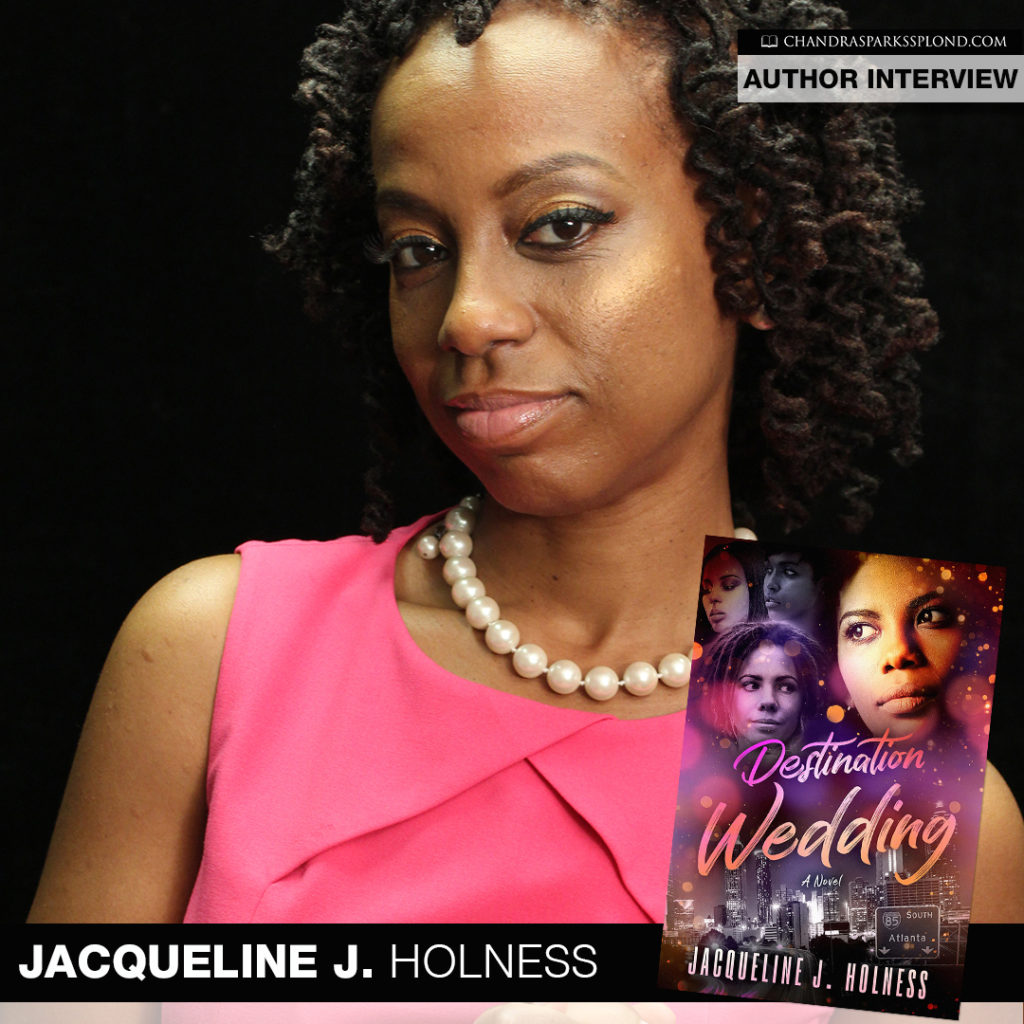 Journalist and author Jacqueline J. Holness is ready to take readers on a fantastic voyage. I recently spoke with her about her first novel, Destination Wedding.
Tell me about your book.
In Destination Wedding, three successful best friends in Atlanta believe they are thriving in the Black Mecca. Bossy bank executive Senalda breaks down men from business to bed no holds barred. Hip-hop PR guru Jarena praises the Lord and pursues married men with equal persistence. Famous and infamous radio personality Mimi fights with her fans and for the love of her on-and-off-again boyfriend.
But when an ABC News Nightline report, "Single, Black, Female — and Plenty of Company," asks why can't a successful black woman find a man? The friends are suddenly hyper-aware of their inclusion in the sad statistic: 42% of black women who have never been married.  Like the women in the report, they are career-driven, beautiful black women living in Atlanta who have everything — but a mate. They resolve to defy the statistic by marrying in a year and have it all by tackling their goal as a project with a vision board, monthly meetings, and more. Project Destination Wedding is born. A "happily married" best friend Whitney is a project consultant.
But as the deadline ticks closer, the women wonder if they can withstand another year of looking for love in the media-proclaimed no-man's land of Atlanta.  Senalda wrests a marriage proposal from the male version of herself, but the proposal comes simultaneously with a devastating secret. Jarena unleashes hell when her call to ministry coincides with dating her married college sweetheart. Mimi faces losing her career and jail time chasing her boyfriend and marries another man in the process. Whitney's power couple profile plummets when her husband, a pornography addict, announces he would rather pursue photography than be an MD.
Inspired by an actual Nightline report, Destination Wedding charts four women's journeys as they discover that love is not an experiment easily confined to a timetable.
 Why did you decide to write it?
Writing  Destination Wedding was my response to the real ABC News Nightline report that I saw in December 2009, 10 years ago. While that statistic was startling enough by its lonesome, Linsey Davis, the reporter for the segment, interviewed successful, single, black women living in Atlanta to illustrate this point. As a successful, single, black woman living in metro Atlanta at the time, to say I was insulted by this report was an understatement.
However, as insulted and defeated as I felt at the time, thankfully, a blessing from God was right around the corner. My husband and I went on our first date in February 2010, Valentine's Day weekend to be exact. And although it seemed that my days as a single woman were coming to a close at a very fast pace, I could not forget the 42 %. At the time, I was fiend for self-help books, particularly those that focused on relationships. And as a writer, I considered writing a self-help book for the 42 %. I felt that all of the lessons that I had learned over the 10 years it took for me to prepare myself for my husband could be compiled in a wonderful self-help relationship book.
But then, four women, Jarena, Senalda, Mimi and Whitney, my main characters, began showing up in my imagination. And then I started thinking about how I felt about self-help relationship books at the time. By the time I started dating my husband, I had sworn off self-help relationship books because I was sick of reading them without getting results. And at the same time, I felt I had something valuable to share. What was the solution? A novel in which I folded in many of the lessons that I learned about purposeful dating, choosing the wrong men, being the right person and self-love, the most valuable love of all aside from the adoration we express for God… A fun read with lessons folded in.
What do you want readers to learn from the story?
That's a difficult question to answer because everyone has a different background and makeup that shapes how he or she reads a story. What I learned from my own journey that informed Destination Wedding is that if you do your part in preparing yourself to meet a mate, which includes learning to love yourself as a single person, what God chooses to do or not do will be the best possible outcome.
What was the hardest part about writing the story?
The whole thing! LOL. As a journalist, I had no experience whatsoever in writing fiction. I started writing in 2013, and I wasn't finished until 2017! I had to learn characterization, plotting, showing not telling, etc. It was all hard, but worth it.
Who is your favorite author and why?
I have several favorites although technically you can only have one favorite, right? But right now, Catherine Marshall comes to mind because she mastered fiction and nonfiction. In fiction, she was known for writing the Christy books but her nonfiction was equally well received. I just love how she wrote about her Christian faith while being equally committed to being a wife, mother and writer.
What's next for Jacqueline J. Holness?
Hopefully, book sales! LOL. Seriously though, I have another novel in the works, but we will see what happens. I have to get my journalism back on because I've had to focus on getting this book 'out there' for a major portion of this year.
Do you have anything you would like to add?
I hope that readers love Jarena, Senalda, Mimi and Whitney as much as I loved creating them. I'm a huge fan of Sex and the City, and these are my Sex and the City characters from an Atlanta-based perspective. And the fact that Candace Bushnell, whose Sex and the City column led to the creation of the wildly successful HBO series of the same name, actually endorsed Destination Wedding is the cherry on top of this Destination Wedding experience! And of course, thank you, Chandra, for your endorsement, it really encouraged me.
And thank you for the opportunity to be featured on your blog.
Use my affiliate link to purchase your copy of Destination Wedding.
To learn more about Jacqueline J. Holness, visit her website or connect with her on social media.
Twitter: @JackieHWrites, Facebook: Facebook.com/jholness