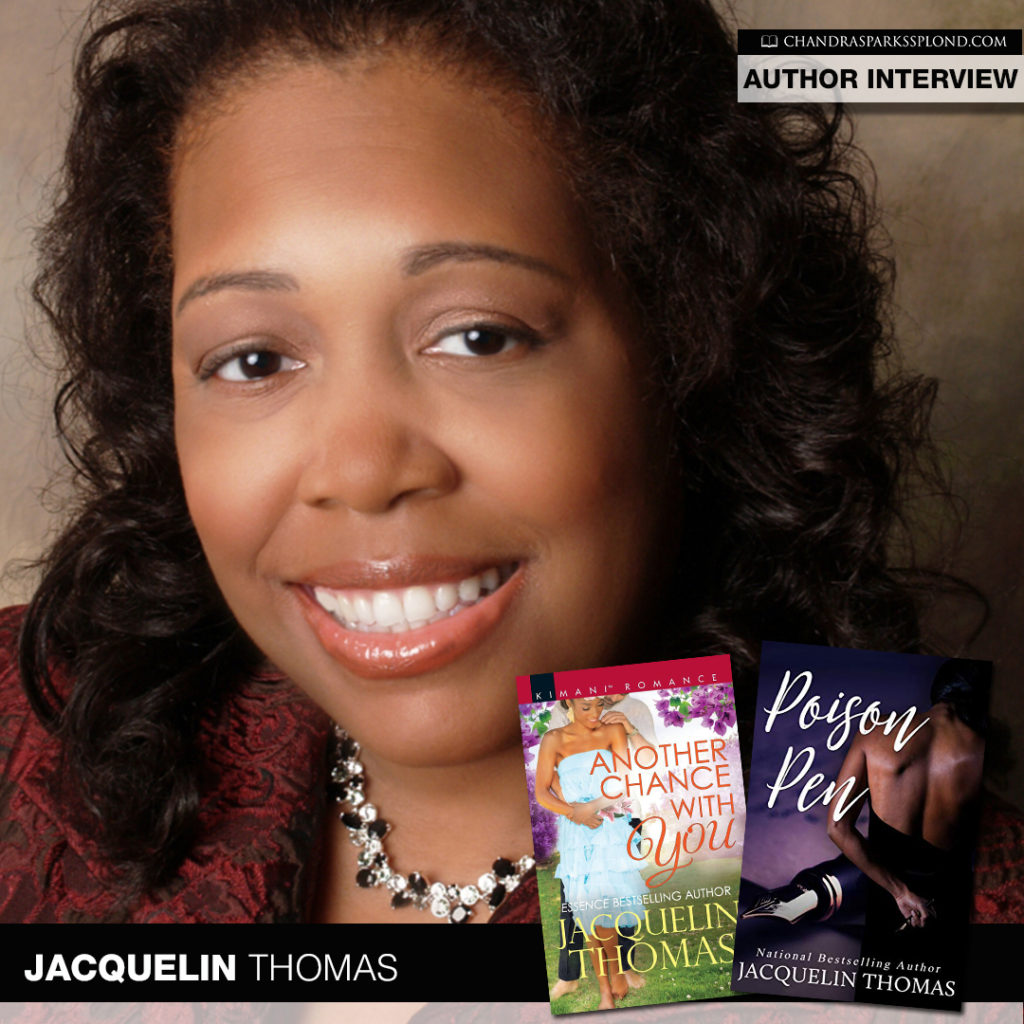 Author Jacquelin Thomas has been hard at work putting pen to paper, and she's back with two new releases for readers.
You've been busy the last few months. Tell me about your latest books, Poison Pen and Another Chance with You. 
Poison Pen is about Harini Samuels' desire to be the top bestselling author to the point that she will do anything–including stealing the ideas of others. Bailey Hargrove is another author who fell victim to Harini's manipulations, and is just as determined not to let Harini continue to hurt others.
Another Chance with You is the fourth and last book in the DuGrandpres of Charleston series. Jadin is ready to marry the man she believes is perfect for you, but there's one problem–she's already married.
Why did you decide to write them?
Poison Pen was inspired by something I experienced with another author, and while I felt the sting of betrayal, I used that experience to push through and hold on to the belief that what God has for me is for me.
What do you want readers to learn from the stories?
I wrote Poison Pen in hopes that it will inspire and motivate others who may have had the same experience, whether it be in this industry or on the job. I also want to encourage readers who feel that others profit from misguided or outright evil actions—there are consequences.
I wrote Another Chance With You for fun. I wanted to explore the question: What would happen when you think you've found Mr. Right, only to discover that you're still married to your soulmate?
What advice do you have for someone interested in writing a book?
Read books on the craft of writing and put pen to paper. Give yourself permission to write the first draft wrong—in other words, just write until you reach "the end" with no thought to grammar, repetition, etc. The goal is to complete your book. Let it sit for a week or two, then go back over it with fresh eyes.
What has been the biggest surprise about your writing career?
I guess the biggest surprise is that 21 years later, I'm still writing and I've published 80 books. When I published my first book with Kensington in 1997, I was worried that I didn't have another book in me.
What's next for Jacquelin Thomas?
I'm working on a book titled Phoenix. Next will be my YA novel, Homecoming Queen. Both will be released in early 2019.

Do you have anything you would like to add?
As always, thank you for featuring my books and also thanks to the readers who have supported me for years. I appreciate all of you.

To learn more about Jacquelin Thomas, visit her website or connect with her on Facebook, Instagram or Twitter.