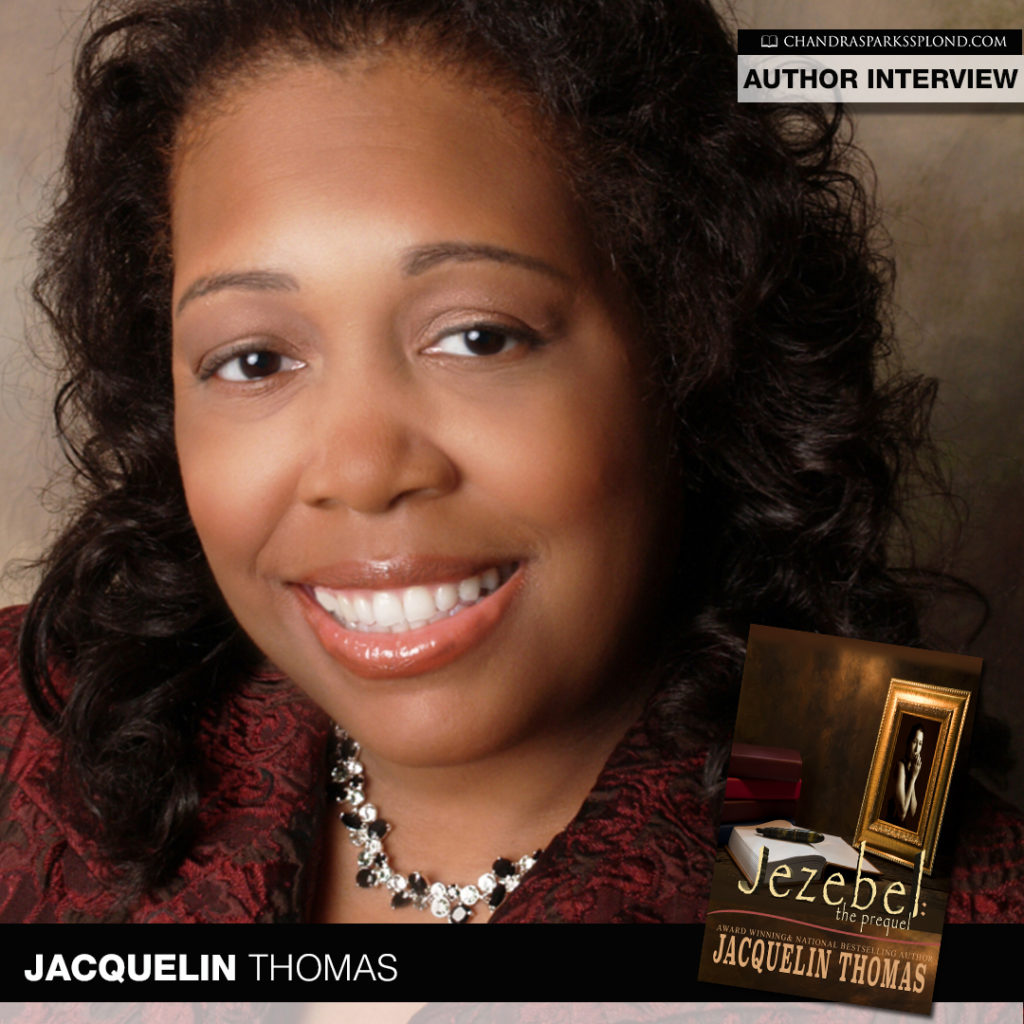 Author Jacquelin Thomas is the real deal.
In addition to being an amazing author, she also serves as a mentor and friend to countless authors, including yours truly. Jacquelin is the reason I started writing again in 2015 after I went through a period where I thought I would never write another word. I'm so excited to have her visit the blog today to discuss her latest release, Jezebel: The Prequel.
Tell me about your latest book, Jezebel: The Prequel.
This is the fourth installment of my Jezebel series. Anabeth Grainger Holt had dreams but put them aside to marry the young pastor chosen by her parents. When she gives birth to Jessie Belle, her daughter becomes her world, but status and respect means everything to Anabeth. So when her daughter threatens to destroy the perfectly painted family picture that Anabeth has created, she is forced to make some choices and keep secrets that will haunt her for the rest of her life.
Why did you decide to write it?
Many readers wanted to know more about Anabeth Holt—Jessie Belle's mother. More specifically, they wanted to know why she would just give away her grandchildren like discarded clothing. I found that I also wanted to know more about her, so Jezebel: The Prequel was born.
What do you want readers to learn from the story?
Mainly that there are reasons why we behave the way we do. Some of it is learned behavior through our environment and friends and family. We talk a lot about generational curses, and I do believe they exist, but I also believe that we have choices in what we do and how we decide to live our lives. A lot of those "curses" are the results or consequences of choices made.
What do you want readers to learn from your life?
 Wow! Good question. I try very hard to live my life according to the Word of God. I am not perfect, and I mess up every day, but I simply thank God for each day I wake up—it gives me another chance to get it right. I want my readers to know that it is because of them that I am inspired to put pen to paper.
Who is your favorite author and why?
I have too many favorites to name. I am a reader, and I read everything from romance to Christian/inspirational fiction, mystery to science fiction, fantasy and anything with a historical theme. Right now, I am anxiously awaiting the next book in the Game of Thrones series.
I've encountered so many people who see you as a mentor. Why is it so important for you to encourage others?
Because I truly believe that each one should teach one. Our gifts are meant to be shared, and I believe that the techniques we use to perfect our craft are also meant to be shared. I had wonderful mentors in Donna Hill, Beverly Jenkins, Rochelle Alers and Francis Ray. I try to honor them by paying it forward.
What's next for Jacquelin Thomas?
I am working on the final book in the Jezebel series: Jezebel's Redemption. I'm also working on a young adult novel that is yet to be titled.
Do you have anything you would like to add?
Thank you so much for all you do to support other authors. A special thank you to my readers. I so appreciate you all, and with your help, I will hopefully publish my 100th book in 2019/2020.
Use my affiliate link to purchase your copy of Jezebel: The Prequel.