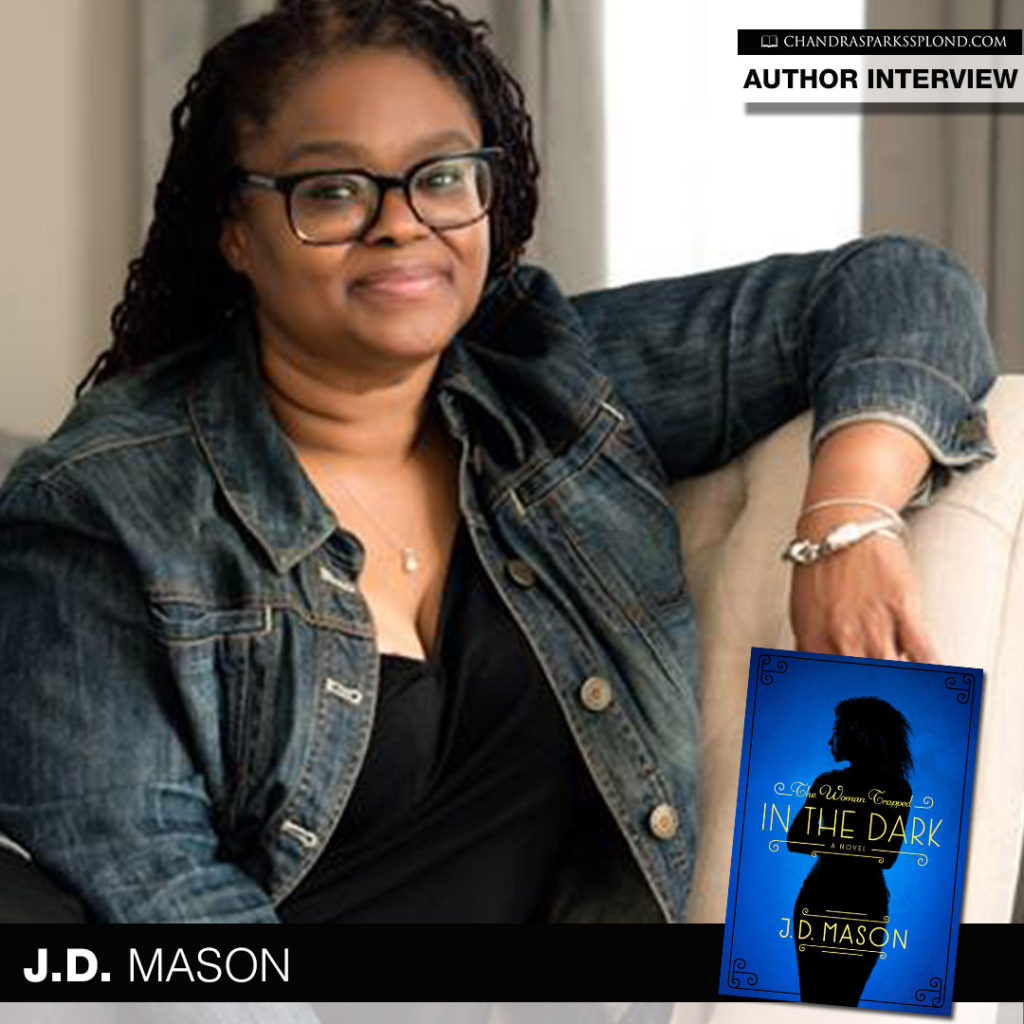 National bestselling author J.D. Mason is a woman on a mission to share stories in her own unique way.
Tell me about your latest book, The Woman Trapped in the Dark.
Jordan's a very successful businessman who has fallen in love with an unlikely woman, in Abby Rhodes. (These two first met in my last book called Seducing Abby Rhodes.) Through the years, he's made enemies, and when they find out about her and realize that the invincible Jordan Gatewood has a weakness and that she's it, they decide to destroy everything about him, his mind, heart and soul, his legacy, and using her to do it.
Abby is abducted and Jordan has to comply with the kidnapper's demands after five days to get her back, at least, that's what they tell him. Jordan knows that if he doesn't find her, they have no intention of sending her back to him alive. So, he enlists the help from a man who is known for being someone who can and will do whatever it takes to resolve your problem, for a price, a man named Plato Osiris Wells. Plato was one of the leading characters in The Real Mrs. Price.
Meanwhile, Abby finds herself in a very dangerous and impossible situation, and she is terrified that she's not going to make it out of this alive. Her hope is that Jordan and the police are searching for her, but with each passing day, her hope starts to fade that no one will ever find her.
Why did you decide to write it?
This book left me exhausted when I finished it because it's got everything: action, adventure, danger, intrigue, mystery, and love. I suppose, I went into it knowing that this would be the last story written of two of my favorite characters, Abby Rhodes and Jordan Gatewood, so I wanted to make it count, and I wanted to showcase the power of the love between them.
Jordan has been a character who has evolved in ways I never expected, and for him to finally find the one thing that's eluded him his whole life, true love, I wanted to show just how much she means to him and just how far he'd go to get her back.
And I wanted to bring two very formidable men together, Jordan and Plato, in this collaboration. In previous books, they've met in passing and were on opposite sides. I thought it'd be interesting to put these two alphas together, more than anything, to satisfy my own curiosity.
What do you want readers to learn from the story?
I don't know if I expect readers to learn anything from the story, as much as I want them to be enthralled by it and riveted from the first page to the last. I hope to leave them breathless and gritting their teeth, wondering what will happen next.
If they do take anything away from this story, I hope it's a feeling that the love between Jordan and Abby is authentic, and timeless, and strong enough to withstand anything, and that readers hope in that. I hope it makes readers swoon over the two of them.
What do you want readers to learn from your life?
Ah! That I have marched to the beat of my own drum and that I've written the stories that I've wanted to write, regardless of whether or not they were the "in" or "popular" thing. I hope that readers can see and feel the intense passion that I have for my craft and know that I pour my heart and soul into each and every word.
I'll be turning 55 around the time this book comes out, and I hope that readers understand my belief that as long as there's breath and a beating heart and a strong mind, determination and discipline, nothing is impossible. I have loved creating for them. It's been an honor, privilege, and pleasure sharing these stories with readers.
Who is your favorite author and why?
I don't really have favorite authors as much as I have favorite books. Sandra Jackson-Opoku has written two books that I love, The River Where Blood is Born and Hot Johnny and the Women Who Loved Him. I loved both of these books because they were so unique in how they were told and the concepts were very different from anything else I'd read.
I love The Alchemist by Paulo Coehlo, because it's simple and yet magical, and filled with philosophies that translate into real life in such a beautiful way.
Cerece Rennie Murphy wrote a beautiful and compelling story that I fell in love with called To Find You. I love how she effortlessly executed what could've been a very cumbersome and confusing story. She made it flow and had me riveted until the very end. She has such a sweet, poetic, and lovely style.
Tomi Adeyemi has written probably my most favorite book of all time, called Children of Blood and Bone. I recently finished it, and it was too good for me to read quickly. I actually had to put it down and walk away from it just to get my bearings before coming back to it and continuing. It's an amazing story that's so good, it made me want to throw the book across the room.
And I'm currently reading Song of Blood & Stone by L. Penelope. Her writing is enchanting. Vacation got in the way of reading this, but I'm looking forward to finishing this one soon.
What's next for J.D. Mason?
A whole bunch of stuff that I can't comment on at the moment because it's still "in development." I can say that for the first time in 16 years, I am not contracted with a publisher, and to be honest, I had given retirement some serious thought.
Life has a funny way of working things out, though. I am currently writing a novel that has got me so excited that I want to scream. It's a brilliant concept that I truly hope I can pull off because it's pretty ambitious, but I know that I have to be the one to write it because no one else can. And I'm not bragging. That's just the truth. I'm hoping to have it turned in to my agent by the end of October.
I'm also heeding the call of my inner nerd girl to create my first graphic novel. Again, I can't go into too much detail, but I've been putting out calls for artists and reviewing portfolios, drafting up character descriptions and scripts, and it's been an amazing process. I'm loving it and hope to have an actual graphic novel ready to show and sell at some comic book convention next year, so wish me luck.
I'm not sure if there'll be other J.D. Mason novels. I don't have anything in the works right now, but that doesn't mean I won't. It's just that for now, I'm pretty content working on other things. But I'll write until I can't anymore. I've figured that out, at least.
Do you have anything you would like to add?
The publishing world is going through some things right now and, more than ever, we readers need to do what it takes to support. Black authors/books, in particular, are having a rough go of it, so consider buying your books from independent bookstores and checking them out from libraries. Go to book signings in your area. Buy books and instead of sharing them with your friends, encourage them to buy them and/or check them out from libraries. Write reviews on Amazon and anywhere else that allows you to leave comments. I don't think readers understand how valuable their input is to the publishing industry.
Step outside of your comfort zone and read books that you wouldn't normally read. You might be surprised by what new adventures await you that capture and hold your attention. With that being said, authors need to step out of their comfort zones too, and dare to try writing something you never thought you could.
To learn more about national bestselling author J.D. Mason, visit her website.