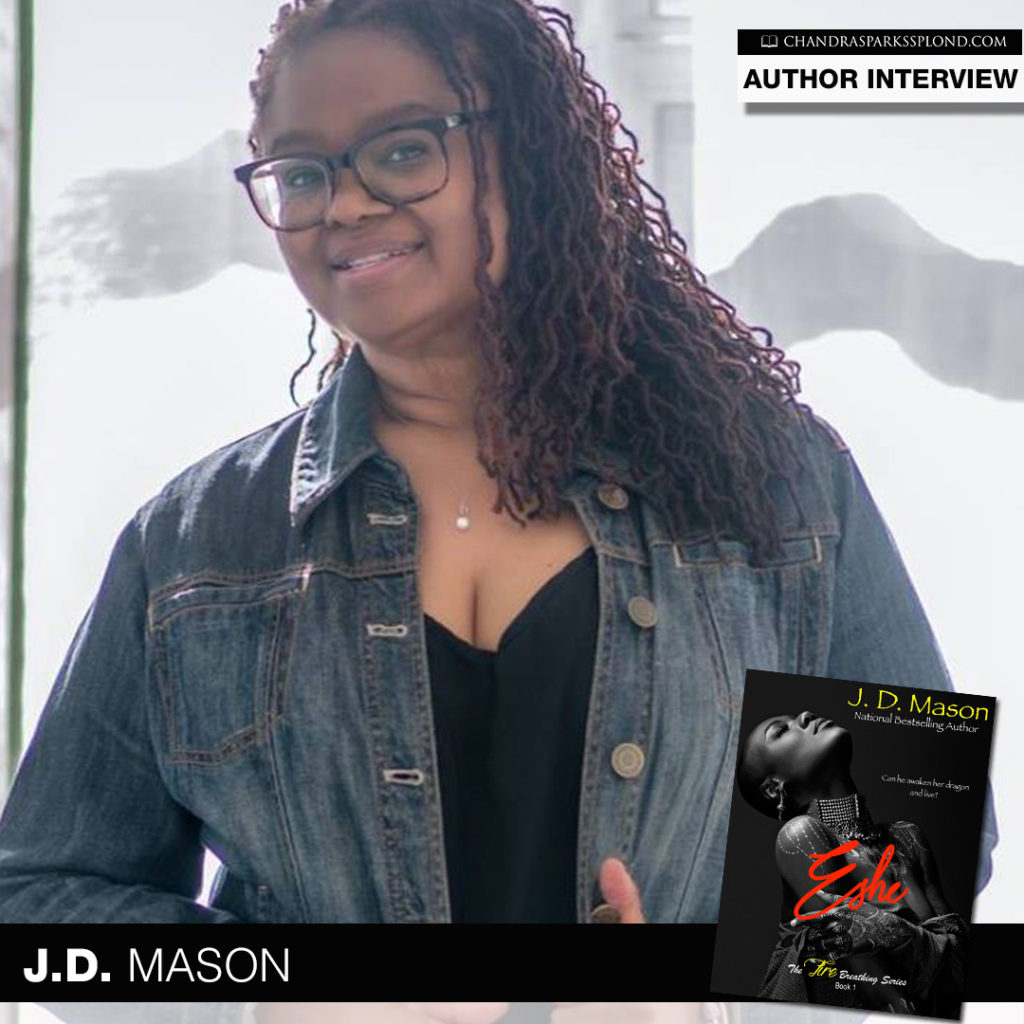 National bestselling author J.D. Mason has decided to slay a few dragons. I recently spoke to her about her Fire Breathing series.
Tell me about your latest book.
Eshe, Book 1 of the Fire Breathing series is a story about a troubled young woman who can't find her place in the world and is about at the point of giving up on life. She's got one friend, an old man in a wheelchair named On-T, short for Otis Nero Thomas, who helps to keep her going, but barely. Her world is turned upside down when she's abducted in broad daylight by a man named Andwele Abioye, who tells her of an ancient African tale of dragons and demigods and how he's supposed to help her transition during the awakening of the dragon spirit dormant inside her. She spends most of the book thinking he's crazy and trying to stay away from him. But I love Andwele, though, because he's truly not the best choice to handle this endeavor in this story.
Why did you decide to write it?
I knew that I wanted to try something new and different from what I've been writing through the years, and I knew that I wanted it to be paranormal or fantasy in nature, but I just didn't know what exactly, until I came across an article about all the best dragon romance novels on the market. I saw all of these broad, muscled chests of a bunch of fine dragon shifters, but not one of those chests was brown, so I started trying to find books where the main characters were black, and I couldn't find any black folk dragons. Then, I decided to look up African lore on dragons, and there's not a lot out there. Plenty about European dragons and Asian dragons, but not many African dragons. That's when I got excited and realized that I could pretty much do whatever I wanted. While trying to come up with concepts, the idea came to me to make my dragons female. Black women dragons! I fell in love.
What do you want readers to learn from the story?
I want readers to open their minds and imaginations and to see a new way of being, particularly for black people. I'll be presenting a series of these dragon stories, alternating releases between women and men dragons, all people of color, and I'm excited about that. My goal is to weave the rich tapestry of the whole diaspora into these short stories, and to show love—black love—in a different kind of light. The couples in these stories are powerful enough on their own, but together, they are invincible.
If you could pick another profession, what would it be and why?
I'd be a filmmaker because in my mind, all of my stories play out like movies as I'm writing them. and I honestly believe that I would've been a better filmmaker than I am a writer because of the visual aspect. I am more drawn to it than I am books. Always have been. I love watching movies a bit more than I love reading books.
What's the best part of being an author?
It's a privilege being an author because I've always believed that the characters that come to me have chosen me to tell their stories. Sounds crazy, but that's what I believe. I am frustrated by the process of telling stories, but at the same time, I love the unfolding, the putting the pieces of the puzzle together, until finally, I have the whole picture laid out in front of me. It's a long, tedious, and lonely way to work, but when I'm not doing it, I'm not as satisfied doing anything else. I have to be creating.
What's the worst part of being an author?
For me, I think that it's having more ideas than I have time to write them all. The stories keep coming, and I can only work so fast, and there's never enough time to capture all of them. It's a terrible feeling for me, and the older I get, the more anxious I get that I need to hurry up and get as many stories out as I can until I can't anymore.
What's next for J.D. Mason?
I'm working on my next book in my dragon collection called Demir. It's the first male dragon novella in the series. I hope to publish it in March. There are six more books of dragons to finish up, and at some point, I'm going to have to decide if I want to continue to move forward with them, and if so, how. I'm also working on a new novel called The Ghost of Me, about a ghostwriter hired to write the life story of a famous actor by his handsome son. The actor left behind a journal given to the writer by the son, and it reveals a deep, dark secret that he kept his whole life—a secret that certain members of the family never want revealed. I've also got another book finished that my agent is shopping right now (both publishing and film rights), that I have a feeling I'll end up self-publishing simply because it's such a different kind of book that I don't think publishers will pick it up. But I love the story, so I'm looking forward to releasing it myself.
To learn more about J.D. Mason, connect with her online or via social media.
Amazon:amazon.com/author/jdmason
GoodReads:https://www.goodreads.com/author/show/133682.J_D_Mason
BookBub:https://www.bookbub.com/profile/j-d-mason
Twitter: ‪@authorjdmason
Instagram:https://www.instagram.com/j.d.mason/
Link Tree: https://linktr.ee/j.d.mason
Website: https://www.jdmasonauthor.com