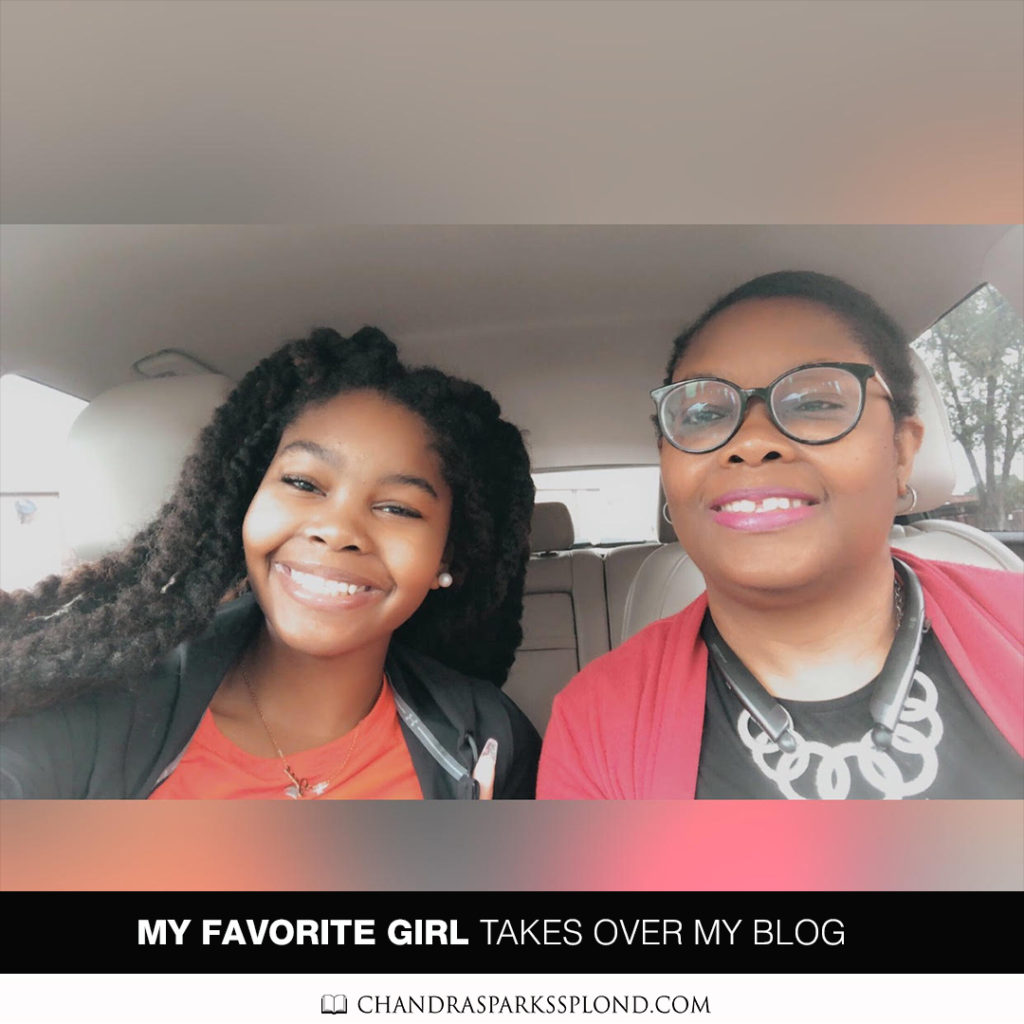 By the time you read this post, my favorite girl will officially be 16. We're celebrating today by having her take over my blog.
**********************************
Hey, y'all. I'm back for another blog takeover. So my Sweet Sixteen was yesterday (Sunday) and in honor of that I'm gonna give y'all a list of 16 of my favorite things in no particular order. (I'm extremely indecisive.)
#1
To start it off since this is my mom's blog my favorite book from her is Make It Work. It's been my favorite since it came out, but even more so that I'm actually the age as Reagan. Shine is most definitely a close second just cause I'm interested in modeling and it was fun for me to envision myself as her. Sidenote: Do y'all see yourself as the character in the book or do you watch it like a movie? I found out a while ago that everyone doesn't think in scenes and I cannot wrap my head around that fact.
#2
Aside from my mom's books I also love mystery books and things in general. The Angel Series by James Patterson is really good and I also like watching Criminal Minds and makeup and mystery videos on YouTube
#3
My favorite show right now is A Different World. Whitley Gilbert. That's all I have to say.
#4
My favorite drinks right now are Faygo Redpop, Baja Blast, Pepsi, ginger ale, strawberry lemonade, peach Sprite and the Arctic Blitz Gatorade. We're back again at the indecisiveness. It all depends on my mood, but if you came to our house one of these is probably here.
#5
So another one of my favorite things is cheering. I'm a basketball cheerleader so our season starts next week, but I absolutely love the vibe of game day and hanging out with my teammates. If you see me at a game yelling at the players, it's not me.
#6
This year I'm a junior and I'm taking AP Psychology,  my absolute favorite class I've ever taken (I also like marine bio too). Now that I'm in the class, I feel like I'm a certified psychologist and that I am very wise. If you have a conversation with me I guarantee something I just learned from the class will come up and I will tell it to you like I have a whole doctorate degree.
#7
Another thing I'm totally obsessed with is Jeep Renegades. They are my dream car. Y'all know the coral ones? Literally so cute, and I feel like they fit my personality.
#8
Sooo AS IF I would forget to put in my favorite movie. If you don't get the reference right now Clueless is one of my favorite movies. It's so iconic with the clothes, the Jeep (even though it's not a Renegade), and Cher being totally clueless. I also love Grease. My mom and I watch it all the time, and I could tell the movie to you word for word. I am Sandy, Sandy is me.
#9
Another thing I like are jellyfish. I like how squishy they look and they just go with the flow (literally; part of their movement is going with the current). Fun fact: Jellyfish can survive in most environments, so if the whole ocean became a Dead Zone, jellyfish would still be there. I actually asked my mom if I could get some pet moon jellyfish (they don't sting), and for probably good reason she said no.
#10
So acai bowls. Amazing. That's it. That's all about them.
#11
French fries. My favorite food. If I could, I would eat them every day.I literally pick restaurants based on how much I like their fries. Right now, I don't have a favorite place to get fries. I just know that steak fries… that's a no go.
#12
Right now, my favorite songs are "Candy Girl" by New Edition and "Foolish" by Ashanti. "Candy Girl" has always been my favorite song since I've listened to it my whole life since my mom has been playing it for me since I was a baby. I have no clue where "Foolish" came from, but it's definitely on repeat.
#13
My favorite restaurant right now is Taco Mama. We've been like five times this month. The shrimp quesadilla. *Chef's kiss.*
#14
Another thing is that I absolutely love shopping. Luckily, my high schooler, no job budget keeps me in check.
#15
Twix, Cookies and Cream Twix, Twizzlers, gummy bears. I love them all. Though, I am tryna wean off gummy bears. I don't eat red meat or pork, and I haven't in two years and it just occurred to me gummy bears have gelatin. *facepalm*
#16
Obviously, my family is also another one of my favs. We always have so much fun together, and they are absolutely hilarious.
#17
So I know I said I was gonna give y'all 16, but I decided to give y'all a baker's 16. So my last favorite thing is Olaf from Frozen. I LOVE Olaf. He is my spirit animal. If I could have my own personal Olaf (that's alive, not the three-foot tall one I have on my bed), I wouldn't even know what to do with myself.
So, that was some of my favorite things. Thank you so much for reading my blog takeover!