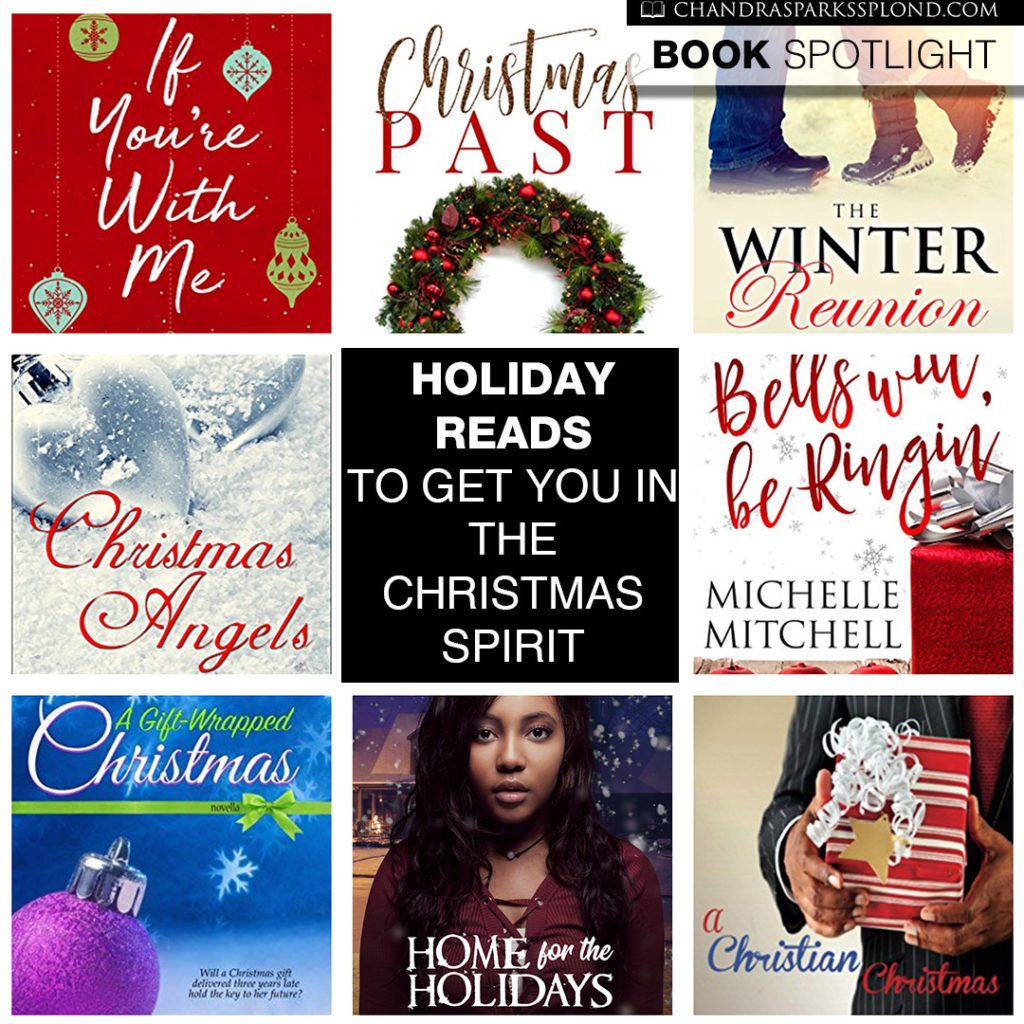 If you need a little help getting into the Christmas spirit, use my affiliate links to check out these holiday reads…
Christmas Angels—An Inspirational Short Story
Includes the bonus short story, The Perfect Present
Tia McCollors
Atlanta's snowstorm couldn't have come at a better time for Anisha Blake-Randall. Her children are away for the weekend, so it's the perfect opportunity for her to plan some Christmas love under the mist.
The Winter Reunion (Restoration Series Book 1)
Rhonda McKnight
Everyone knows the woman in the "viral" video that hit two million views on YouTube. Humiliated, Tamar Johnson changed her name and disappeared behind the embarrassing video that captured her losing her virginity on prom night. But who was the guy?
NFL Running Back Stephen Pierce is football's darling. He's spent his entire career doing community service work with at-risk kids, and endeared fans as a devoted Christian, even claiming celibacy. It's time for his high school reunion. Stephen is determined to get his EX, Tamar, to come out of hiding, even going as far as posting their prom picture on Instagram in hopes that she would accept the challenge to show up.
Tamar isn't interested in the reunion, but her boss is. She writes for a small magazine. Stephen Pierce is a BIG story.
With reunion activity in full swing, the tension between Tamar and Stephen reaches an unbearable level. Before it's over will the world find out who the real Stephen Pierce is? And will Tamar survive spending time with the only man who's ever had her heart?
Bells Will Be Ringin': A Hilson Family Christmas Novella
Michelle Mitchell
There's no place like home for the holidays—unless your inability to mind your own business creates a strain in your family. Harper Hilson has good intentions, but last year her over-protective persona was not the gift her siblings hoped to receive. Last Christmas, Harper managed to ruin a lucrative business deal for her sister, Wesleigh and destroyed her brother, Donovan's relationship with his one true love. This year she's determined to make amends.
As much as she seeks to have a harmonious holiday with her family, that small mission is growing to be more difficult each day as unresolved drama from Christmas past takes on new twist and turns that even Harper couldn't have predicted. She will have to decide if she should intervene on her sibling's behalf or wait and see how the drama unfolds.
A Christian Christmas: A novella (Andersen Brothers)
Pat Simmons
Christmas will never be the same for Joy Knight if Christian Andersen has his way.
Not to be confused with a secret Santa, Christian and his family are busier than Santa's elves making sure the Lord's blessings are distributed to those less fortunate by Christmas day.
Joy is playing the hand that life dealt her, rearing four children in a home that is on the brink of foreclosure. She's not looking for a handout, but when Christian rescues her in the checkout line; her niece thinks Christian is an angel. Joy thinks he's just another man who will eventually leave, disappointing her and the children.
Although Christian is a servant of the Lord, he is a flesh and blood man and all he wants for Christmas is Joy Knight. Can time spent with Christian turn Joy's attention from her financial woes to the real meaning of Christmas—and true love?
A Gift-Wrapped Christmas: Christian Romance Novella
Michelle Stimpson and CaSandra McLaughlin
When Megan Beckley receives a mysterious Christmas package three years late, she hopes with all her heart that the gift is a guilt-offering from her old college sweetheart who ran off with her roommate. She also hopes he's still in love with her so, finally, she'll get the chance to break his heart and move on with her life. But what's inside the package will bring about a deal with the boy next door, Bryce Woodard, who has an unexpected gift of his own to share.
Bestselling author duo Michelle Stimpson & CaSandra McLaughlin have done it again with this sweet Christian romance that will warm your heart for the holidays and remind you of the real reason we love.
Please Note: This novella was originally published as "Package Deal" in the Sweet Noel anthology.
If You're With Me
Kim Cash Tate
Faith Langston has made her choice as to whom she loves. But when the love of her life goes home just before Christmas and runs into his first love—he's faced with choices of his own . . .
Home for the Holidays: A Christmas Short Story
Chandra Sparks Splond
There's no place like home for the holidays—unless you're fifteen-year-old London Bridges and your parents are going through a divorce. Annoyed that her plans to visit her dad in Atlanta have gotten canceled, London begs to tag along with her brother, Landon, to the mall. At least it will get her out of her apartment, and she'll get to spend time with fine Zachary, her brother's best friend. Before the day is over, London finds herself valuing those she holds dear and rethinking how she defines home, which just might be the greatest gift of all.
Christmas Past
LaChelle Weaver
Christmas just ain't Christmas…
While Christmas is the most wonderful time of the year for most, Addison Ross is haunted by the tragic events of Christmas past. The losses she suffered and pain she endured, damaged the bond she had with her family and hardened her heart. Addison vowed to never return home, but after four years away, she journeys back to North Carolina to deal with what drove her away and grapple with shocking revelations that changes everything she knew about her life.