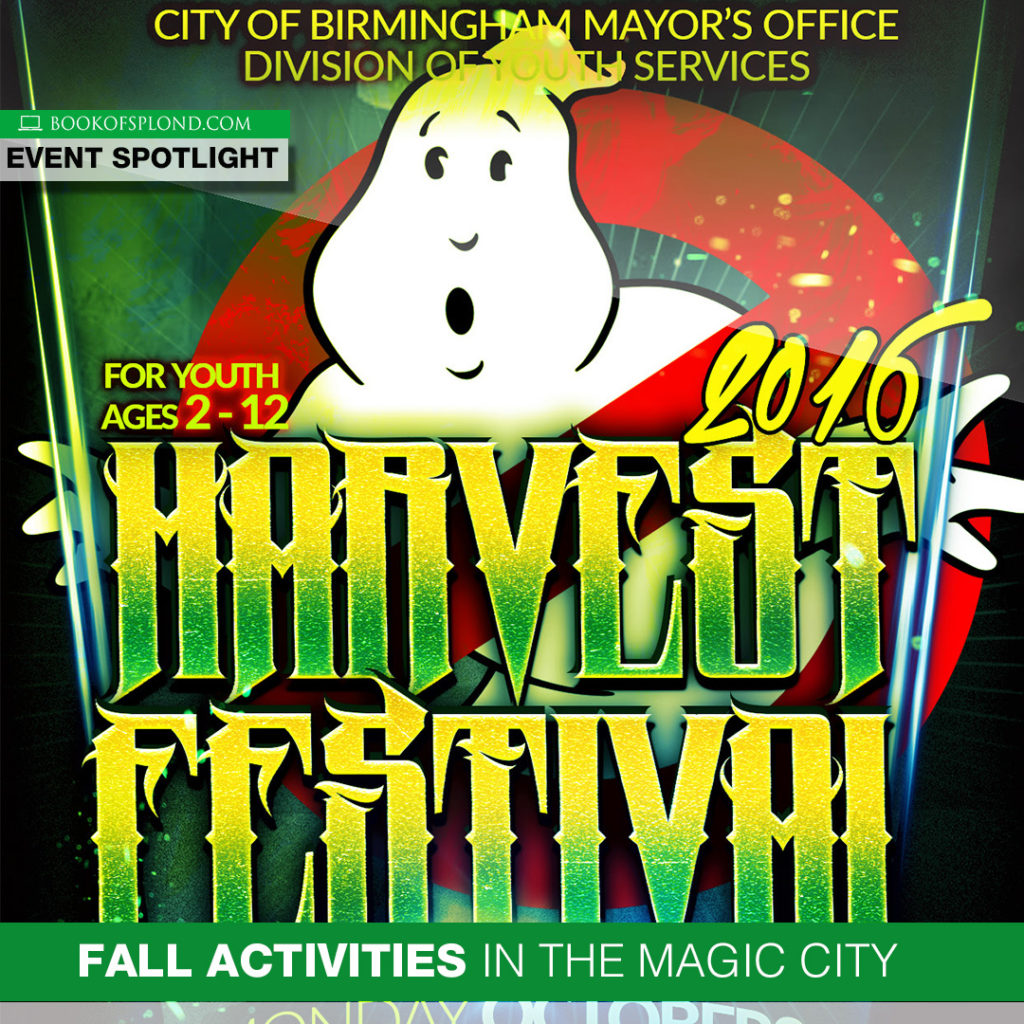 It's fall again, which means plenty of activities around the Magic City. Whether you're looking for a festival or you want to get in one more run before the weather turns cold, there's something for everyone.
Festivals
Birmingham Division of Youth Services presents Harvest Festival 2016
Calling all Ghostbusters to grab their proton packs and report to the YMCA Youth Center on Monday, October 31!  From 5:30 p.m. to 8 p.m., the City of Birmingham Mayor's Office Division of Youth Services will host its 2016 Harvest Festival.  Join the Youth First Ghostbusters as we have a "ghostly" good time. There will be games, fun, activities, prizes, food trucks and much more at this fall frenzy. Harvest Festival is a safe and fun alternative to Halloween for all youth ages 2 to 12. This event is free and youth are encouraged to wear costumes. For more info, call 205-320-0879
Safe Harbor Fall Fest
Come out and bring your kids to the Safe Harbor Fall Fest, we will be having food, games, and entertainment. Inflatables and arcade will be open during the event. You will want to miss it. Also a couple friends and I will be rocking the stage, so you definitely don't want miss out. So come join us with some family fun, I promise you won't regret it. Event will be held at the iKids building. For more information, visit https://www.facebook.com/events/195701517524773/
Other Festivals around the Magic City
October 26
Trunk or Treat
Forty-fifth Street Baptist Church
6:30 p.m.–8 p.m.
205-836-0095
October 27
Fall Festival
Smithfield Branch Library (BPL)
10 a.m.–6 p.m.
205-324-8428
Races
October 22
Trick or Trot 5K—Kid One
Sloss Furnace
7 a.m.–12 p.m.
205-978-1017
October 30
Zombie Run 2016 at Railroad Park
Walk theme "Walking Dead"
The Zombies job is to stop people from making it to the finish line with their tag still attached to their waist as they run through the park. The Entry Fee Pre-registration is $20, which includes an event t-shirt. Race day registration is $30 and a t-shirt is included while supplies last. Register online at www.hgol.org
Other Events
Boo at the Zoo
October 8–31
5–9 p.m.
Birmingham Zoo
Make plans to head to the Birmingham Zoo for Boo at the Zoo!  Watch as the soo transforms into a destination of spooky attractions for 16 nights of Boo at the Zoo. New this year, come experience the thrill of Bug-A-BOO, larger than life animatronic bugs! For more info, visit the website.
Harry Potter and the Sorcerer's Sleepover
October 21–22
5:30 p.m.–8 a.m.
McWane Science Center
Calling all muggles: Grab your sleeping bag and cross Platform 9 ¾ to McWane's School of Witchcraft and Wizardry! Enjoy a fish and chips dinner in the Great Hall before heading to class to explore the science of magic (and magical beasts). Make your own wizard wand, concoct potions, attend a Care of Magical Creatures class, and more! After class is dismissed, enjoy a special showing of Harry Potter and the Goblet of Fire in the IMAX Dome. It's a magical night you won't want to miss. Don't forget your costume. Reservations are required. To purchase tickets, please call 205-714-8414 or visit the website.
The Great Pumpkin Patch Halloween Festival
Hayden, Alabama
September 24–October 31, 2016
Monday through Thursday
8 a.m. to 4 p.m.
Friday and Saturday
8 a.m. to 6 p.m.
Sunday
1 p.m. to 6 p.m.
Admission to the Great Pumpkin Patch is free. You pay for each activity, which includes an inflatable park, the Great Pumpkin Train, the Hay Pyramid, and a petting zoo. Call during the day at 205-616-6431, 205-647-2183, 205-903-7818, and nights 205-616-6431 or visit the website for more info or reservations.