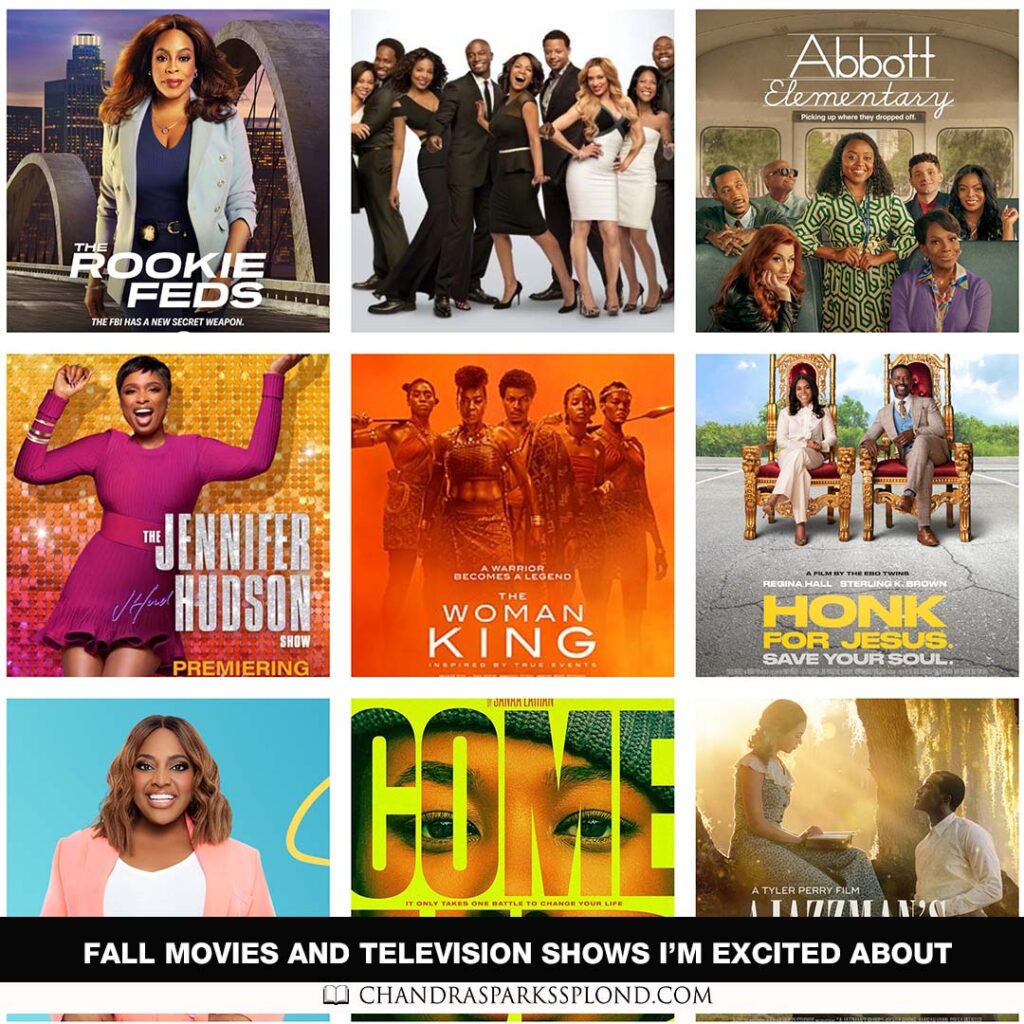 It's beginning to look a lot like fall, my most favorite season of the year. Not only is my slow cooker about to get a workout, but so is my television since the premieres start this week. I did some searching online, and here is information for television shows and movies I'm excited about.
Me Time
Premiere Date: August 26, 2022
Where to Watch: Netflix
Sonny, a stay-at-home dad (played by Kevin Hart), finds himself with some "me time" for the first time in years while his wife (Regina Hall) and kids are away. He reconnects with his former best friend Huck for a wild weekend that nearly upends his life.
---
Honk for Jesus. Save Your Soul.
Premiere Date: September 2, 2022
Where to Watch: Peacock
In the aftermath of a huge scandal, Trinitie Childs, the first lady of a prominent Southern Baptist Mega Church, attempts to help her pastor-husband, Lee-Curtis Childs, rebuild their congregation. This satirical comedy stars Sterling K. Brown and Regina Hall.
---
End of the Road
Premiere Date: September 9, 2022
Where to Watch: Netflix
In this high-octane action thriller, a cross-country road trip becomes a highway to hell for Brenda and her family. Alone in the New Mexico desert, they have to fight for their lives when they become the targets of a mysterious killer. The movie stars Queen Latifah and Ludacris.
---
Wendell & Wild
Premiere Date: September 11, 2022
Where to Watch: Netflix
The two devious demon brothers Wendell and Wild have to face their arch-enemy with the help of the nun Sister Helly, who is notorious for expelling demons. However, the brothers are not only plagued by her, but also by her altar boys. The cast includes Jordan Peele, Keegan-Michael Key, Ving Rhames and Lyric Ross.
---
The Jennifer Hudson Show
Premiere Date: September 12, 2022
Where to Watch: FOX
The Jennifer Hudson Show is a daytime television variety comedy talk show that was created and hosted by Jennifer Hudson who recently reached EGOT (Emmy, Grammy, Oscar, Status) status. The show takes over the time slot held by Ellen Degeneres.
---
Sherri
Premiere Date: September 12, 2022
Where to Watch: FOX
The Daytime Emmy Award-winning talk show host, comedian, actor, and best-selling author Sherri Shepherd brings her inimitable, authentic and comedic perspective to daytime with her own nationally syndicated talk show, Sherri.
Sherri's warm, relatable and engaging personality will shine through as she offers her comedic take on the day's entertainment news, pop culture, and trending topics with the daytime audience. As America's favorite girl next door, her comedy-driven show will feature celebrity interviews, informative experts, moments of inspiration and amazing everyday people to create an hour of entertainment escapism.
---
The Woman King
Premiere Date: September 16, 2022
Where to Watch: In Theaters
Starring Viola Davis and directed by Gina Prince-Bythewood (Love and Basketball), this historical epic is based in alternate history of The Kingdom of Dahomey, one of the most powerful states of Africa in the 18th and 19th centuries.
---
Abbott Elementary
Premiere Date: September 21, 2022
Where to Watch: ABC and Hulu
Fresh off its Emmy wins, Quinta Brunson's mockumentary is back for a highly anticipated season 2. The show stars Brunson as a second grade teacher at Abbott Elementary, a fictional predominantly Black school in Philadelphia. It also stars Janelle James, Tyler James Williams, William Stanford Davis and newly minted Emmy winner Sheryl Lee Ralph.
---
A Jazzman's Blues
Premiere Date: September 22, 2022
Where to Watch: Netflix
Tyler Perry's tale of forbidden love and family drama unravels 40 years of secrets and lies against a soundtrack of juke-joint blues in the Deep South.
---
On the Come Up
Premiere Date: September 23, 2022
Where to Watch: Paramount+
As the daughter of an underground hip-hop legend who died right before he hit big, Bri's got massive shoes to fill. But it's hard as she is labeled a hoodlum at school, and faces financial crisis after her mom loses her job. So Bri pours her anger and frustration into her first song, which goes viral, for all the wrong reasons. Bri soon finds herself at the center of a controversy, portrayed by the media, but with an eviction notice staring down her family, Bri doesn't just want to make it, she has to. Even if it means becoming the very thing the public has made her out to be. Actress Sanah Lathan makes her directorial debut in this movie, based on the book by Angie Thomas.
---
Reasonable Doubt
Premiere Date: September 27, 2022
Where to Watch: Hulu
Jax Stewart is known to be the most brilliant and fearless defense attorney in Los Angeles who bucks the justice system at every chance she gets; she's judged for her questionable ethics and wild interpretations of the law until she's needed. The series stars Michael Ealy, Pauletta Washington and Sean Patrick Thomas.
---
The Rookie: Feds
Premiere Date: September 27, 2022
Where to Watch: ABC and Hulu
This spinoff from The Rookie follows FBI Special Agent Simone Clark (Niecy Nash-Betts). It also stars James Lesure and Frankie Faison.
---
The Equalizer
Premiere Date: October 2, 2022
Where to Watch: CBS
A reimagining of the classic series in which Queen Latifah portrays an enigmatic figure who uses her extensive skills to help those with nowhere else to turn.
---
Black Panther: Wakanda Forever
Premiere Date: November 11, 2022
Where to Watch: In Theaters
Queen Ramonda (Angela Bassett), Shuri (Letitia Wright), M'Baku (Winston Duke), Okoye (Danai Gurira) and the Dora Milaje (including Florence Kasumba), fight to protect their nation from intervening world powers in the wake of King T'Challa's death. As the Wakandans strive to embrace their next chapter, the heroes must band together with the help of War Dog Nakia (Lupita Nyong'o) and Everett Ross (Martin Freeman) and forge a new path for the kingdom of Wakanda.
---
 The Best Man: The Final Chapters
Premiere Date: December 22, 2022
Where to Watch: Peacock
The entire gang (Morris Chestnut, Taye Diggs, Nia Long, Regina Hall, Melissa De Sousa, Harold Perrineau and Terrence Howard) from the The Best Man franchise is getting together one final time with a few new additions to the cast (Nicole Ari Parker) for this limited series. Relationships evolve and past grievances resurface in the unpredictable stages of midlife crisis-meets-midlife renaissance.