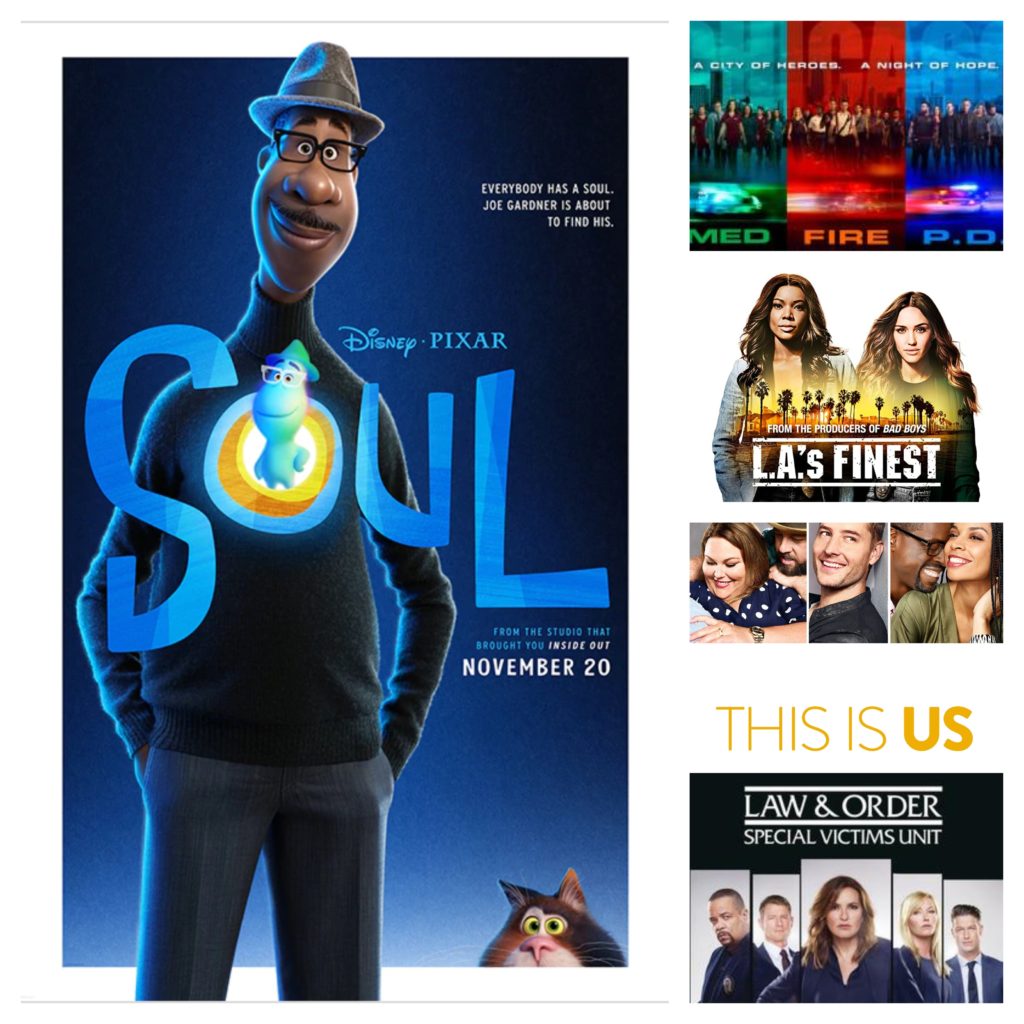 Tomorrow officially starts one of my favorite seasons of the year. There's so much I love about fall: the milder temperatures, the celebration of my daughter's birthday, and all the wonderful television shows and movies that premiere.
The pandemic has thrown schedules off, but the shows must go on, even if things are happening later than normal. Here are a few movies and television shows to which I'm looking forward this year that have official premiere dates:
Soul
Premiere Date: November 20, 2020
You can't go wrong when you have a Disney Pixar movie featuring Jamie Foxx and Phylicia Rashad. The fact that Soul is animated and features a black main character is just more icing on the proverbial cake. Joe, played by Foxx, is a middle-school band teacher whose life hasn't quite gone the way he expected. His true passion is jazz—and he's good. But when he travels to another realm to help someone find their passion, he soon discovers what it means to have soul.
L.A.'s Finest
Premiere Date: September 21, 2020
Starring Gabrielle Union and Jessica Alba, L.A.'s Finest is part of the Bad Boys movie franchise. It actually premiered on one of the streaming services last year, and the show has now been picked up by Fox. According to information online, L.A.'s Finest follows Syd Burnett, last seen in Miami taking down a drug cartel, who has seemingly left her complicated past behind to become an LAPD detective. Paired with a new partner, Nancy McKenna, a working mom with an equally complex history, Syd is forced to confront how her unapologetic lifestyle may be masking a greater personal secret. Taking on the most dangerous criminals in Los Angeles while skirting the rules—and speed limits—Syd and Nancy become a force to be reckoned with—on the streets and in each other's lives.
This Is Us
Premiere Date: November 10, 2020
It's season five for one of the best shows on television. Although it's happening a little late, I have no doubt it will be worth the wait. According to information found online, the show revolves around Jack and his wife—who is very pregnant with triplets—have just moved into their new home in Pittsburgh. Successful and handsome television actor Kevin is growing increasingly bored with his bachelor lifestyle. Randall who was abandoned at a fire station by his father as an infant – is a stylish New York-based businessman working to raise two daughters with his wife, Beth. These people are among a group, several of whom share a birthday, of seemingly random individuals whose lives intertwine in unexpected ways.
The Chicago Franchise
Premiere Date: November 11, 2020
It's amazing how three shows can be so interwoven, yet so separate. The Chicago Franchise is currently comprised of three shows: Chicago Med, Chicago PD and Chicago Fire. The franchise revolves around the professional and private lives of fire fighters, police officers, emergency medical personnel and legal professionals in Chicago.
Law and Order: SVU
Premiere November 12, 2020
There is a reason this show is going into its 22nd season. According to Wikipedia, based out of the New York City Police Department's 16th precinct in Manhattan, Law & Order: Special Victims Unit delves into the dark side of the New York underworld as the detectives of a new elite force, the Special Victims Unit (SVU for short), investigate and prosecute various sexually oriented crimes.