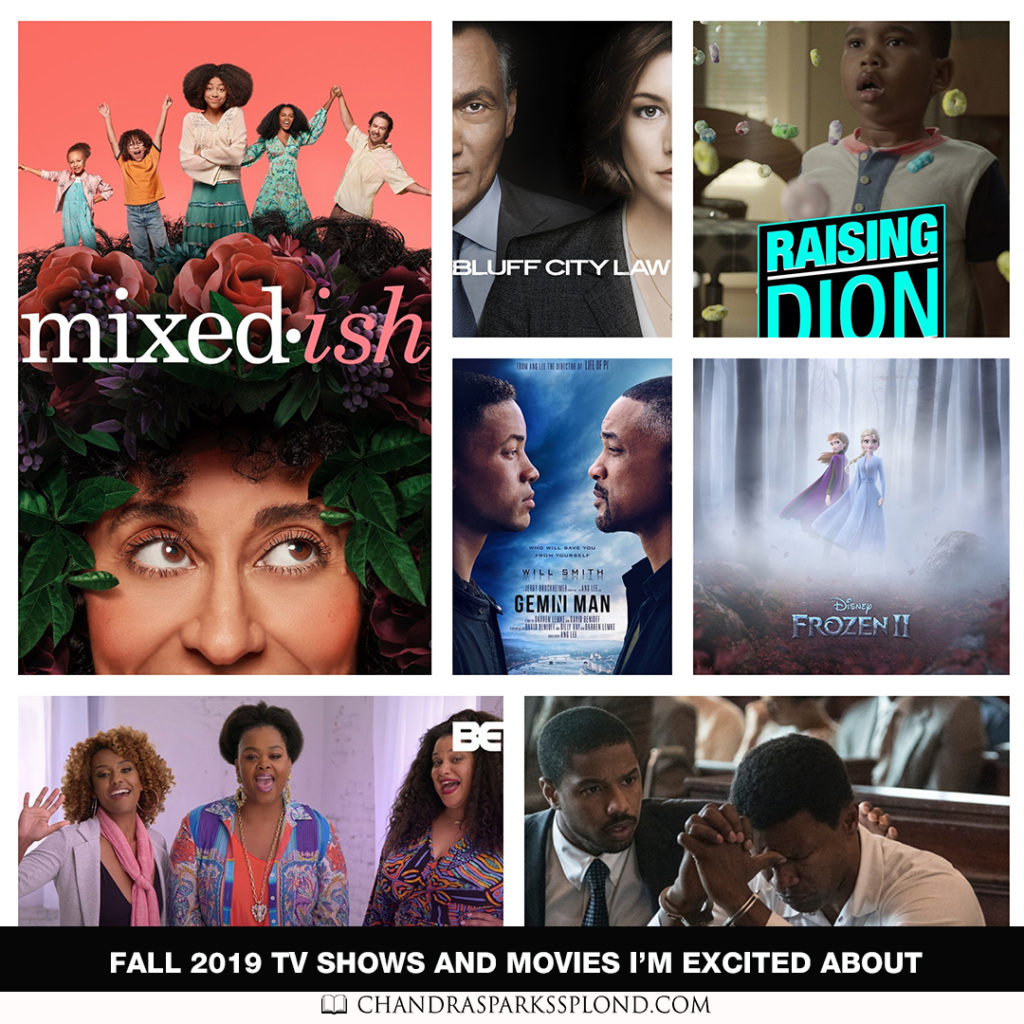 It's one of my most favorite seasons of the year. Although I'm not a fan of the shorter days, I love fall for so many reasons, including the launch of the Disney+ streaming service and the premiere of new television shows and movies. Since the new television season starts this week, I would be remiss if I didn't share a few of the premieres of which I'm excited.
Mixed-ish (premiering September 24)
This second spinoff of Black-ish has been getting a lot of buzz. Loosely based on creator Kenya Barris' real-life wife, the series chronicles the early years of Rainbow Johnson (portrayed by Tracee Ellis Ross on Black-ish) as she recounts her experience growing up in a mixed-race family in the 1980s and the dilemmas they faced over whether to assimilate or stay true to themselves when her parents move from a hippie commune to the suburbs.
Bluff City Law (premiering September 23)
I'm a sucker for a good legal show, and Bluff City Law seems to fit the bill. The show revolves around Elijah (played by Jimmy Smits) and his daughter who agrees to join her father's law firm after the death of her grandmother. Hopefully, they will get along.
Raising Dion (premiering October 4)
Anything with actor Michael B. Jordan's name attached is a win for me. The story is about a superhero, based on the comic book of the same name by Dennis Liu, and is premiering on Netflix. The ten-episode show also stars Jason Ritter, son of late comedian John Ritter.
First Wives Club (premiering September 19)
Based on the movie, this version of First Wives Club is coming to BET+, the television network's new streaming service. It boasts an impressive roster of celebrities, including Jill Scott, Ryan Michelle Bathe, Michelle Buteau, RonReaco Lee and Malik Yoba. Set in New York City follows three women who stick together after their marriages fall apart. They end up building a great sisterhood—and getting some revenge.
Gemini Man (premiering October 11)
After almost 20 years in development, Gemini Man makes its way to the big screen with Will Smith headlining. Directed by Ang Lee, the story features an aging hitman who faces off against a younger clone of himself.
Frozen 2 (premiering November 22)
After the popularity of the first movie, there was no way Disney was going to let this one go (see what I did there? LOL). In the sequel, Anna, Elsa, Kristoff, Olaf and Sven leave Arendelle to travel to an ancient, autumn-bound forest of an enchanted land. They set out to find the origin of Elsa's powers in order to save their kingdom. The movie stars Evan Rachel Wood, Kristen Bell and Sterling K. Brown.
Jumanji: The Next Level (December 13)
The Jumanji franchise is back again with Dwayne "The Rock" Johnson and Kevin Hart headlining. In this release, a team of friends return to Jumanji to rescue one of their own but discover that nothing is as they expect. The players need to brave parts unknown, from arid deserts to snowy mountains, in order to escape the world's most dangerous game.
Just Mercy (December 25)
This release technically isn't happening this fall, but it deserves to be on your radar. Starring Michael B. Jordan, Jamie Foxx, O'Shea Jackson, Jr., it tells the true story of Walter McMillian, who with the help of young defense attorney Bryan Stevenson appeals his murder conviction.