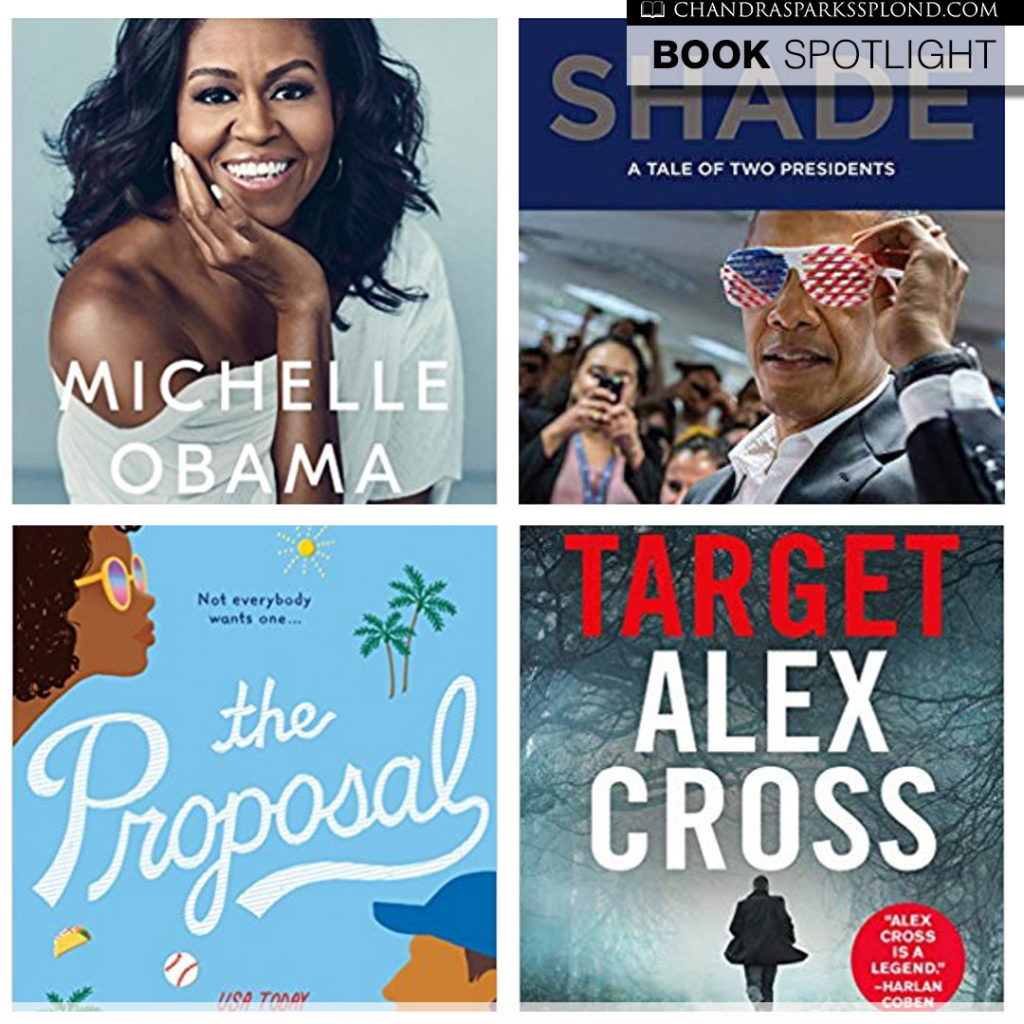 Fall kicks off this week. It's one of my favorite seasons of the year. Hopefully the weather will cool off a little, and there are plenty of great books for reading. Here are a few I'm excited about.
The Proposal
Jasmine Guillory
When freelance writer Nikole Paterson goes to a Dodgers game with her actor boyfriend, his man bun, and his bros, the last thing she expects is a scoreboard proposal. Saying no isn't the hard part–they've only been dating for five months, and he can't even spell her name correctly. The hard part is having to face a stadium full of disappointed fans…
At the game with his sister, Carlos Ibarra comes to Nik's rescue and rushes her away from a camera crew. He's even there for her when the video goes viral and Nik's social media blows up–in a bad way. Nik knows that in the wilds of LA, a handsome doctor like Carlos can't be looking for anything serious, so she embarks on an epic rebound with him, filled with food, fun, and fantastic sex. But when their glorified hookups start breaking the rules, one of them has to be smart enough to put on the brakes…
Becoming
Michelle Obama
In a life filled with meaning and accomplishment, Michelle Obama has emerged as one of the most iconic and compelling women of our era. As First Lady of the United States of America—the first African American to serve in that role—she helped create the most welcoming and inclusive White House in history, while also establishing herself as a powerful advocate for women and girls in the U.S. and around the world, dramatically changing the ways that families pursue healthier and more active lives, and standing with her husband as he led America through some of its most harrowing moments. Along the way, she showed us a few dance moves, crushed Carpool Karaoke, and raised two down-to-earth daughters under an unforgiving media glare.
In her memoir, a work of deep reflection and mesmerizing storytelling, Michelle Obama invites readers into her world, chronicling the experiences that have shaped her—from her childhood on the South Side of Chicago to her years as an executive balancing the demands of motherhood and work, to her time spent at the world's most famous address. With unerring honesty and lively wit, she describes her triumphs and her disappointments, both public and private, telling her full story as she has lived it—in her own words and on her own terms. Warm, wise, and revelatory, Becoming is the deeply personal reckoning of a woman of soul and substance who has steadily defied expectations—and whose story inspires us to do the same.
Target. Alex Cross
James Patterson
A leader has fallen, and Alex Cross joins the procession of mourners from Capitol Hill to the White House. Then a sniper's bullet strikes a target in the heart of DC. Alex Cross's wife, Bree Stone, newly elevated chief of DC detectives must solve the case or lose her position. The Secret Service and the FBI deploy as well in the race to find the shooter. Alex is tasked by the new President to lead an investigation unprecedented in scale and scope. But is the sniper's strike only the beginning of a larger attack on the nation?
Shade: A Tale of Two Presidents
Pete Souza
As Chief Official White House Photographer, Pete Souza spent more time alongside President Barack Obama than almost anyone else. His years photographing the President gave him an intimate behind-the-scenes view of the unique gravity of the Office of the Presidency–and the tremendous responsibility that comes with it.
Now, as a concerned citizen observing the Trump administration, he is standing up and speaking out.
Shade is a portrait in Presidential contrasts, telling the tale of the Obama and Trump administrations through a series of visual juxtapositions. Here, more than one hundred of Souza's unforgettable images of President Obama deliver new power and meaning when framed by the tweets, news headlines, and quotes that defined the first 500 days of the Trump White House.