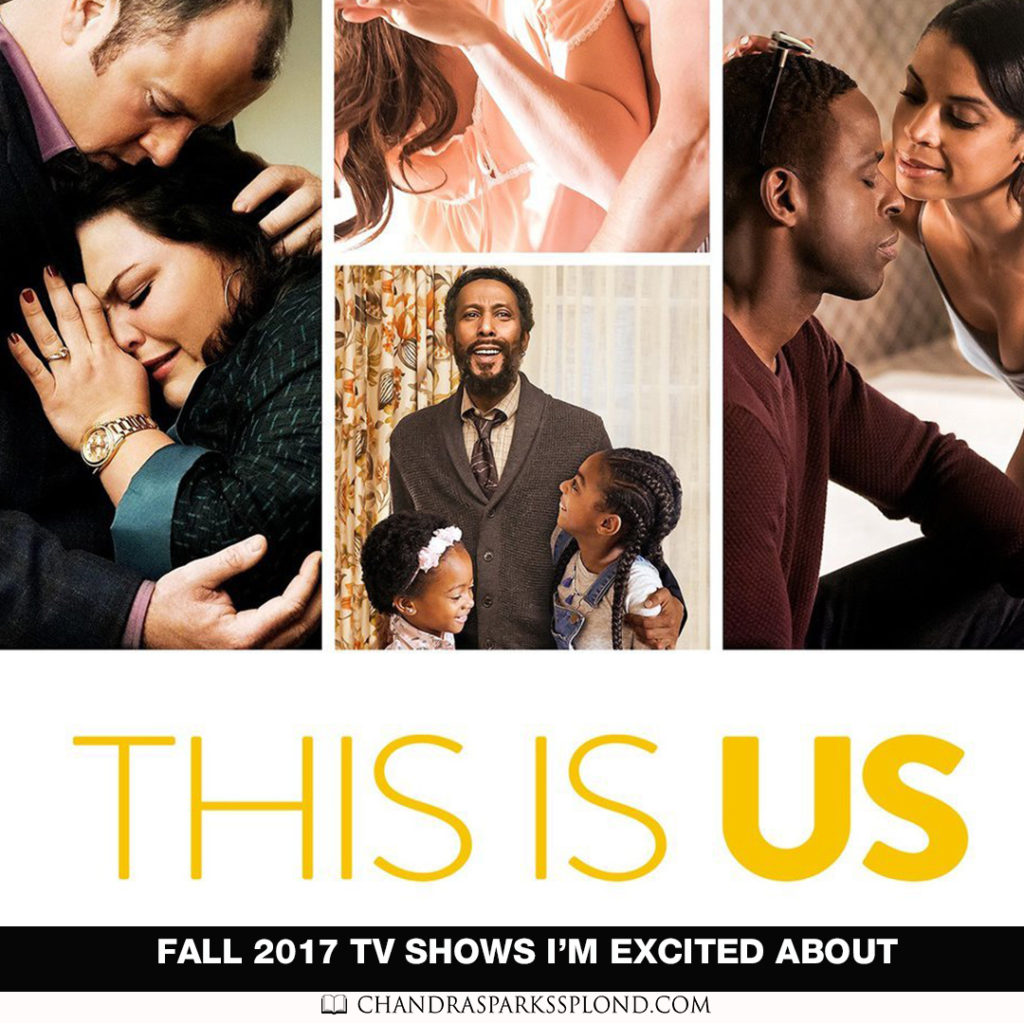 It's one of my favorite times of the year: fall TV premieres. There are several new and returning shows on my radar.
This Is Us
If you missed all the hype surrounding This Is Us when it premiered last year, it's not too late to get on the bandwagon. The story centers around several people who all share the same birthday and the ways they are alike and different. There's so much more I could say, but I don't want to give any spoilers for those who haven't seen it.  It stars an ensemble cast featuring Milo Ventimiglia, Mandy Moore, newly minted Emmy winner Sterling K. Brown, Chrissy Metz, Justin Hartley, Susan Kelechi Watson, Chris Sullivan, and Ron Cephas Jones.
The Chicago franchise
I am a huge fan of Law and Order: SVU, so it should come as no surprise that I love the Chicago franchise  (Chicago Fire, Chicago P.D. and Chicago Med)  since all three shows were created by Law Order: SVU creator Dick Wolf. According to Wikipedia, the shows focus on the professional and private lives of the firefighters, police officers, emergency personnel and legal professionals who serve the city of Chicago. If last season was any indication, there will be lots of crossover episodes, which works for me.
Black-ish
When Black-ish first premiered a few seasons ago, I was turned off by the name.  After I watched a couple of episodes and saw how the series was dealing with the real-life struggles of parents trying to give their children more than they have and the fallout from doing so, I was hooked. It has now become a ritual for my family and me to watch it every week. The show stars Anthony Anderson as Dre, Tracee Ellis Ross as Rainbow, Yara Shahidi as Zoey, Marcus Scribner as Andre Jr., Miles Brown as Jack, Marsai Martin as Diane, Jenifer Lewis as Ruby, and Laurence Fishburne as Pops. I am also looking forward to the show's spinoff, Grown-ish, which premieres on Freeform in early 2018. I'm calling Grown-ish the modern-day version of A Different World since it follows Zoey as she heads off to college.
DuckTales
Maybe it's because it's a throwback to my childhood, but the reboot of DuckTales has me interested in taking a peek. The show revolves around Scrooge McDuck who has been asked by Donald Duck to watch Donald's nephews Huey, Dewey and Louie. The kids renew Scrooge's sense of adventure as they go on expeditions and uncover the truth about why Scrooge became estranged and retired from adventuring.
9-1-1
You can count me in for pretty much any movie or TV show that includes Angela Bassett. In this 13-episode medical drama, the fast-paced lives and careers of first responders—cops, paramedics, firefighters—the people who put their lives on the line to save others is explored. Starring Academy and Emmy Award nominee and Golden Globe winner Angela Bassett (American Horror Story, What's Love Got to Do with It), the series is based on the real-life, high-pressure experiences of emergency response providers who are thrust into heart-stopping situations that are equal parts unpredictable, intense and uplifting.
What shows are you excited about this season?