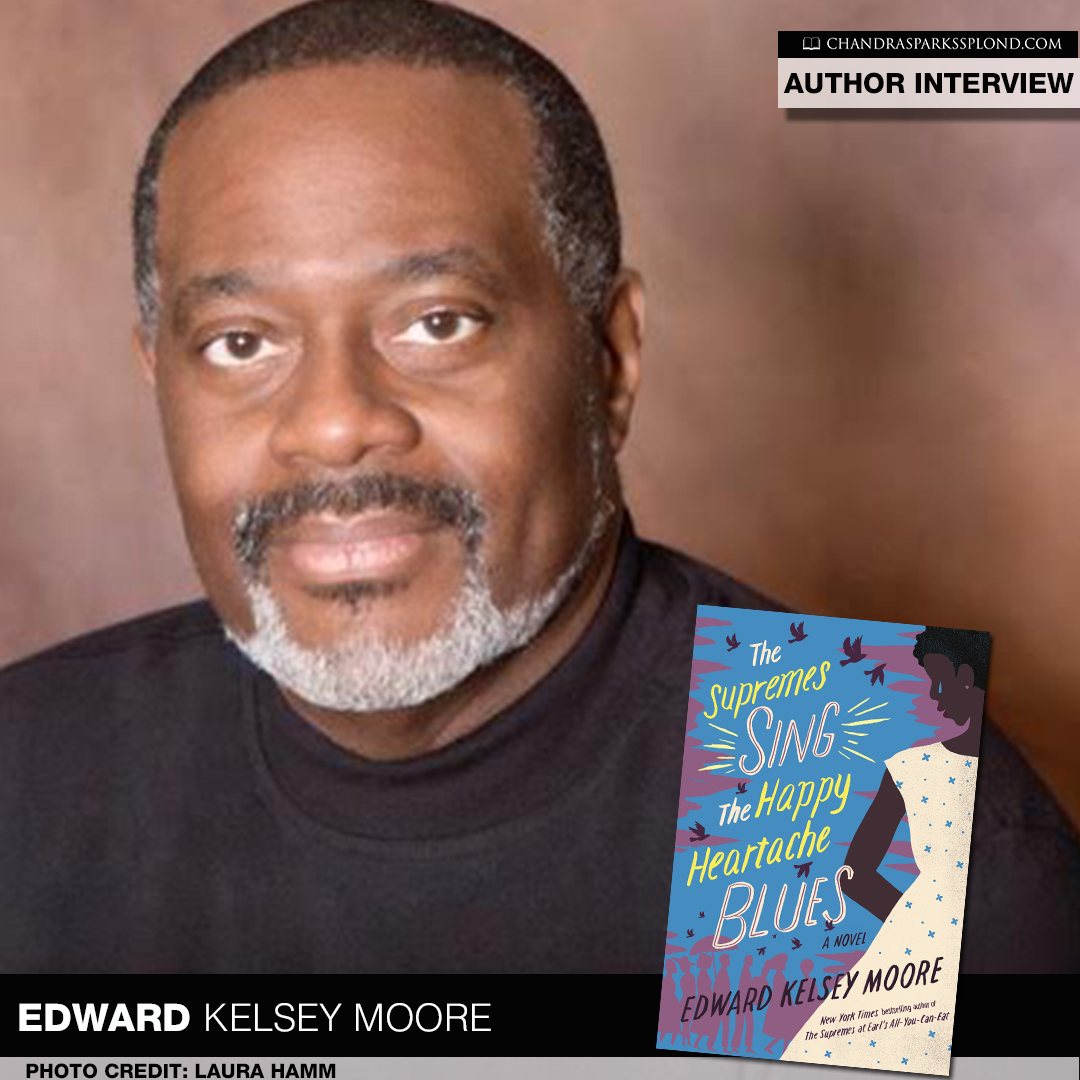 Author Edward Kelsey Moore is back with a novel that will give readers something to sing about. I recently spoke with him about his latest release.
Tell me about your book, The Supremes Sing the Happy Heartache Blues. 
The Supremes Sing the Happy Heartache Blues is a continuation of the story of the friendship of three women from a fictional small town in southern Indiana that began with my first novel, The Supremes at Earl's All-You-Can-Eat. At the start of The Supremes Sing the Happy Heartache Blues, Odette, the main character of the novel, is at a church, listening to a song that is very much out of place there. That song, The Happy Heartache Blues, and its elderly singer will directly impact the lives of Odette and her two best friends, the Supremes of the title. As the women continue to rely on and support each other, circumstances force them to take hard looks at their most intimate relationships and to examine the meaning of forgiveness in their lives. Along the way, they encounter a legendary blues singer, a wisecracking, gender-fluid nightclub performer, and the ugliest baby in the world.
Why did you decide to write it?
I had hoped that I would get the opportunity to return to the characters of my first novel at some point. They had a lot more to say. I was working on another novel, but ideas that would become The Supremes Sing the Happy Heartache Blueskept interrupting my progress. I finally gave in and wrote the book that wanted to be written.
What do you want readers to learn from the story?
I started The Supremes Sing the Happy Heartache Blues with the idea that I was writing a story about fathers and their children.  Early on in the writing process, I realized that I was actually writing about forgiveness. (Similarly, I began my first novel thinking of it as a story about women and their mothers and soon understood that I was really writing a novel about friendship.) I hope that my latest book prompts readers to examine forgiveness—what it means to them, its costs, and its benefits.
What do you want readers to learn from your life?
There is very little difference between the life I live now and the life I dreamed of living when I was younger. I have a happy marriage. I have been able to maintain a music career and a writing career. I spend my time with talented and interesting people. Most of that is because I've been blessed with good fortune. But I've also tried to amend my good fortune with a personal philosophy that insists that I must always be bluntly honest with, but kind to, myself. As a writer, as a musician, and as a man, I never stop trying to do better and I have learned not to beat myself up about my shortcomings. While I am reluctant to suggest that anyone should learn anything from my life, I can say that this approach, coupled with gratitude for the blessings I've been handed, has worked well for me.
 Who is your favorite author and why?
There are several writers who take turns as my favorite. Toni Morrison, Julia Glass, Percival Everett, James Baldwin, Ann Patchett, and John Irving stay at the top of my list. But right now, as I work on a new novel, Charles Dickens has risen to number one again. I love clearly drawn, unique characters, and no one created more memorable characters than Dickens. As I try to bring new characters to life, I can't help but draw inspiration from Dickens.
 What's next for Edward Kelsey Moore?
I'm working on a novel about a family dealing with a catastrophic loss. Like just about everything I write, it's a funny book about the truly awful stuff life throws at us.
 Do you have anything you would like to add?
As a writer who didn't publish a novel until his fifties, I always like to remind people that it is never too late to do something new. We live in a culture that likes to place people into narrow slots and keep them confined there. I can testify that it feels really great to spread out beyond what's expected of you at any point in life.
To learn more about Edward Kelsey Moore, visit his website or connect with him on social media.
Facebook: Edward Kelsey Moore, author
Twitter: @edkmoore
Use my affiliate link to purchase your copy of The Supremes Sing the Happy Heartache Blues.