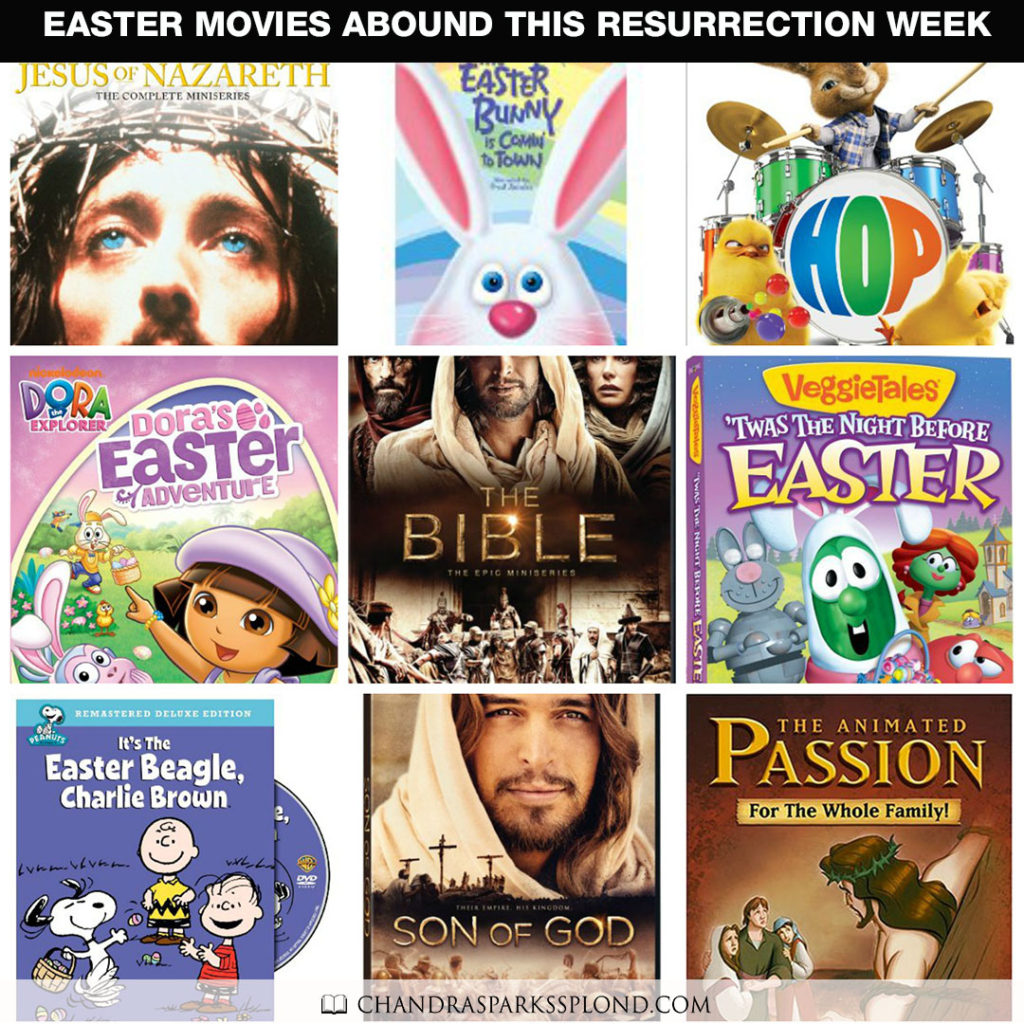 Looking for ways to celebrate the Resurrection this week? Check out these movies.
The Animated Passion
Your family will enjoy these two movies, appropriate even for young children, which teach about Jesus' Crucifixion, His Resurrection and His Ascension. These high-quality, scripturally accurate stories will completely captivate children as they learn Jesus' love and tender mercy and witness the greatest miracle of all, His Resurrection. Produced and directed by Richard Rich, former director for Walt Disney Productions. Rich's directing credits include work on such favorites as The Fox and the Hound, Winnie the Pooh and The Swan Princess.
The Easter Bunny Is Comin' to Town
Fred Astaire narrates the story of Easter, which actually began in the village of Kidville. The town was run and inhabited only by children, and one Easter morning the children found a sad baby bunny among them. They named him Sunny, and he grew up happily but liked to venture to a nearby town where only grown-ups lived—except for seven-year-old King Bruce. As a gesture of friendship, Sunny started bringing Bruce lovely painted eggs—the first Easter eggs ever. And every Easter thereafter, the rabbit would invent another Easter tradition—egg rolling, jellybeans, chocolate bunnies.
It's the Easter Beagle, Charlie Brown
It's springtime, Charlie Brown! Re-mastered with a fresh but still classic look, It's The Easter Beagle, Charlie Brown is accompanied by two additional episodes making this a truly fun-filled package.
Hop
From the creators of Despicable Me comes an all-new comedy starring E.B. (voiced by Russell Brand), the Easter Bunny, who decides to pursue his dream of becoming a rock star drummer.
Dora the Explorer: Dora's Easter Adventure
Get ready for an Egg-Citing Easter Adventure as you help Dora and Boots save the Hip-Hop-Bunny's basket of eggs! Plus, a troll wedding and a trip to Troll Land!
Veggietales: A Very Veggie Easter Collection
The perfect gift for Easter, the Very Veggie Easter Collection contains two popular Easter DVDs Twas the Night Before Easterand An Easter Carol.
The Bible: The Epic Miniseries
From executive producers Roma Downey and Mark Burnett comes The Bible, an epic 10-part miniseries retelling stories from the Scriptures for a whole new generation. Breathtaking in scope and scale, The Bible features powerful performances, exotic locales and dazzling visual effects that breathe spectacular life into the dramatic tales of faith and courage from Genesis through Revelation. This historic television event is sure to entertain and inspire the whole family. Please note: Some scenes that were shown when The Bible aired may not be included in this release. These missing scenes are an artistic choice, not a defect.
Son of God 
Now, the larger-than-life story of The New Testament gets a larger-than life treatment in the stand-alone feature, Son of God. Told with the scope and scale of an action epic, the film features powerful performances, exotic locales, dazzling visual effects and a rich orchestral score from Oscar-winner Hans Zimmer. Portuguese actor Diogo Morgado portrays Jesus as the film spans from his humble birth through his teachings, crucifixion and ultimate resurrection.
Jesus of Nazareth
The life of Jesus is majestically and movingly portrayed in one of the most magnificent miniseries ever created.  Acclaimed director Franco Zeffirelli and an all-star cast come together to deliver a powerful adaptation of the Gospels. From the Nativity to the Crucifixion and Resurrection, the life of Jesus (played by Robert Powell) is presented with stunning depth, gravity, and emotion.