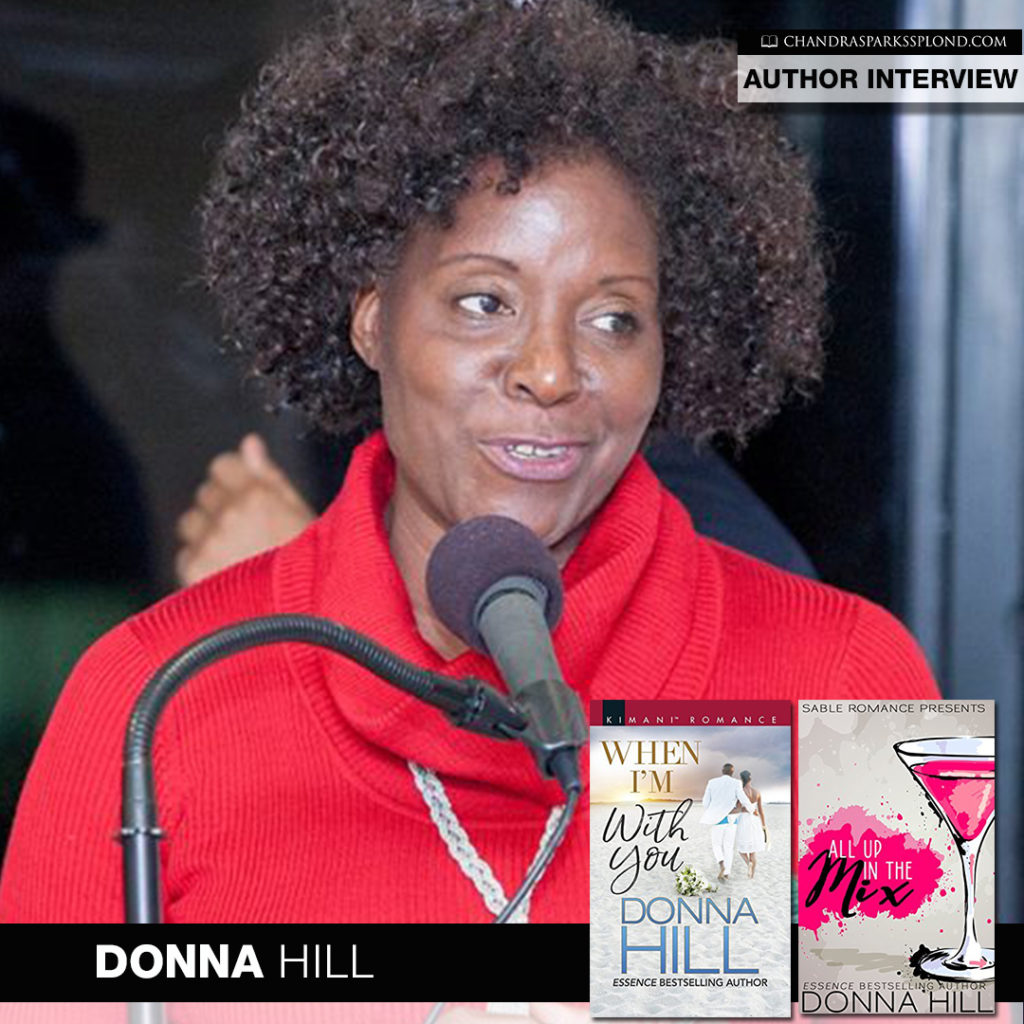 Prolific author Donna Hill isn't slowing down any time soon. I recently spoke with her about her two May releases, When I'm with You and All Up in the Mix.
You have two books releasing soon. Tell me about them.
May is a busy month for me. I have two back to back releases.  The first is, When I'm With You. (May 22). This one is about my uber sexy bachelor (no more) Rafe Lawson.  It picks up right where Surrender to Me left off, with a few twists and surprise guests. Then on May 25, All Up In the Mix will be released by Sable Sistars Publishing. This one is the first in my "Shaken Not Stirred" series, which features three dynamic divas, graduates of Wharton who decided to do their own thing and open a specialty martini bar in Manhattan. Of course each story as a hot love interests and enough drama to keep the pages flying. The first story features Tash Harper founder of Shaken Not Stirred and her love triangle!
Why did you decide to write them?
It's hard to say exactly why I decided to write these two books. I think part of the reason for writing Rafe Lawson's story is because I am secretly in love with this man and didn't want to let him go! But seriously, I felt there was more to his story and questions that needed to be answered about the "who" that kept him from committing again to loving anyone.
As for All Up in The Mix, I'd been wanting to write this storyline for a couple of years. I wanted something a bit different from my Harlequin romances and different from my women's fiction from Kensington. Originally I wanted to bring in two other writers with each of us working on a single book featuring one of the women with the backdrop being the bar, but it didn't work out so i shelved it until the opportunity opened with Sable Sistars.
You're one of the romance publishing veterans. To what do you attribute your longevity?
Veteran! Ha…. sounds old.  LOL. Well, I've been consistently published for the past 28 years. I think part of my longevity is writing what I want to write, the way I want to write it.  I try to stay relatively relevant. LOL  But there is a whole new crop of writers out there. Not to say that I'm ready yet to throw in the towel, but more than happy to make room for the new voices.
 Who are your favorite new and established authors and why?
I can't say favorites, as my favorites may shift over time, but a new writer that has my interest is Naima Coster. She wrote Halsey Street--a really good book. Also Tia Kelly!  A wonderful sexy romance author. Some more established writers that I admire and wish I could emulate is Bernice McFadden, Jesmyn Ward.  I've always had a thing for mystery, suspense so I'm all in for Walter Mosley, James Patterson, Jeffery Deaver, Patricia Cornwell (her earlier work). And the writing of Margaret Johnson Hodge always gets me right in the center of my spirit.
What advice do you have for writers interested in having a long publishing career?
Anyone that is serious about a career as a writer has to read. Read widely. Read outside of your genre. You must understand the market and your audience. Understand that success does not come overnight! Writing is work. Do it well. Your words will live on long after you are gone. Your words impact the lives of people you may never meet. Choose them wisely, with love and with care. And most of all, be true to yourself. Don't follow trends. Trends come and go and so will you.
What's next for Donna Hill?
Wow, Chandra I have so much going on. I am totally excited and overwhelmed. I will be writing the sequel to A House Divided! The working title is The Other Sister or The Secrets They Kept, not sure as of yet. So many readers wanted to know what happened with Zoie and Kimberly. So I am looking forward to answering the call from readers.  Then I will be working on a single title Confessions in B Flat along with three companion novels that tie back to the main characters in the single title. I am totally psyched about this single title as it was a novel that has lived with me for at least ten years! So I am thrilled to be able to be able to finally give birth to it.  On the series front, I have a new Harlequin series The Grants of D.C.  This series features three hunky and very successful brothers, living and loving it up in the nation's capital. The first book What the Heart Wants introduces Franklin Grant, renowned cardiothoracic surgeon and the equally talented Dr. Dina Hamilton who does a thing or two to his heart! Annnnnnd… whew, working on book two of the Shaken Not Stirred series, Straight No Chaser, which features Tash's bestie Perri Malloy.
Do you have anything you would like to add?
Read! Even if you are not reading me, read someone. Collect books, give books as gifts. Reading opens new worlds. Support the writers that you enjoy. Write a review. Share the good news (not the book) with your friends.
To learn more about Donna Hill, visit her website or connect with her on social media.
Facebook: facebook.com/donnahillwriter
Facebook Reader Page: facebook.com/donnahillfans
Twitter: @donnahill