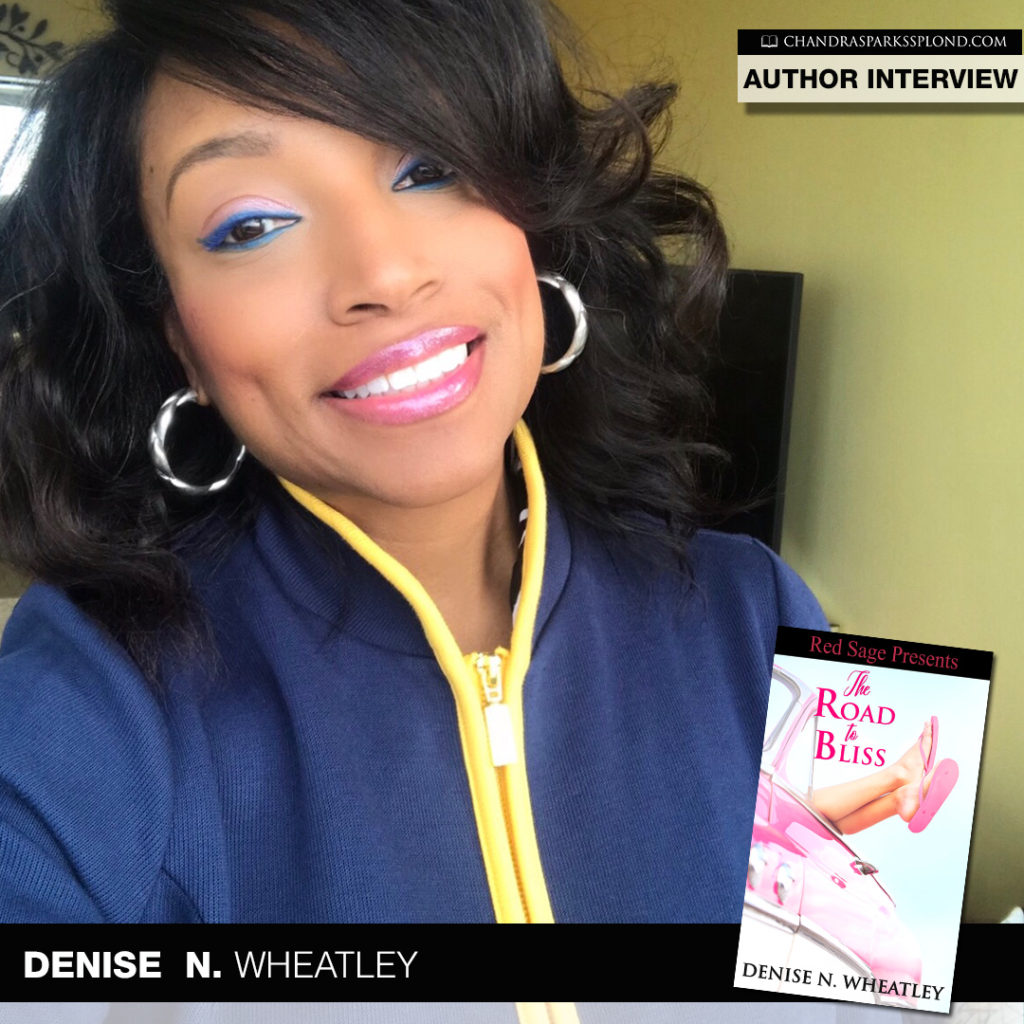 Author Denise N. Wheatley believes in miracles and the power of holiday magic. I recently spoke with her about how she incorporated both in her latest book, The Road to Bliss.
Tell me about your latest book.
The Road to Bliss is about a newly engaged beauty and wellness entrepreneur named Timber West who seemingly has it all, but her life is abruptly turned upside down when she and her older fiancé Brian break off their engagement after he questions her career choices and wavers on his desire for marriage and more children. Timber turns to her best friend Eva for support, which is tricky considering Eva also happens to be Brian's daughter.
Timber eventually finds love again with sexy actor Alex and moves her flourishing company Soothing Bliss into a beautiful commercial space. With an exciting new man in her life and a business that's booming, Timber finally feels as though she's on the perfect path. But she's thrown into a whirlwind of turmoil when Soothing Bliss's new location is threatened to be purchased by a callous art curator, and Alex's growing popularity sparks his wandering eye.
Then Brian suddenly resurfaces, and he and Timber start up an unlikely friendship, giving her just the boost that she needs. As Christmastime approaches, Timber hopes that her favorite holiday will bring about a miracle in her fight to keep Soothing Bliss in its rightful home. And with a little compromise and dose of holiday magic, she wonders whether she and Brian can work through their past and mend a relationship that perhaps never should have unraveled.
Why did you decide to write it?
I was actually inspired to write this book after seeing Julia Roberts' film Notting Hill as I've always been intrigued by everyday people struggling to maintain relationships with celebrities. I also love Christmastime and saw the perfect opportunity to incorporate my favorite holiday into the relationship between my two main characters.
What do you want readers to learn from the story?
I hope readers will learn that sometimes people do deserve a second chance, and every situation isn't just black and white. There are gray areas in relationships that should also be considered. That, along with the idea that compromising doesn't always mean settling, are two of the main concepts that I wanted to highlight in this book. I also wanted to address the "all that glitters isn't gold" concept, and bring home the point that infatuation oftentimes leads to destruction.
What do you want readers to learn from your life?
I hope that my life will teach others to pursue their dreams and passions. I've always loved books and reading and knew I'd be an author. Writing is something that I truly enjoy, and I work hard at it every day. My goal is to encourage others to find their passion as well, and incorporate something they love doing into their daily lives.
Who is your favorite author and why?
Terry McMillian. And while there are several authors I love, I always choose Ms. McMillan because aside from being a fan of her work, she's the first author who taught me that I too could be a writer. Back in the day, seeing a successful African-American author write contemporary women's fiction was groundbreaking. She gave me the confidence to pursue a writing career, and I remember the moment that thought clicked in my head. I was standing in a bookstore reading the back of Mama (after having just read Disappearing Acts), and when I looked at Ms. McMillian's photo, I said to myself, "Hey, I can do this, too!" I began writing my first novel that very same week.
What's next for Denise N. Wheatley?
Next up, my romantic suspense novel Wards of the Women will be released this fall. The third installment of my contemporary romance series The Holiday Chronicles, as well as the second installment of my paranormal romance series Shadow of a Man, will be released later this year. I'm currently working on a contemporary romance/chick lit novel titled She Gets What She Wants, and shopping a teleplay that I wrote based on my novel I Wish I Never Met You to television networks.
Do you have anything you would like to add?
I just want to take a moment to thank each and every person who purchases my books, follows me on social media and keeps up with my writing journey. Back when I first began writing, I'd dream of just one person picking up my book and reading it. The thought of readers getting into the stories I write just warms my heart, and I want them to know that they're much appreciated!
Denise N. Wheatley is a romance author best known for her chick lit novel I Wish I Never Met You, which was published by Simon & Schuster in 2004. She has since published several novels and novellas, including contemporary romances, paranormal romances and romantic suspense. She strives to create characters who are strong, colorful and relatable, and tell entertaining stories that embody matters of the heart. Wheatley received a B.A. in English from the University of Illinois at Chicago, the city where she was born and raised. In addition to being an author, she is an avid screenwriter, blogger, ghostwriter, true crime television addict and self-proclaimed pop culture expert.
Visit Denise N. Wheatley at https://www.denisenwheatley.com and connect with her on social media:
Amazon Author Page: https://www.amazon.com/Denise-N.-Wheatley/e/B001KHBZ7E
Instagram: https://www.instagram.com/denise_wheatley/
Twitter: https://twitter.com/denisewheatley
Facebook: https://www.facebook.com/DeniseNWheatley/
YouTube: https://www.youtube.com/user/dnwheatley