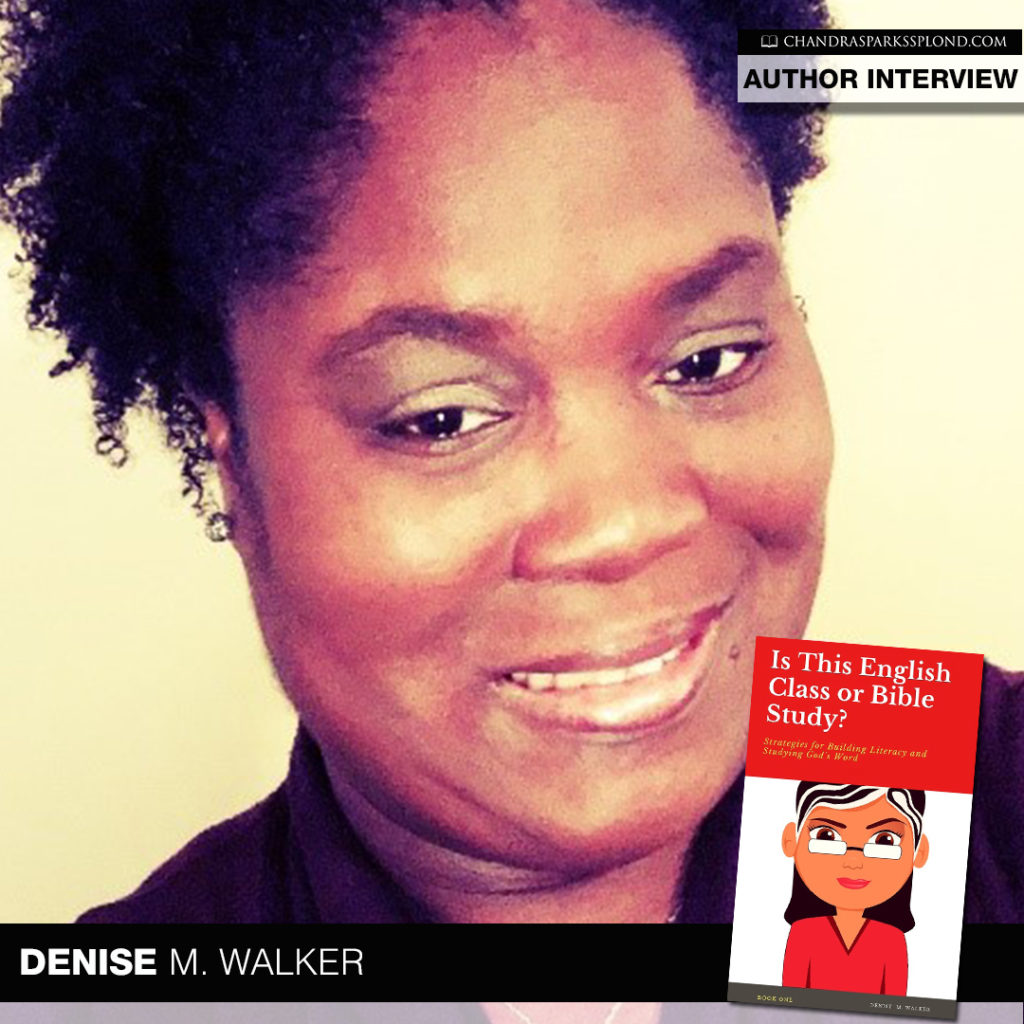 Denise M. Walker wants to help readers overcome their anxiety about studying the Bible.
Tell me about your latest book.
My latest book is a Bible study journal, Is This English Class or Bible Study? It is filled with strategies used to build comprehension as one reads God's word.
Why did you decide to write it?
I decided to write this journal out of obedience to God. I was given the vision back in 2015. They are actual strategies from my personal journals. In addition, I love teaching and assisting others with building literacy.
What has been the most surprising thing about your publishing career?
The most surprising thing about my publishing career is being able to self-publish and being in control of my own destiny, not a traditional company. It is really not that difficult. Some would try to make you believe that it can't be done.
What do you want readers to learn from your book?
I want readers to learn a few things. First, we must read and study the word for ourselves. Next, we can't gain knowledge in school and other trainings yet lack knowledge about God's word. To grow, we must study and discover our purpose.
Who is your favorite established author and why?
I have more than one favorite author. I love many Christian fiction authors. In addition, I love Kay Arthur because she also writes to build literacy.
Who is your favorite new author and why?
Again, there are many phenomenal new authors out there. I can't choose just one.
If you could have any profession other than being an author, what would it be?
In addition to being an author, I would also choose to do more motivational speaking/mentoring. I love inspiring others.
What's next for Denise M. Walker?
What's next? Well, I am working on two other novels, book two in the My True Identity teen series, Hannah's Heart, and my first women's inspirational novel, Hannah's Barren Womb. I am also scheduling more speaking engagements and workshops.
Do you have anything you would like to add?
Check out my podcasts, Hope-in-Christ w/Denise and Building Literacy and True Identity. They are located on my author website, www.denisemwalker.com. Also, join the Hope-in-Christ Book Club Facebook group to participate in The Book Review Radio Show activities or just support and meet the amazing authors.
Use my affiliate link to purchase Is This English Class or Bible Study?
Connect with Denise M. Walker on social media:
Twitter: @@author_denise ,  @Hope_in_Christ1
Facebook Fan Pages: @AuthorDeniseMWalker, @projecthope.mytrueidentity, @HopeInChristMinistriesInc
Instagram: @authordenisemwalker, @my_true_identity_h.o.p.e._   @hope_in_christ1, @hopeinchristbookclub
LinkedIn: Author Denise M Walker