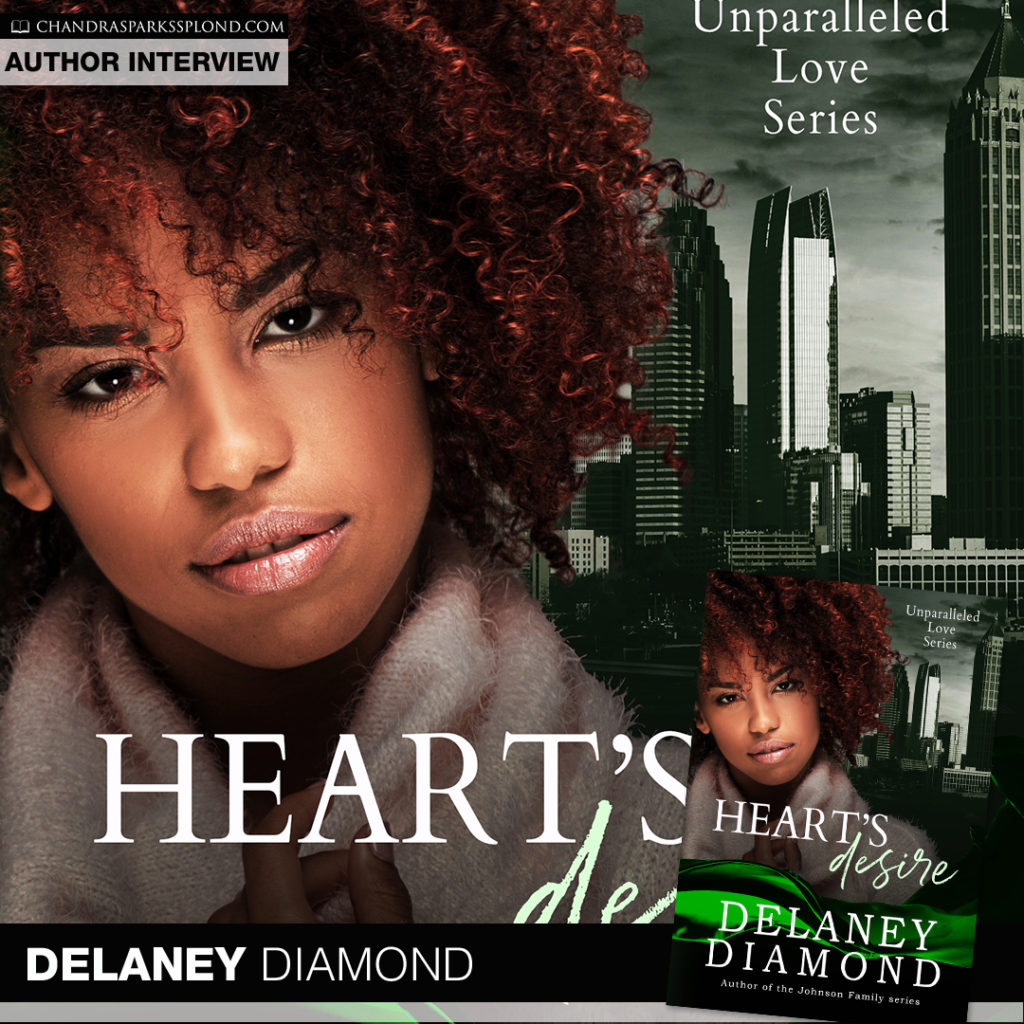 It's always a pleasure to welcome Delaney Diamond back to the blog. She's here today discussing Heart's Desire.
Tell me about your latest book.
Hi Chandra! I'm so excited to be back on your blog.
So, my latest book is part of the Unparalleled Love series, a collaboration with fellow authors Sharon C. Cooper and Stephanie Nicole Norris. In my story, Heart's Desire, you'll meet Janice Livingston and Nathan Crenshaw. This is a sort of second-chance romance because they were involved with each other several years ago. They broke up when Janice temporarily moved to California—a trip Nathan did not want her to take.
Janice has been back in Atlanta for a while, and she and Nathan work at the same company and are very much still interested in each other. But they've both moved on—or so they say. She's dating, and he's involved in a long-term relationship. Readers will get to see this couple finally not only admit their feelings for each other, but get a second chance at love.
Why did you decide to write it?
Janice is relatable. So many women have been hurt once (or more) in the past, and it makes them cautious about future relationships. You ask yourself, Is he too good to be true? Is he telling the truth? I think we've all been there or know someone who has. This story takes that idea and asks, what if you're wrong? What if he really is a good guy and you're missing out on your blessing because you're scared? Nathan is a good guy, and Janice has to get past her fears to see the man he is and experience the love she deserves.
What do you want readers to learn from the story?
In the case of Janice, the lesson is, Don't let past situations control current behavior. In the case of Nathan, he learned a valuable lesson too: Honesty is the best policy.
If you could pick another profession, what would it be and why?
Maybe a tour guide? I love to travel, so I think I would enjoy escorting groups—small groups, though!—to other countries or around the United States. Being paid to do that would be ideal.
What's the best part of being an author?
Freedom! Freedom to do the things I want to because I set my own schedule. Running a close second is the personal pleasure I receive from people reading my stories and enjoying them. Let me tell you, it's high-inducing. I often marvel at the fact that there are so many reading options and leisure activities readers could engage in, but knowing that they choose my books and will often reach out and tell me how much they enjoy them is absolutely incredible.
What's the worst part of being an author?
Writer's block. It's the worst because you feel stifled even if you have a great premise for a story.
What's next for you?
My next project is Deeper Than a Love (Brooks Family #6), another second-chance romance between Reese Brooks and Nina Winthrop. This is the last book in the series, which was a spinoff of the Johnson Family series. Ending another series is bit bittersweet, because I've come to really know these people, and I've enjoyed the journey with them. Side note, Nina Winthrop, the heroine in Deeper Than Love, makes an appearance in Heart's Desire. She owns the hotel chain where Nathan and Janice work and gives them a project to work on, which will be carried over into the Brooks story.
About the Author
Delaney Diamond is the USA Today bestselling author of sweet, sensual, passionate romance novels, born and raised in the U.S. Virgin Islands. She reads romance novels, mysteries, thrillers, and a fair amount of nonfiction. When she's not busy reading or writing, she's in the kitchen trying out new recipes, dining at one of her favorite restaurants, or traveling to an interesting locale. To get sneak peeks, notices of sale prices, and find out about new releases, visit her website and join her mailing list. Enjoy free reads and the first chapter of all her novels at www.delaneydiamond.com. You can also join her on Facebook, Twitter, and Instagram.
Use my affiliate link to purchase your copy of Heart's Desire.