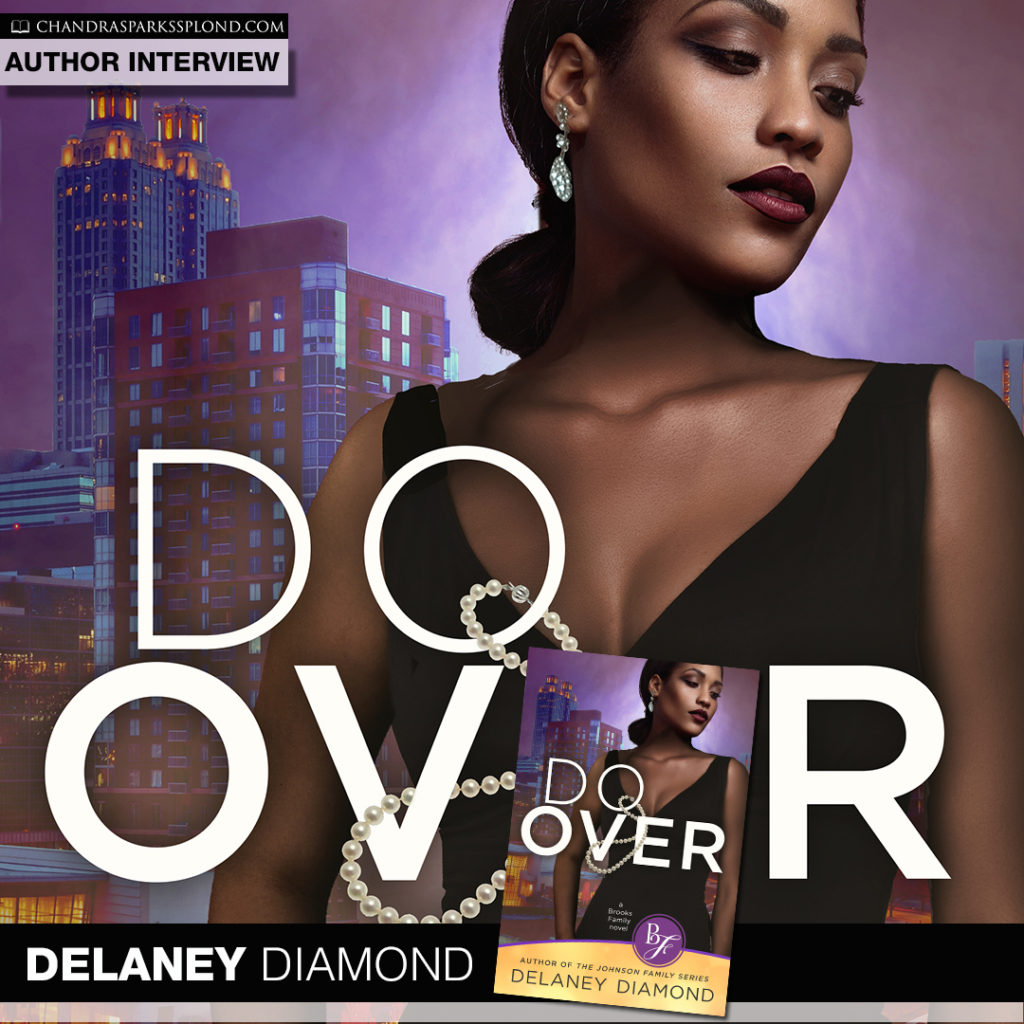 Delaney Diamond is back with a new novel. I recently spoke with her about Do Over.
Tell me about your latest book.
Hi Chandra! My latest book is called Do Over, and it's the second book in the Brooks Family series, which is a spin-off of my Johnson Family series. The first book is a short. It's called Passion Rekindled and is about the parents. In Do Over, Ella Brooks is the heroine, and she's attacked in her penthouse one night. Right from the beginning, there's an attraction between her and the detective investigating the break-in. They also have one major thing in common that helps them bond: they've both been married before and were cheated on by their spouses. Once they start dating, the relationship moves quickly, but like any relationship, there are a few ups and downs. And the couple has to decide whether or not their marital do-over, with each other, is really going to last.
Why did you decide to write it?
Once I got the idea for a spin-off of the Johnson Family, I started thinking about the Brooks family members and their individual personalities. Ella first made an appearance in A Passionate Love, her sister Simone's love story. In it, I mention that Ella's husband had left her after their second child was born. I wanted to explore that storyline and unearth why that happened and how it made her feel. Gradually, the idea formed to write about this woman—wealthy, elegant, and together on the outside, but secretly hurting and feeling unsure of herself on the inside. I wanted her to not only get out of her funk, but find a man who treated her the way she deserved. That's where Tyrone came in. He helped her grow, but he grew in the process, too. Ella helped him focus on what was important, and learn to compromise in a way that he hadn't been willing to do when he was married.
What do you want readers to learn from the story?
In the case of both characters, after their failed marriages, they weren't sure they wanted to get married again. I want readers to know that even though a marriage may not last, that doesn't mean it's the end. We can all find love again. We can learn from our mistakes and take that knowledge into the next relationship. That's what a do-over is all about.
What do you want readers to learn from your life?
Interesting question. When I set my sights on a goal, I gather tons of information and figure out the steps to achieve the goal. I've always been that way, and I seldom tell myself no. So I think what readers can learn is to be confident in yourself and dream big, plan, and go for what you want.
Who is your favorite author and why?
I don't have one favorite author, and I'm discovering new authors all the time. I jump around a lot, depending on my mood and the genre I'm reading, but there are authors whose works I love and depend on for their consistency. For example, when I'm in the mood for new adult, Jacinta Howard is a fave. If I'm in the mood for romantic comedy, I read Phyllis Bourne. For fast-paced and sexy, I enjoy novels by Chanta Rand.
What's next for Delaney Diamond?
I publish other authors under my publishing company, Garden Avenue Press. I have two books by two different authors that I'm prepping for release next month, and I'm excited for readers to read these works.
I'm also working on the next book in the Brooks Family series, Wild Thoughts. Malik Brooks is an interesting character. He's a sculptor and he's celibate, so it's been a bit tricky writing this sexy guy whose really not that interested in sex, lol. I mean, he's not trying to seduce the heroine, Lindsay, at all, which is perplexing to her. But the novel is called Wild Thoughts, so there's plenty of sexual tension, and when Malik and Lindsay finally get together, there's definitely fireworks!
Do you have anything you would like to add?
Thank you so much for having me and your continued support of authors like me. If any of your readers are unfamiliar with my work, the Hawthorne Family series is available on Kindle Unlimited. Also, I'm giving away a copy of Heartbreak in Rio to readers who sign up for my newsletter. It's an interracial romance set in Brazil.
To learn more about Delaney Diamond, visit her website or connect with her on social media.