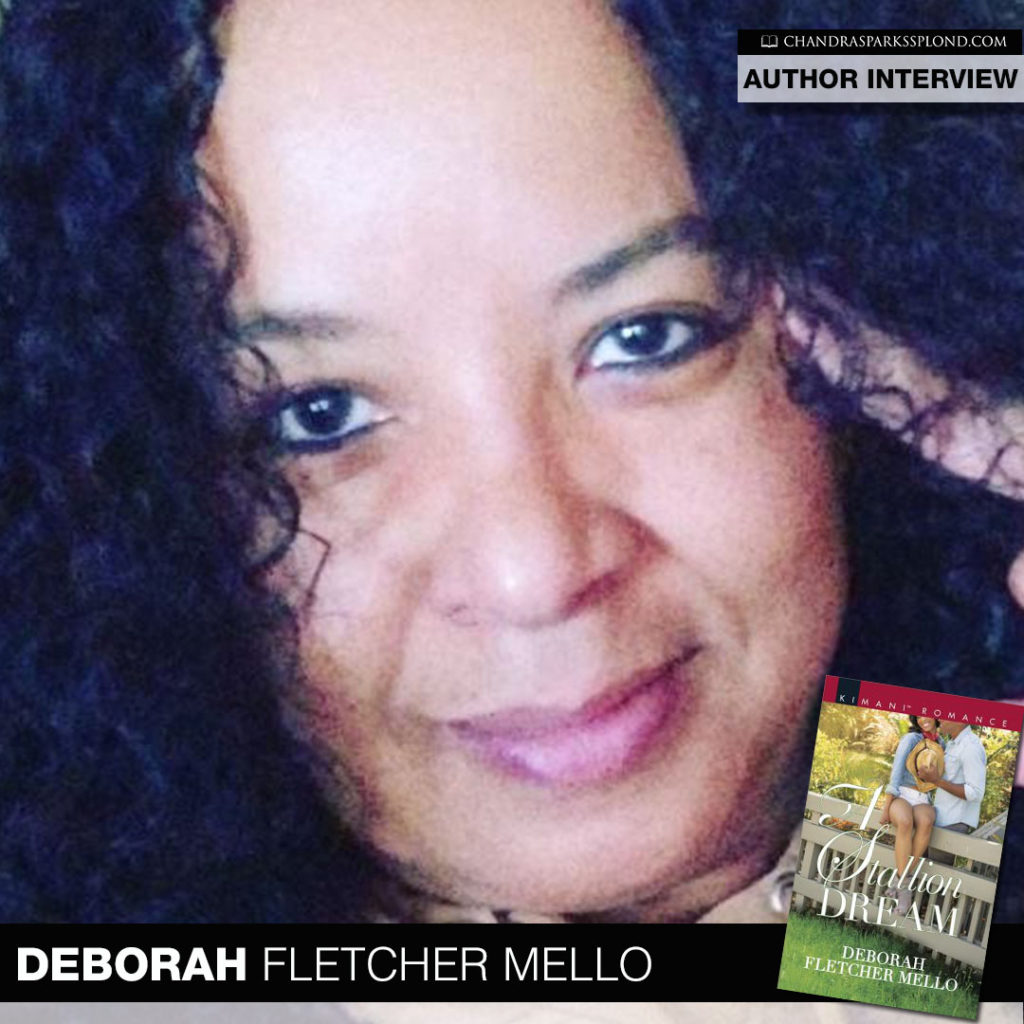 I always love talking with author Deborah Fletcher Mello. Today's visit is a little bittersweet because she's talking about A Stallion Dream, the last book in her Stallion family series for Harlequin's Kimani imprint.
Tell me about your latest book, A Stallion Dream.
A Stallion Dream will be my final book with Harlequin's Kimani book line. Fittingly, it's the story of favored son, Collin Stallion, the oldest grandchild in the Stallion family clan. Collin was introduced in his father's book, Seduced by a Stallion. Collin had stolen a BMW! In A Stallion Dream, Collin is all grown up and very much his father's son. Collin is an attorney now, fighting for social justice when he's partnered with the beautiful London Jacobs to defend a man wrongfully incarcerated for a crime he did not commit. Colin and London are FIRE in the courtroom and quickly discover they are FIRE in the bedroom.
Why did you decide to write it?
The Stallion family series was coming to an end. Initially, once I had given the last Utah cousin his story, I had planned to be done. But when Harlequin announced the end of Kimani, I thought it would be cool to age Collin and the girls, Gabby and Irene and give them their own stories, too. Collin made the cut. Unfortunately, the girls did not.
What do you want readers to learn from the story?
A Stallion Dream deals with a few heavy subject matters. I tackle domestic violence and injustice in our criminal justice system. The lesson to learn is that both are wrong, both do irreparable harm and stepping up to fight back against violence of any kind is a civic responsibility.
What has been the biggest surprise about your publishing career?
I am always awed by the longevity of my career. I recently published my 25th Harlequin book, Seduced by the Badge, and all totaled I've published nearly 50 books. I find that absolutely mind-boggling!
Who is your favorite author and why?
I have many favorites, so it's next to impossible to select just one. I am a die-hard fan of Beverly Jenkins and her historical writings, and she is an amazing woman to know personally. Super supportive, down-to-earth, and simply the kindest spirit. I think Walter Mosley is a literary genius, and I have great respect for his writing. I've read everything he's written, and I'm waiting with bated breath for his next release. And my most favorite book of all time, Standing at the Scratch Line was written by Guy Johnson, the son of Maya Angelou.
What's next for Deborah Fletcher Mello?
More writing, I hope! I'm now writing for Harlequin's Romantic Suspense line, and I hope to have the same success there with my new series, as I've had with my Stallion family. The To Serve and Seduce Series follows members of a Chicago family dedicated to law enforcement. The family is headed by patriarch Jerome Black, the superintendent of police and his wife, federal court judge Judith Harmon-Black. The stories will follow sons, Armstrong, Ellington, Parker, Davis, and Mingus and daughters Simone and Vaughan, all seasoned veterans in the Chicago judicial system.
Do you have anything you would like to add?
I just want to express my appreciation to you, Chandra! Thank you for continuing to support my writing. Many might not know that you acquired my very first book with BET and you helped kick off my writing career. And I want to say thank you to the readers and fans. I could not do this without them!
To learn more about Deborah Fletcher Mello, visit her website or connect with her on social media.
Blog: http://bit.ly/MelloBlog
Youtube: http://bit.ly/MelloYoutube
Twitter:http://bit.ly/MelloTwitter
Facebook: http://bit.ly/MelloFB
Instagram: http://bit.ly/MelloIG